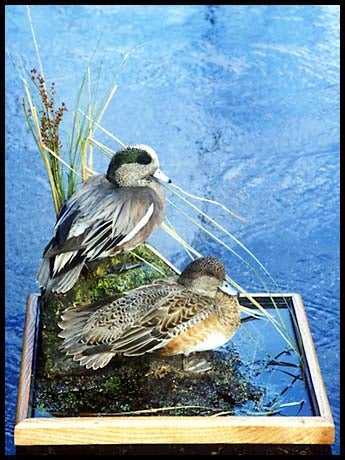 These tasteful executive case displays by Frank Newmyer complement any decor, be it corporate or personal. The prime specimens are obtained from breeders around the world with all necessary permits and paperwork for legal transfer of ownership. Measuring approximately 12" x 16", these single specimem displays incorporate an artistic representation of the bird's natural habitat, telling a lyrical story while offering a museum-quality world-class taxidermy display.
American Widgeon
by Frank Newmyer.
Click on thumbnail representation below to see a larger image and informative text.

American
Widgeon

American
Widgeons

American
Widgeons

Barrow's
Goldeneyes


Black Grouse


Blue Goose


Blue Grouse


Blue Grouse


Black Swan

Blue-Winged
Teal

Bronze-Winged
Ducks

Canada
Goose

Canvasback
and Widgeon

Capercallies

Capercallie

Cockatoo

Dead Gamev

Egyptian
Goose

European Jayv

Gadwall

Green Pygmy
Geese

Green-Winged
Teal

Green-Winged
Teal

Harlequins

North American
Shoveler

Paradise
Shelduck

Paradise
Shelduck

Peafowl

Pink-Eared
Duck

Pintail

Ptarmagin
Trio

Ptarmagin

Pukecko

Red-Billed
Pintail

Ross Goose


Ruffed Grouse


Snow Goose


Spectacled Eider


Wild Turkey


Wild Turkey


Wood Duck


Wood Duck


Woodcocks


Woodcock


Rooster

Oscillated
Turkey


Gadwall


White-Backed
Duck

Green-Winged
Teal

Green-Winged
Teal
©2001 WASCO Manufacturing, Inc. All rights reserved.