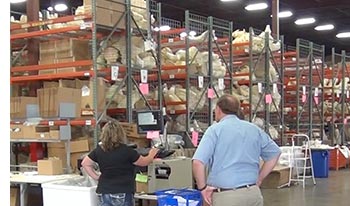 There are several recurring topics on the Taxidermy.Net Forum which continue to come around again and again as predictable as the seasons. When there is nothing to argue about on the direction of the NTA, the existence of bigfoot, the merits of tanning vs. whatever, or if Bondo is an adhesive, the topic of the day turns to big suppliers trying to squeeze the poor little taxidermists with their unrestrained corporate greed. One of the most revisited issues is the subject of shipping charges from taxidermy supply companies. I have to roll my eyes at many of these posts, as I have seen both sides of these issues. The actual truth is sometimes overlooked. There are many popular misconceptions repeated over and over, which I will address below.
As CEO of WASCO from 1993 to 2011, I was deeply involved in all aspects of shipping packages to customers, establishing shipping charges, and dealing with UPS, FedEx and the US Postal Service. Frankly, that is one aspect of my duties that I do not miss one bit. Since my tenure as upper management at WASCO is over, I am now free to comment on my personal observations and opinions on these subjects. Here are the top ten misconceptions about shipping taxidermy supplies that I would like to clear up.

Contrary to what you might have heard, suppliers generally do not make any profit on shipping operations. When I was at WASCO, shipping always ended up costing us MORE than we took in from customers. Every week we would review our itemized UPS bill and compare it against the actual shipping charges on orders. On every bill, there would be at least 50 items that UPS charged us more on than we charged the customer. Many packages had charges added after the fact for addresses designated as "rural" or "super rural". Many packages would be classified as oversized because a bulge in the cardboard would trip the laser measurement device and kick an undersized box into the next level. If the address that the customer gave us didn't exactly match the shipper's address letter-to-letter we would be charged a fee. We would fight to correct some of these charges when we knew them to be wrong, but for the most part, fighting over the bill with UPS was a futile mission.
Outgoing shipping is a necessary evil for a mail-order company. It requires a huge operation for warehousing, pulling, packing, calculating and shipping. If shipping was indeed a source of profit for a supplier, it would be insane for a company to invest the huge amount of money it takes to establish and maintain multiple regional distribution centers across the country, when one warehouse would be more economical and generate much more shipping revenue.

Some people have voiced the opinion that the suppliers want to ship more packages in order to make more money on the shipping. Nothing could be further from the truth! Suppliers would much rather have customers come by their warehouse and pick up their supplies in person.
Many successful taxidermists across the country have already discovered this time-saving and money-saving way to get their taxidermy supplies. Instead of paying the expense and relying on shipping companies, savvy taxidermists drive to one of the regional McKenzie Distribution Centers to pick up their orders in person. Ask any taxidermist who does this on a regular basis and they will tell you that their trip to McKenzie to pick up supplies is one of the smartest things they do.
You can actually see the products in person to make sure you are getting exactly what you wanted. At any of the McKenzie distribution centers, you can ask to look at any product that you are interested in. A staff member will go and pull the product off the shelf and unpack it for you so you can see exactly what you are getting. When purchasing large items like life-size mannikins, habitat, and bases, you can take them with you uncut and intact without any danger of shipping damage.
If you break down the hours and expenses, many people find that a trip to pick up supplies actually makes the taxidermist more money than working in their shop. If you don't live close enough to make a trip, placing a large order and having it shipped by truck line instead of UPS or FedEx can often reduce your shipping costs substantially.

If you listen to anecdotal evidence, you might believe there is no rhyme or reason to shipping charges, and suppliers simply pull figures out of the air. "Last month I got a mannikin and eyes shipped for ten dollars and this week another similar order cost forty bucks for shipping!" While this sounds quite unreasonable, if you research the actual orders, there is usually an underlying reason for the discrepancy. The first order might have been a squirrel form shipped parcel post, while the second was a leaping bobcat shipped UPS. Without actually following up on the actual invoices to explore the cause behind the difference, the comparison is as arbitrary as the charges.
It wasn't always this way. Back in the 1980s, UPS had a sliding scale based upon weight and distance. You could send a seven pound deer mannikin from Georgia to Colorado for about three dollars. Add a second mannikin and it might cost you five dollars. This all changed as air cargo overtook ground transportation and the size of the box became more important than the weight. Suddenly an oversize box (which was the size required for most taxidermy shipments) was designated the same as a thirty pound box, regardless of the weight. This bumped the shipping charges for mannikins up dramatically.
In 1991, WASCO was blindsided by the addition of a new UPS hazardous shipping fee. We were so worried that this $5.00 surcharge on flammable liquid shipments would spell the end of lacquer-based paints for taxidermists. Fortunately, this wasn't the case, as more and more fees were tacked on to the base prices. Residential deliveries, which affected most taxidermy shops, got a new surcharge, energy prices pushed up fuel surcharges, and the oversized thirty pound box jumped up to fifty pounds (regardless of weight), and then a few years later to seventy pounds! But they didn't stop there. With the new dimensional billing, an oversize box just under 130 inches is now charged as if it weighs over 100 pounds! If the dimension of the box goes over 130 inches, the shipper is fined an additional $50.00!
Every year without fail, UPS would raise their rates on ground service by at least 5%. They would go up by a much greater percentage on their fees, add-ons and surcharges, as well as air shipments. With the residential surcharge increase, the effective rate of price increases on ground shipments has averaged over 7% each year. Even though FedEx and the new FedEx ground service were welcomed as a UPS competitor, their rates and surcharges seemed to be in lock-step unison. An amazing coincidence.
In the past few years, shipping prices have exploded again, with dimensional weight taking over on all but the smallest boxes. The dimensional calculations can be complicated, and a change of just an inch or two on certain sized boxes can greatly impact the shipping charges. There is always a reason for the outrageous charges if you look deep enough.

Some people have complained that they can take a package that they received from a supplier back to the UPS center and return it to the supplier for a lower shipping rate than they were charged. This may be true within a few dollars. If a taxidermist is shipping a package to a supplier, they will not have to pay a residential surcharge of $2.90 or $3.20 for rural residential delivery. They will not have to pay remote area surcharges, delivery area surcharges, or additional handling fees. They will not have to purchase additional insurance to cover damage. They will not have to pay additional shipping to relocate the product in a warehouse closer to them so the shipping will not be so expensive as to ship it across the country.
If however, someone finds a substantial difference in price and a clear mistake has been made in the shipping charges, they should contact the customer service representative of the supply company. All ethical suppliers will make an effort to correct mistakes make when presented with the evidence.

Many times have I heard that the big suppliers are owned and managed by financial "bean counters" that have no knowledge of the industry. I have got to laugh out loud at that one. Yes, there are financial backers with some ownership in the large companies like McKenzie, but they are smart enough to let all business decisions to be made by the owner-taxidermists that we have all known forever. Taxidermists like Roger Martin, Tom Powell and Chad Davis call all the shots at McKenzie. In all the years I have known these fine gentleman, even for years as a fierce competitor, I have never known them to not genuinely place the taxidermy industry first in all of their business decisions. And when you go to a show or call, you still see or speak with Mike Gillis or Phil Helms. It's the same people as usual.
I remember when McKenzie acquired WASCO back in 2011, the spirit of fairness was the motivation behind every step in the process. Accountants and lawyers could have nickle-and-dimed us to death over complicated issues like working capital adjustments and inventory value. I was so worried that last-minute accounting problems would end up costing us dearly. But in the end, the management team (grounded in the taxidermy industry) worked everything out in the spirit of the deal, resulting in a smooth transition and a satisfactory settlement for both sides. They were more than fair with us. I continue to see this philosophy of basic fairness running through the entire McKenzie organization as the guiding principle of their business ideology.
The taxidermy industry is prospering because of the efforts of the top supply companies. McKenzie is always investing back into the industry with new facilities, new products, and inventory. Their dedication to customer service is not just slogans—it is deeply ingrained in everything that they do. The entire McKenzie staff makes it their mission to do almost anything to please their customers.

Some folks think the suppliers just woke up one day and raised the shipping rates on everyone because they were unprepared. Actually, the management of McKenzie saw the handwriting on the wall well over a decade ago and made huge investments to minimize the effect rising shipping prices would have on taxidermists.
I remember talking to Tom and Chad years ago about where they saw the industry heading. It was interesting to hear how McKenzie responded to changes and trends in the industry with the welfare of taxidermists in mind. When the 30 lb. oversize boxes began to affect a majority of the taxidermy shipments, they decided that McKenzie would open a new distribution center halfway across the country to help taxidermists better afford shipping of these larger items.
When the price for a 30 lb. box jumped up to a 50 lb. box, they decided to open two more regional distribution centers, all with the taxidermists' bottom line in mind. They literally spent millions of dollars to make shipping supplies to taxidermists cheaper and faster. And they continue that commitment to this day with their newest regional distribution centers. I can't imagine the expense and energy required to keep eighteen-wheelers moving mannikins and supplies around the country so you can get them shipped to you as inexpensively as possible.
As I have said before, McKenzie is truly a company that cares about taxidermists and they prove it by continuing to invest in this industry like no other before. The amazing logistics involved in operating six giant warehouse inventories all linked to a single operation boggles the mind. This huge investment is propelling our industry forward at a speed that has never been attempted. This is the first time in history that almost all American taxidermists are now within a one-day drive of a fully stocked warehouse of taxidermy supplies.

When someone is on top, they make an easy target. I know some people love to target McKenzie, regardless of their accomplishments. I imagine that some of these attacks may be either due to someone's affiliations with competitors, perhaps a disgruntled customer who had a bad experience at some point, or someone who just gets caught up in the angry mob mentality so prevalent on the internet. But the craziest assertion that I ever see is that, "They don't care about taxidermists, only the bottom line." I have even seen some people suggest that they would like to put all taxidermists out of business. Now THAT would be a suicidal business plan: eliminate your customers!
I have known and personally worked with many of the top industry leaders of the past 30 years. I know who is a good vendor and who isn't. I know who is a good customer and who isn't. I know who is ethical beyond reproach and who isn't. I know who I would trust and who I wouldn't. I even know where a few skeletons are buried (metaphorically, of course). And I am here to say without hesitation that the entire team at McKenzie is fully motivated to serve the taxidermy industry. The more time I spend, and the more interactions I have with the McKenzie staff, the higher my admiration and appreciation for them grows. They are truly a company that cares about taxidermists and they prove it by continuing to invest in this industry like no other before.
There is also a popular characterization that the big bad McKenzie machine is taking over all of the small defenseless supply companies to monopolize the entire industry so they will have a stranglehold on all taxidermists and can raise prices through the roof! Sound familiar? Well, it ain't gonna happen, and that ain't the way any of this went down.
I know of none of the companies that McKenzie acquired that was engineered via a hostile takeover. Most of the companies came to them, and they graciously accepted their offer. You can thank McKenzie for the thousands of unique taxidermy products which are still available through these companies instead of being wiped clean from our industry. Thanks to them, the WASCO Award is still being offered, the Breakthrough Manuals, Sallie Dahmes mannikins, Van Dyke glass eyes, Jonas jawsets, and literally hundreds of other product lines remain a viable part of the market instead of at the bottom of a landfill. While you're at it, you can thank them for the Taxidermy Net, too. Based on the bashing that goes on there that can hurt their profits, even from fabricated complaints or stories or competitors hiding behind anonymous names, I also think they have proven they believe in freedom of speech above profits.

Some customers think that due to the high volume of packages, suppliers get a huge discount from UPS and FedEx which are not passed on to their customers. Guess what? I used to think the same thing when I ran WASCO. UPS wouldn't give me hardly any discount on my nearly half-a-million dollars a year business with them. Even with that volume, my negotiated discount was less than a few percentage points which never even covered the additional charges which appeared on our bill each week. I used to fantasize that McKenzie with their much greater volume had a huge edge on us as they would be able to negotiate way better discounts. After our acquisition, I mentioned this to Chad; he laughed and said that he was in the same boat. Our industry is so tiny compared to shipping giants like Amazon. We have very little clout with the main shipping companies.
Shipping companies tell you which boxes they want to ship with their pricing policies: small boxes that weigh a lot. By inventing OS2 (the 70 pound rate) and then going to dimensional billing regardless of weight, they effectively told us what they didn't want to ship: large boxes that weight very little. So companies that ship things like taxidermy mannikins or lampshades are not the favorite customers of shipping companies, and they demonstrate that with their pricing policies toward this industry versus, for example, the book industry.

If you go to UPS with a box you may be able to ship it for slightly less than the price you were charged by the supplier for the same size and weight. As I mentioned before, an individual taxidermist will not have to pay a residential surcharge of $2.90 or $3.20 for rural residential delivery. They will not have to pay remote area surcharges, delivery area surcharges, or additional handling fees. They will not have to buy a box, tape and packing material. They will not have to purchase additional insurance to cover damage. And they will not have to pay additional shipping to relocate the product in a warehouse closer to them so the shipping will not be so expensive as to ship across the country. If you add all that up, it's worth much more than the price.
McKenzie learned long ago that fighting with UPS over damaged shipment claims is a losing proposition for most taxidermy shipments damaged in transit. For the most part, UPS rarely pays any claims, and by the time a claim is processed months down the road, the taxidermist's need for the product no longer exists. That is why McKenzie self-insures for most transit damage, allowing for a much better experience for the taxidermist. If you receive a damaged shipment, call McKenzie. They won't tell you to file a claim with UPS. They won't tell you it's not their problem. Instead, they will replace your damaged merchandise right away to get you back to work with a minimum of inconvenience. They really do have the best customer service around. How much is that peace of mind worth?

Do you have a problem with a supplier? Do you think you were outrageously overcharged for shipping? Here is how to get results. Step one: Call the customer service representative at the supply company. Give them the invoice number so they can investigate. Their job is to take care of you and fix any problem that arises. Mistakes will happen occasionally, but an ethical supply company will alway rectify them.
On the rare occasion that your customer service representative does not offer you a satisfactory resolution of the problem, you are always free to go up the chain of command. Chad Davis runs the day-to-day operations at McKenzie, but he would love to hear from you at 1-800-279-7985 x-320 if you think you were overcharged on shipping. Give him the invoice number and let him investigate. If you have "test results" that indicate an overcharge, absolutely call him. Overcharging the customer is not something that he will allow, and he would prefer to get to the bottom of any legitimate issue to prevent it from happening to someone else. If you haven't called Chad, don't say you have tried and nobody will listen to you.
Complaining about a problem on an internet bulletin board is not the way to get results. Calling the company on the phone or sending them an email is the proper channel to get a satisfactory outcome. When a disgruntled customer would complain about WASCO on the Taxidermy.Net in the past, I did not feel that I could publicly respond without creating more problems. In the office I would follow up on complaints posted on the internet, researching invoices to get answers, only to find that often the customer left out some crucial piece of information which made them appear blameless by their omission of certain facts. There are always two sides to any story, and if I presented an opposing side, it would appear rude, as if I were arguing with a customer in public. Of course, sometimes mistakes were made on our side, but as with any customer service-oriented company, we would always strive to fix any problem to satisfy our customers.
Bottom line? Call McKenzie first. They will fix it.