On May 8, 2015, at the World Taxidermy and Fish Carving Championships® awards banquet held at the Springfield, Missouri University Plaza Expo Center, Show Chairman Larry Blomquist and Master of Ceremonies Russell Knight presented the fourth ever World Show Lifetime Achievement Award to Joe Kish of Shiro, Texas.
Joe's enormous influence on the modern taxidermy industry, including the creation of many of the institutions which have made the industry what it is today, have propelled him to the epitome of his profession, sharing this unique award with the late Henry Wichers Inchumuk in 2007, the late Simon T. Blackshaw in 2011, and Bob Berry of California in 2013.
After an eloquent introduction by Russell Knight and Larry Blomquist, a biographical video was shown before Larry presented Joe with the Lifetime Achievement Award to a standing ovation. Joe is responsible for the birth of the twentieth century taxidermy competition, the modern taxidermy periodical, promoting national taxidermy standards, and the concept of sculptor royalties which lead to the supply industry of today.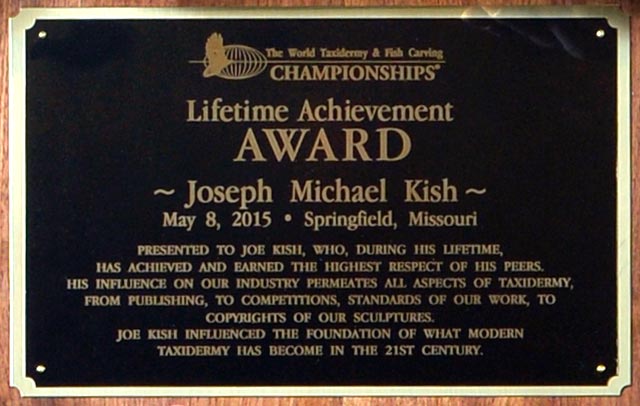 I prepared a biographical video presentation to help explain Joe's life and some of his accomplishments. This video was shown to the 640 guests present at the awards banquet that night. To help a wider audience appreciate the contributions that Joe has made to our art and livelihoods, I am proud to include this video below for this edition of "Ken's Corner."
Below is the entire script written for the video presentation.
2015 World Show Lifetime Achievement Award: Joe Kish
There are FOUR major advancements in the past 50 years which have elevated taxidermy to its current position.
1. Improved Standards
2. Taxidermy Competitions
3. Taxidermy Publications
4. Sculpting Royalties
There is one man who is responsible for the birth of ALL of these concepts.
Joseph Michael Kish was born in Pittsburgh, Pennsylvania on May 8, 1942, exactly 73 years ago today. He grew up in a hundred-year old log cabin on a farm east of town where his life-long interest in natural history took hold.
On a sixth grade field trip to the Carnegie Museum of Natural History, he was spellbound by the mounted animals in habitat dioramas. So impressed by the displays, the 11 year-old Joe Kish told a classmate that he would like to work at the museum someday.
As a teenager, Joe was inducted into the Order of the Arrow, the National Honor Society for the Boy Scouts of America. In high school, he purchased and completed the popular taxidermy correspondence course from the Northwestern School of Taxidermy. An avid bird-watcher, Joe actually illustrated his own guide for the Birds of Pensylvania.
To help procure specimens, Joe taught himself the art of trapping. By his senior year he had earned enough money collecting bounty on foxes to pay for all of his expences to the senior prom.
After graduation from high school, Joe enlisted in the Army where he served in Germany with the Military Police and as a member of the 7th Army Pistol Team.
On his way home from Germany in 1964, he stopped to visit the New York World's Fair, where he saw the lifesize dinosaurs created by Louis Paul Jonas and heard his name for the first time. He also visited the American Museum of Natural History where he saw more work by Jonas, Akeley, Clark and Rockwell. Enthralled by the artistry of the sculptor/taxidermist to recreate the natural world, Joe applied and was accepted as a taxidermy apprentice at the Carnegie Museum of Natural History in Pittsburgh.
Joe learned taxidermy under the instruction of Harold Casey and Otto Epping. He co-apprenticed with Forest Hart where they learned to master excelsior wrapping methods and carving fish bodies from pine.
After a year and a-half on the job, Joe felt had learned all that his superiors were likely to teach him. Frustrated with the limitations of quality forced upon him, Joe quit the museum and changed careers.
He moved to Albuquerque, New Mexico to get "out west" and to be near his fiancée Kathleen. He got married, and became a patrolman for the Albuquerque Police Department. He continued his competitive pistol shooting, winning the state title in 1968. And he did it the hard way: left-handed.
In 1970 Joe took a job at Jonas Bros. in Denver, Colorado, where he had the privilege of working alongside the last of the old time taxidermists there, and had the chance to meet with the great Louis Paul Jonas. In 1971 he went to Woodbury Taxidermy Studio in Wyoming, where he learned the ins and outs of sculpting manikins.
In 1974 Joe took a job at the Denver Museum of Natural History, working alongside Henry Wichers Inchumuk and other accomplished taxidermists. Joe wrote The Jonas Technique, Volumes I and II, the first taxidermy instruction manuals to feature modern techniques with an emphasis on anatomical accuracy.
After attending his first National Taxidermist Association convention in 1975 he started the Taxidermy Review Competition to promote taxidermy education and encourage national standards for the art. The taxidermy competition held at this convention was the first in the industry since 1883.
These competitions provided the ideal opportunity for taxidermists to showcase their skills and establish themselves in industry employment. Among the very first winners of note were Bob Berry, Wendy Christiansen and Forest Hart.
In 1976 he bought Wide World of Taxidermy Magazine, changed the name to Taxidermy Review and edited and published it for nine years. From the first issue, Taxidermy Review had an editorial page. The main thrust was to champion the art of taxidermy and promote national standards and professionalism. Industry standards would have to be established, in order for taxidermy to become truly professional.
While briefly serving on the NTA board of directors in the early 1980's, Joe drafted the NTA competition scoring system which is still used in its essentials today. Joe won Best of Show at the first NTA competition, held in 1978.
In 1982 Joe revolutionized the supply industry with a startup company named the Rocky Mountain Taxidermists Co-Op. The main concept was to invite sculptors to provide models to be manufactured and sold by the Co-op and pay the artist 10% royalties. This had never been done before. The concept went over so well that several founding members soon withdrew from membership and opened their own supply companies, including Harvey Mohr, Brian Epply, and Forest Hart. The largest suppliers also embraced the concept and began contracting with independent model makers to rapidly increase their product lines.
The development of new taxidermy forms was threatened in the mid-eighties by rampant copying of mannikins. After a five-year campaign against form piracy, in which Joe published editorials and demonstrated at trade shows how the bootleg forms would fit perfectly inside his molds, Joe joined forces with eleven other plaintifs to successfully sue for copyright infringement. Dan Chase was ordered by the court to pay damages and to destroy all the pirated molds. With sculptors' rights upheld, the industry got back on track for producing new product lines.
Joe has never been afraid to speak his mind, which has at times made him a controversial personality. But by presenting opposing or unpopular arguments, Joe has advanced the industry by exploring complex issues and helping people make up their own minds.
Joe has sculpted hundreds of taxidermy forms for nearly a dozen supply companies including Jonas Brothers, Van Dykes, McKenzie, Research and Precision Mannikins. He continues to model mannikins and offers freelance services for taxidermy firms on large or difficult projects. As a result, to date he has modeled and mounted 7 lifesize elephants, a half dozen elephant heads, 4 rhinoceroses, Brahma bulls and giant alligators.
He has also authored more than a hundred articles and has delivered seminars at dozens of taxidermy conventions around the world.
Joe Kish's influence on our industry permeates all aspects of taxidermy. From publications to competitions, standards to copyrights, Joe has built the foundation of what modern taxidermy has become in the 21st century. Without Joe's influence, perhaps none of us would even be here in Springfield right now.
We are proud to pay tribute and award the fourth ever of the World Shows Lifetime Achievement Awards to Joe Kish of Texas.

At the end of Joe's acceptance speech, Kathy Blomquist surprised him with a cake in honor of his 73rd birthday, which happened to be the exact night of the banquet. Kathy lead the crowd in and enthusiastic rendition of "Happy Birthday to You" as Joe's family and many of his old friends gathered to help him celebrate this milestone, and thank him for all he has done for our industry.
Travis de Villiers from South Africa recorded the entire presentation, including the introduction, the video biography and Joe's acceptance speech on his video camera during the banquet. He sent the video to his friend, John Bellucci of Ohio, who was not able to attend the show to see his hero and mentor, Joe Kish, receive this award. John was kind enough to post the video of this event on his YouTube channel, and I am happy to include it here.