As Mike Kirkhart pointed out when he gave the invocation at the awards banquet, The National Taxidermy Association is like a family. And just like a family, we have gone through many highs and lows during the past 45 years, but now all indications reveal that we are in a definite upward trajectory. At the annual convention last week in Pennsylvania, you could not have asked for a more beautiful facility, better weather, higher-quality entries, or nicer people attending and running the show. Every aspect of the convention was indeed top-notch. Even the food was great! Out of the hundreds of banquet meals I have endured in my life, I believe this one was the most delicious!
Last week in Seven Springs Mountain Resort, the National Taxidermists Association met for the 45th time to hold their annual convention and competition. For most of those conventions, I have had the privilege to serve as the show photographer which allowed me close access to see every mount. The quality of the taxidermy work was the finest I have ever seen at a national convention. Several entries actually got perfect scores!
The number of entries increased by over 50% above last year's show in Gatlinburg, Tennessee. During the awards banquet, we project photos of the winning entries on the big screen as the winners are announced. Here are the studio photos of the major award winners from the 2016 NTA competition as they were shown when the awards were handed out on Saturday night, June 11, 2016.

NTA 2016 Major Award Winners
Taxidermist of the Year
The Theodore Roosevelt Lion Award
MIKE NAKIELSKI Iron Ridge, Wisconsin 139 Wood Duck
Challenge of the Art of Taxidermy
First Place
MIKE NAKIELSKI Iron Ridge, Wisconsin 139 Wood Duck
The Breakthrough Best of Show Award
Judges' Choice Best of Show
TIMOTHY GORENCHAN Escanaba, Michigan 176 Pink Salmon
Challenge of the Art of Taxidermy
Second Place
TIMOTHY GORENCHAN Escanaba, Michigan 176 Pink Salmon
The WASCO Award
Most Artistic Entry
TIMOTHY GORENCHAN Escanaba, Michigan 177 Brown Trout
Best All-Around Taxidermist
Highest Combined Score in Four Categories
JASON KRAUSE Pine Grove, Pennsylvania 166–169 Black Bear, Crow, Wolf, Western Diamondback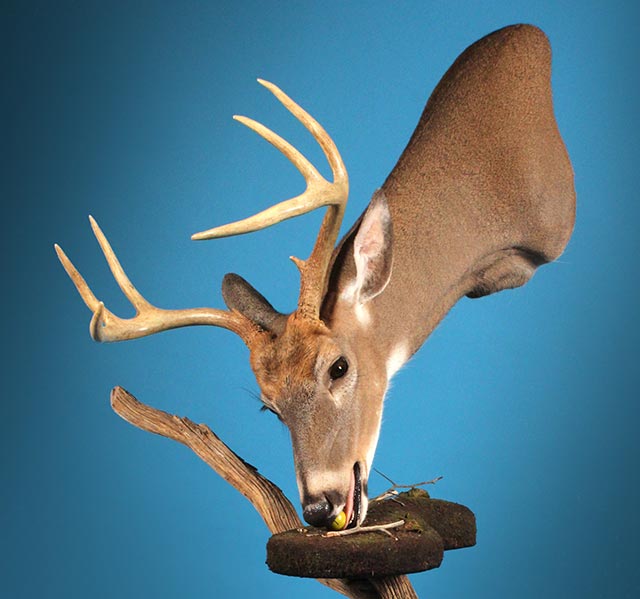 Distinguished Taxidermist Award
Entry has previously won a Judges' Best of Show at another qualifying competition
VINCE SPELLANE Saltsburg, Pennsylvania 107 Whitetail Deer
Delia Akeley Award
Best entry by a female competitor selected by convention attendees
DELORES CARLEY Kent, Pennsylvania 223 Coyote Pup
Joseph Bruchac Memorial Award
Judges' Choice for Best Whitetail Deer
TOMMY HALL Indian Trail, North Carolina 103 Whitetail Deer
Chris Barnhardt Memorial Award
Judges' Choice for Best Gamehead
OWEN ELDRED Blanchard, Michigan 136 Sika Deer
Brian Harness Memorial Award
Judges' Choice for Best Lifesize Mammal
KENT STRYKER New Alexandria, Pennsylvania 157 Wolf
National Wild Turkey Federation Award
Judges' Choice for Best Turkey
ELMER W. STOLTZFUS Ronksa, Pennsylvania 220 Turkey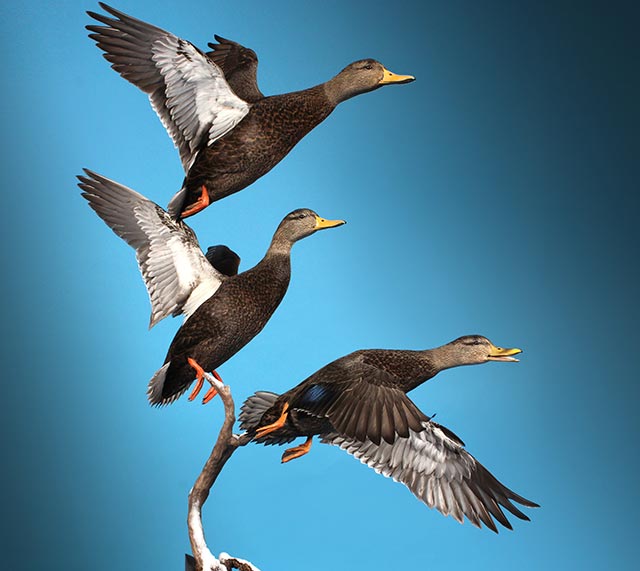 Frank Newmyer Award
Judges' Choice for Best Upland Gamebird or Waterfowl
MIKE NAKIELSKI Iron Ridge, Wisconsin 143 Black Duck
Challenge of the Art of Taxidermy
Third Place
MIKE NAKIELSKI Iron Ridge, Wisconsin 143 Black Duck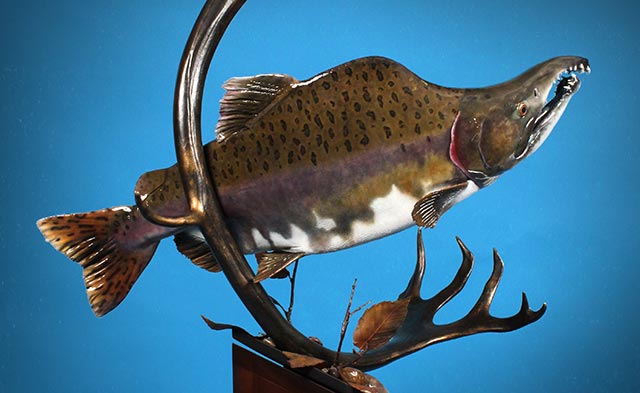 The Polytranspar Award
Highest Scoring Fish Painted with Polytranspar
TIMOTHY GORENCHAN Escanaba, Michigan 176 Pink Salmon
The New Wave Award
Judges' Choice for Best Reproduction Fish
JAMIE CAMERON Bolivar, Pennsylvania 151 Bluegill
The Star*Fish Award
Judges' Choice for Best Reproduction Fish
JAMIE CAMERON Bolivar, Pennsylvania 151 Bluegill
Safari Club International Award
Judges' Choice for Best Large Lifesize Mammal
JASON KRAUSE Pine Grove, Pennsylvania 169 Wolf Group
Henry Wichers Inchumuk Award
Judges' Choice for Best Lifesize Mammal, Size of Squirrel or Smaller
BRIAN HENDRICKS Scottville, Michigan 223 Least Weasel

North American Champions
North American Champion Open-Mouth Whitetail Deer
First Place in the Division of Excellence
TOMMY HALL Indian Trail, North Carolina 103 Whitetail Deer
North American Champion Gamehead
First Place in the Division of Excellence
JAMES NEWPORT Pearsall, Texas 209 Pig
North American Champion Reptile
First Place in the Division of Excellence
MATT ZIMMERMAN Denver, Pennsylvania 111 Gabboon Viper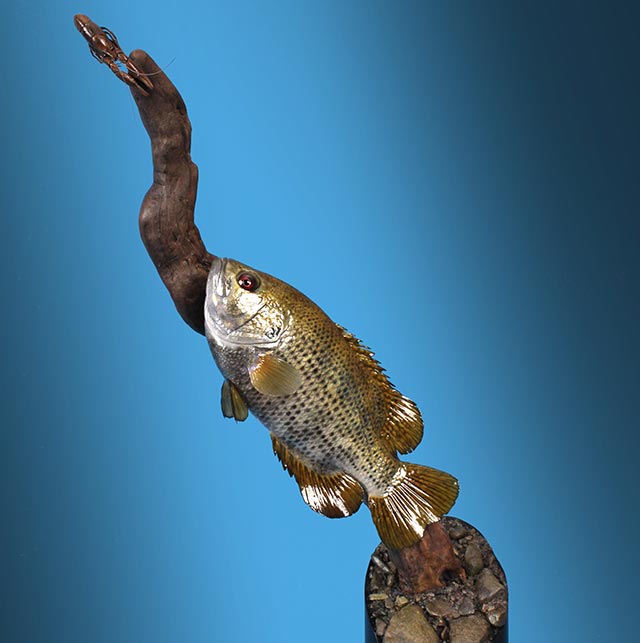 North American Champion Warmwater Fish Skin Mount
First Place in the Division of Excellence
BRIAN NOODY Garden City, New York 193 Rock Bass
North American Champion Waterfowl
First Place in the Division of Excellence
MIKE NAKIELSKI Iron Ridge, Wisconsin 142 Black Duck
North American Champion Bird
First Place in the Division of Excellence
FRED BARILLA Carle Place, New York 147 Pheasant

National Champions
National Champion Turkey
Highest Score in the Open Division
ELMER W. STOLTZFUS Ronksa, Pennsylvania 220 Turkey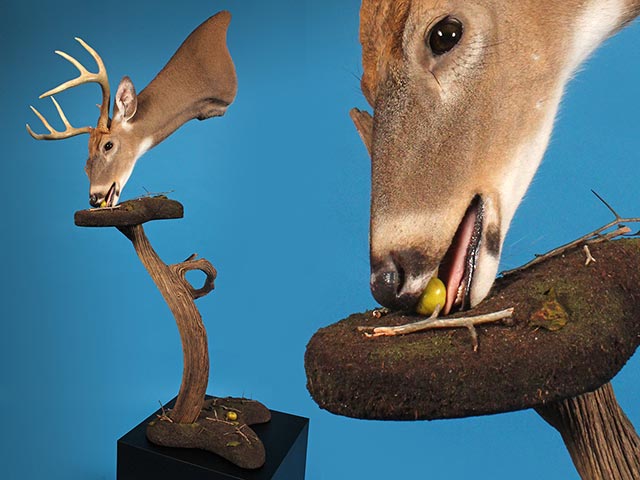 National Champion Open-Mouth Whitetail Deer
Highest Score in the Open Division
VINCE SPELLANE Saltsburg, Pennsylvania 107 Whitetail Deer
National Champion Closed-Mouth Whitetail Deer
Highest Score in the Open Division
JUSTIN CLEMMER Pitman, Pennsylvania 197 Whitetail Deer
National Champion Gamehead
Highest Score in the Open Division
OWEN ELDRED Blanchard, Michigan 136 Sika Deer
National Champion Large Mammal
Highest Score in the Open Division
KENT STRYKER New Alexandria, Pennsylvania 157 Wolf
National Champion Small Mammal
Highest Score in the Open Division
HEATHER MILLER Halifax, Pennsylvania 163 Raccoon
National Champion Warmwater Fish Reproduction
Highest Score in the Open Division
JAMIE CAMERON Bolivar, Pennsylvania 151 Bluegill
National Champion Coldwater Fish Reproduction
Highest Score in the Open Division
SAM STELITANO Sharpsburg, Pennsylvania 117 Nautilus
National Champion Coldwater Fish Skin Mount
Highest Score in the Open Division
TIMOTHY GORENCHAN Escanaba, Michigan 176 Pink Salmon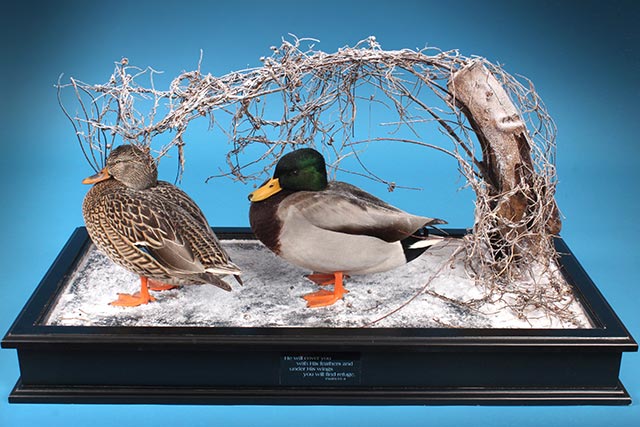 National Champion Waterfowl
Highest Score in the Open Division
ERIC PERRY Gold Hill, North Carolina 202 Mallard Hen
National Champion Bird
Highest Score in the Open Division
ERIC PERRY Gold Hill, North Carolina 201 Pheasant

Other Awards
Judges' Best of Show Collective Artists Division
Highest Scoring Entry by More Than One Artist
MATT ZIMMERMAN and SHANE ZIMMERMAN Denver, Pennsylvania 112 Western Diamondback Rattlesnake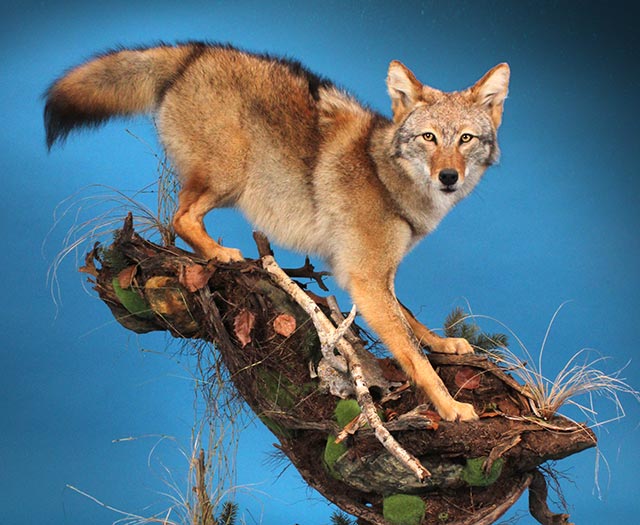 Van Dyke's Award
Most Creativity Mammal, Gamehead or Whitetail Entry
BRIAN HENDRICKS Scottville, Michigan 224 Coyote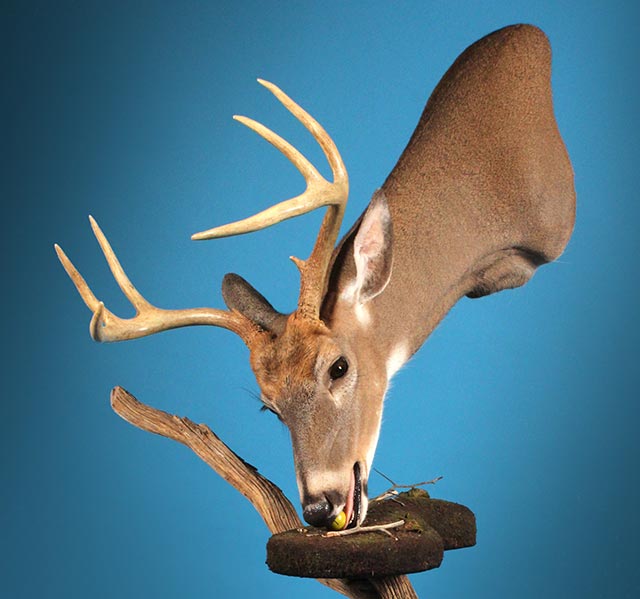 Al and Evelyn Holmes Best Habitat Award
Outstanding Habitat Display
VINCE SPELLANE Saltsburg, Pennsylvania 107 Whitetail Deer
Taxidermists' Choice Best Whitetail Award
Sponsored by McKenzie Taxidermy Supply
TOMMY HALL Indian Trail, North Carolina 103 Whitetail Deer
Taxidermists' Choice Best Life-size Mammal Award
Sponsored by McKenzie Taxidermy Supply
KENT STRYKER New Alexandria, Pennsylvania 157 Marco Polo Sheep
Taxidermists' Choice Best Fish Award
Sponsored by McKenzie Taxidermy Supply
TIMOTHY GORENCHAN Escanaba, Michigan 176 Pink Salmon
Taxidermists' Choice Best Fish Award
Sponsored by McKenzie Taxidermy Supply
ERIC PERRY Gold Hill, North Carolina 200 Harlequin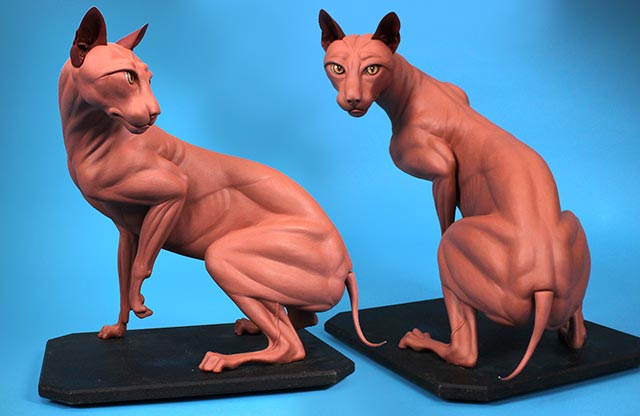 Judges' Best of Show Taxidermy Sculpture
Sponsored by the National Taxidermists Association
BRIAN HENDRICKS Scottville, Michigan 225 Bobcat
People's Choice Taxidermy Sculpture
Sponsored by the National Taxidermists Association
BRIAN HENDRICKS Scottville, Michigan 225 Bobcat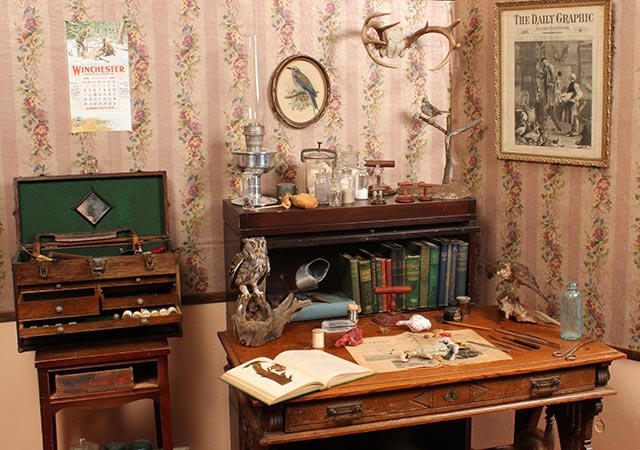 People's Choice Original Art
Sponsored by the National Taxidermists Association
STEPHEN ROGERS Pittsburgh, Pennsylvania 189 Vintage Taxidermy Shop
People's Choice Award
The Charley Haynes Memorial Award
KENT STRYKER New Alexandria, Pennsylvania 156 Wolf and Marco Polo
Horizon Children's Award
Judges' Best of Show Children's Division
LUKE CONFER Aaronsburg, Pennsylvania 222 Gray Fox

The 2015 NTA Major Award Winners Gallery – Gatlinburg, Tennessee
The 2014 NTA Major Award Winners Gallery – Springdale, Arkansas
The 2013 NTA Major Award Winners Gallery – Baton Rouge, Louisiana
The 2012 NTA Major Award Winners Gallery – Rogers, Arkansas
The 2011 NTA Major Award Winners Gallery – Sioux Falls, South Dakota
The 2010 NTA Major Award Winners Gallery – Springfield, Illinois
The 2009 NTA Major Award Winners Gallery – Huntsville, Alabama
The 2008 NTA Major Award Winners Gallery – Lubbock, Texas
The 2007 NTA Major Award Winners Gallery – Louisville, Kentucky
The 2006 NTA Major Award Winners Gallery – Billings, Montana
The 2005 NTA Major Award Winners Gallery – Sioux Falls, South Dakota