I had known Stephen Rogers for 30 years, but we had never met in person until last month. As a contributor to Breakthrough Magazine starting in 1986, and later as one of our most prolific and appreciated writers on the Taxidermy Net Forum, we have corresponded countless times throughout the three decades of our long-distance friendship. I have been a fan of his writing since the beginning, always looking forward to his fascinating articles. As the Collection Manager of Birds, Amphibians and Reptiles at the prestigious Carnegie Museum of Natural History in Pittsburgh, Steve rarely got the chance to attend national conventions.
This all changed when the National Taxidermist Association came to Seven Springs, Pennsylvania for their 45th annual convention. I was happy to meet Steve and his wife for the first time and was delighted to see that he had brought his very own competition entry based upon his profound interest in the history of taxidermy. As our own resident historian on the Forum, Stephen's love of taxidermy history is evident in everthing he writes. Just browsing through the historical posts he has made as "PA" is like reading a master textbook on our profession.
A stickler for extreme accuracy, Stephen used his knowledge (and his extensive collection of historical taxidermy artifacts) to reproduce a tableau of a taxidermist's workspace as it would have appeared at the end of the nineteenth century, in December of 1898, to be exact. His entry was a big hit with all attendees, as it easily won the People's Choice Original Art award at the competition. As George Roof remarked in a post to Stephen, "I loved your entry as I told you at the banquet. It was akin to 'Through the Looking Glass' for me. I spent more time at your piece than many of the others combined. I was searching for things I was sure you had hidden just to test the viewer. I told my friend I'd loved to have been able to sit at that work table and flip through the pages of that book."
After reading George's comment, I realized that I also had the chance to personally explore the details of The Taxidermist's Table as I was photographing it for the NTA, but those who didn't attend would never get that opportunity. I thought that a closer inspection of the components of this display might be interesting to our readers, so I reached out to Stephen to provide a list of the items he used and he graciously obliged. Steve usually prefers to stay out of the spotlight and work behind the scenes, so I am deeply appreciative of his allowing me to highlight his work on this piece.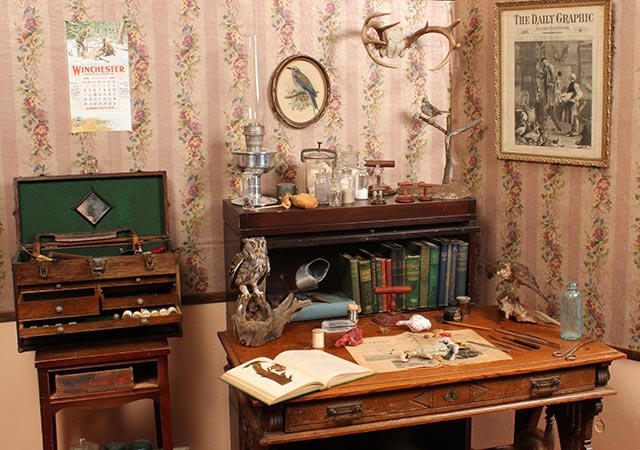 Stephen's idea of creating a taxidermists' table began with a print of Winchester calendar dated December 1898, and then Stephen would add all the trappings that would accompany a serious taxidermist work table at the time. He already had a dozen books printed prior to 1898, antique tools he had collected or bought through the years, vintage eyes, antique wallpaper, excelsior, tow, T-perch's, ground glass jars a Whitall Tatum jar from 1895, a collection of furniture (some of which his grandfather purchased at auction about 1916 and dated to the late 1800's) and then old prints and other paraphernalia on the walls. He even included a stereoviewer and stereoviews which had images of taxidermy published before 1898. He took four old mounts that he had done, some 18 years old, and then skinned out a flicker and cast the carcass in wax which was placed on an 1892 newspaper.
Stephen said, "I was trying to create a way to honor the old taxidermists who were evidently my mentors. I spent about ten hours total on the piece – probably six hours putting together the backdrop with hinges, and attaching the wallpaper which I purchased on-line, and then four hours on the flicker skin and carcass casting. I did not count the time rummaging through the house gathering and loading the parts."
Here is a closer look at the components of the piece, with Steven's explanations: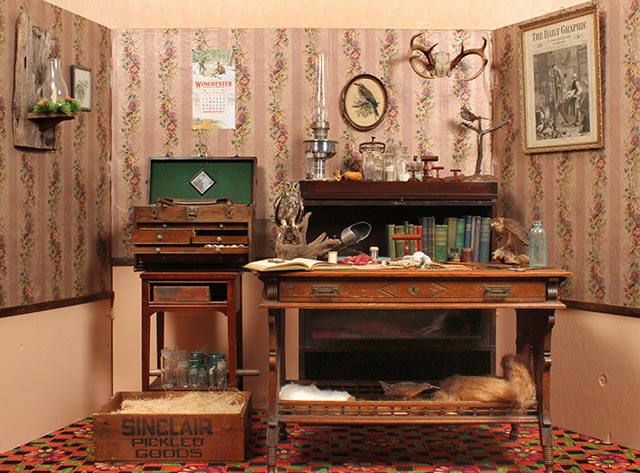 The late 1800's carved oak library table was bought by my grandfather at auction circa 1918. For the three faux walls with antique wallpaper pattern I spent $20.00, with chair rail wood I salvaged when replacing old windows in my house.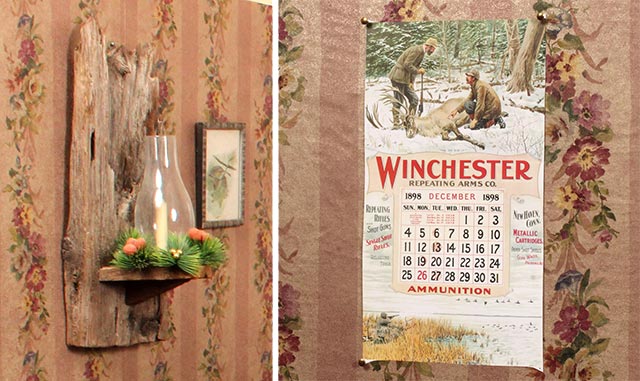 One the walls left to right:
Piece of wood I made into a candle holder. The wood I found maybe 30 years ago when visiting an old lumber town now on state game lands. The lumber mill called "Raintown" burnt down in 1898.
Old plate of tufted titmouse.
Poster of a Winchester calendar dated 1898 (bought on the internet for $4.99).
Old plate of a Lilac Breasted Roller (bought at estate sale for $2.00).
Deer Antlers.
Marks, H. Stacy. 1873. The Ornithologist. (Newspaper etching from a painting by H. Stacy Marks, A. B. A., in the Exhibition of the Royal Academy of London.) Published in a New York paper Saturday, August 23, 1873. Vol. II No. 148, "The Daily Graphic, An Illustrated Evening Newspaper" image is of a taxidermist and ornithologist assembling birds in an exhibit. The frame was from my grandfather's High school graduation in 1915. This picture is actually my image as PA when I post on the taxidermy.net. It is grainy because I couldn't figure out how to shrink it small enough and maintain quality.
Note: I have updated it for you, Steve. –Ken Edwards
One the table:
Finished Screech Owl.
Book Birds of Pennsylvania dated 1898 with hand colored plate opened to a flicker
Skinned out inverted flicker skin with one leg begun to be wired.
Carcass made of candle wax with small pieces of wax representing piece of leg tissue and an eye and even the removed brain.
Birds setting on an 1892 of a Buffalo newspaper (my brother found a stack of this issue it at work. It had an extensive article on lumbering in Elk County and environs the Allegheny Plateau where I am from.
Various tools – brain scoop, scalpel, stuffer, forceps.
Wrapped body of excelsior and tow.
Old metal nib (quill) pen and ink.
Wire on spool.
Cork with threaded needle.
Old souvenir images of Pittsburgh Exposition Hall built in the late 1880's – I think the site of the 1879 Mammoth Exposition put on by Ward's Natural Science Establishment.
LL Bean old tin of boot wax (for waxing wires inside legs).
Sharp-shinned Hawk – never put eyes in it. I should have left the strings on it I had up to a month ago from mounting it 18 years ago or so but I had used T-pins which were not around in 1898.
Antique Soda bottle from Pittsburgh.
Books in drop glass mahogany lawyer or barrister book case shelf left to right:
Davie, Oliver. 1894. Methods in the Art of Taxidermy. Subscription edition (the most common version is dated 1900
Rowley, John. 1898. The Art of Taxidermy.
Brown, Montague. 1884. Practical Taxidermy
Maynard, C. J. 1873. The Naturalist's Guide in Collecting and Preserving Objects of Natural History
Maynard, C. J. 1883. Manual of Taxidermy.
Batty, Joseph H. 1880. Practical Taxidermy and Home Decoration
(Brown, Capt. Thomas) and Smithsonian Institution. ca. 1885. The Taxidermist's Manual;
Martin, Philipp Leopold. 1878. Naturstudien.
Martin, Philipp Leopold. 1880. Die Praxis der Naturgeschichte.
Martin, Philipp Leopold. 1880. Taxidermie enthalend die Lehre vom Sammeln, Praparieren, Konservieren und Ausstopfen der Tiere und ihrer Teile;
Hallock, Charles. 1877. The Sportsman's Gazetteer and General Guide.
Hornaday, William T. 1891. Taxidermy and Zoological Collecting.
Anon. 1887. Ladies Manual of Art or Profit and Pastime.
Shufeldt, R. W. 1894. Scientific Taxidermy for Museums (rebound)
Davie, Oliver. 1898. Reveries and Recollections of a Naturalist. No. 61 of limited edition of 200.
Coues, Elliot. 1874. Field Ornithology. Comprising a Manual of Instruction for Procuring, Preparing and Preserving Birds
Brown, Montague. 1896. Artistic and Scientific Taxidermy and Modelling
There is also a stereo-viewer in the book shelf with a stack of replicated stereoviews, all dating prior to 1898. These were created from originals I have and were used in an exhibit at the museum on taxidermy I helped create in 2006. Many were reproductions of Hurst, registered 1870.
On top of the bookshelf:
Older looking Kerosene lantern.
Various ground glass jars containing old glass eyes, pins, sinister looking compounds (the red powder and green powder was actually jello powder, the green was to represent arsenic.
Old pipe made of elk knuckle and sand hill crane radius together with tobacco bag I tanned out of rabbit fur circa 1977.
T-perches of various sizes.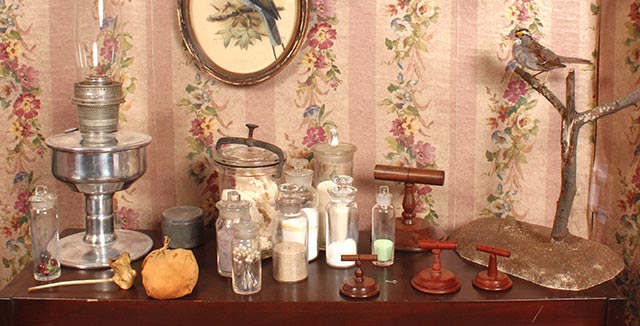 White-throated sparrow mount from about 1986 or so.
Whitall Tatum glass container dated 1895 with paper pulp which I first started using in the early 1970's to make Paper Mache (my dad worked in a paper mill).
The one thing I thought of but never got time to create was the container of arsenic soap. They usually had a jar or mortar/pestil set up containing all the parts of arsenic soap and a paintbrush which was used to paint on the poison as the bird was closed up. The recipe: arsenic (320 g), carbonate of potash (120 g), distilled water (320 g), soap (320 g), lime (40 g) and camphor (10 g).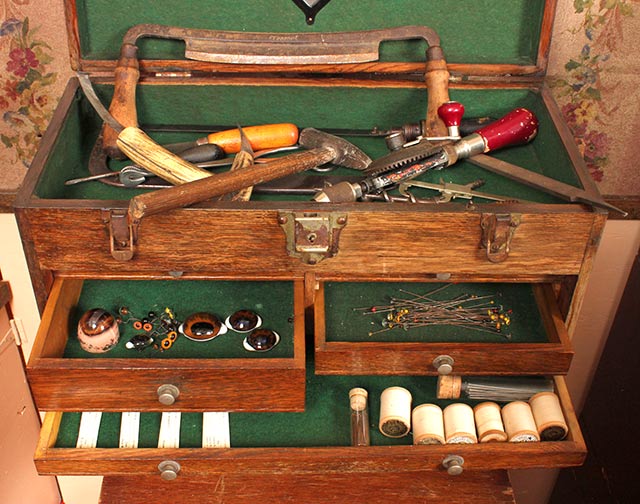 In tool box (which is a machinists chest I bought at auction a decade ago or so for $17.50) are period tools – hammers drills, scalpels, knifes, drawknife, etc.
In the drawers is a set of tags printed by Mr. Todd in 1898 and attributed to collecting trips made on behalf of the Carnegie Museum during that year.
A drawers of larger period old mammal eyes, one I removed from a Rowland Ward 1880's zebra.
Drawer of French Eyes on wire (These are newer ones sold by Elwood in 1975). I didn't want to put out my oldest ones). There are a few removed from old mounts dating to the 1880-s-1900.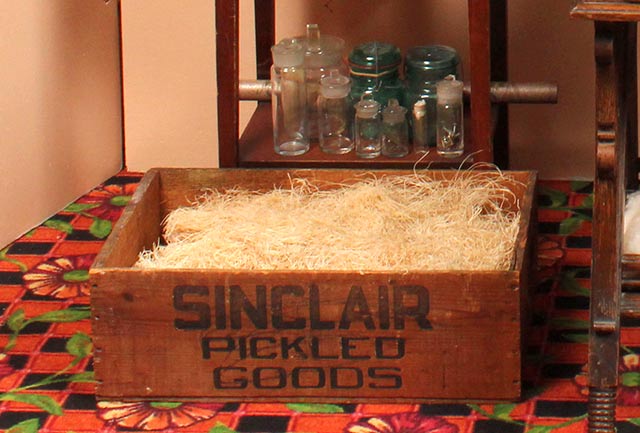 Underneath the tool chest is a Velveeta cheese wooden box (undated).
A few bail wire colored mason jars and various sized ground glass jars.
There is a box marked Sinclair Pickled Goods full of excelsior on the floor. (Bob Kennedy liked the idea that it said Sinclair since John Janelli's email honors the tanner with that name.)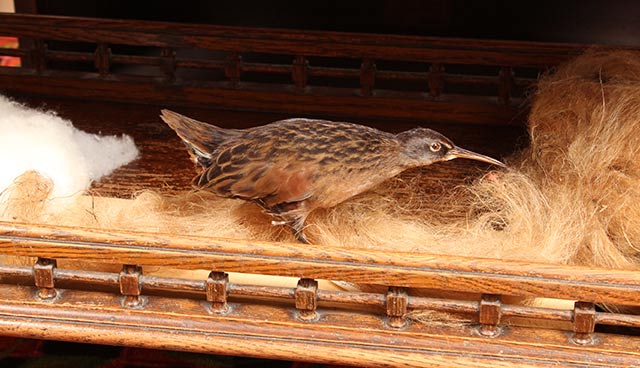 Under the table on the shelf is some old cotton and tow and a mounted Virginia rail.
I had Tom Duran come into the exhibit space and help me put together all the parts. Tom wanted to see the exhibit anyways since I had described it a week earlier at an event we both worked at in Powdermill Nature Reserve, the museum field station. I had hinges on pieces since it all had to be totally taken apart to fit into my pick-up truck but some parts needed to be screwed together. I had help from Delores "Dee" Carley of Allegheny Taxidermy in Kane in taking it down. She had the coyote pup mount that won the Delia Akeley award.