Last month our industry scored a victory against anti-hunting zealots in the state of New Jersey, largely due to the efforts two men; the amazing John Jackson of the Conservation Force, and unstoppable taxidermy advocate John Janelli. These two JJs joined with the Garden State Taxidermy Association and five New Jersey big game hunters to file suit against the state of New Jersey in Federal court. On August 29, Federal Judge Freda Wolfson found in favor of the plaintiffs and struck down the African trophy import ban which had been signed into law earlier this summer by Governor Chris Christie. For those who haven't followed the chronology of events of this strange journey, here is a recap.
It started in the summer of 2015 when a Minnesota dentist legally hunted and killed a male lion in Zimbabwe with a bow and arrow. Unknown to the hunter, the lion, named Cecil, was somewhat of a local celebrity and had strayed from his protective sanctuary for the entire month prior to his death. This caused the mainstream media to have an apocalyptic meltdown as the loss of this beloved cat became the top story for weeks. The dentist had to go into hiding, close his business and endure death threats from all over the world as irresponsible reporting was broadcast from all media outlets, sensationalizing any angle of the story that fit their left-wing agenda (much as the dishonest media continue to do every day), and disregarding the truth when it didn't suit their purposes.
The dentist was eventually cleared of all charges and wrongdoing, although that part of the story never made the headlines like the initial hysteria. But the damage was done. Public sentiment against legal big game hunting was at an all-time low. And callous politicians who are fond of never letting a crisis go to waste, jumped on the bandwagon. New Jersey Senator Ray Lesniak introduced a bill that he actually hoped would "end trophy hunting". This bill would make it a criminal offense for residents of New Jersey to import or possess lion, leopard, elephant or rhino trophies, even when those trophies are legally imported under federal ESA permits and CITES permits. The bill would have required current owners of such items to register them with the state Department of Environmental Protection or face daily fines.
Hopes were high that Republican governor Chris Christie would veto the bill, but to the surprise of many, he actually signed it into law after legislators changed it to only affect new trophies. It looked like New York and Connecticut were moving along the same path, and if left unchecked, could severely affect conservation efforts and trophy hunting around the world. (In the months following the Cecil uproar, Zimbabwe actually had to cull dozens of healthy lions due to shortage of legal hunters.) That's when John Jackson of Conservation Force stepped in. In a post on the Taxidermy.Net Forum, John Janelli asked for potential plaintiffs for the suit who would be injured by this trophy ban, such as hunters who now cannot import their trophies, or taxidermists and related entities who would lose business. Conservation Force's work was all pro bono, so there was no cost to the plaintiffs or declarants.
The lawsuit was filed in United States District Court as a Civil Action against the Attorney General of the State of New Jersey and the Commissioner of the State Department of Environmental Protection. Here is the judgement: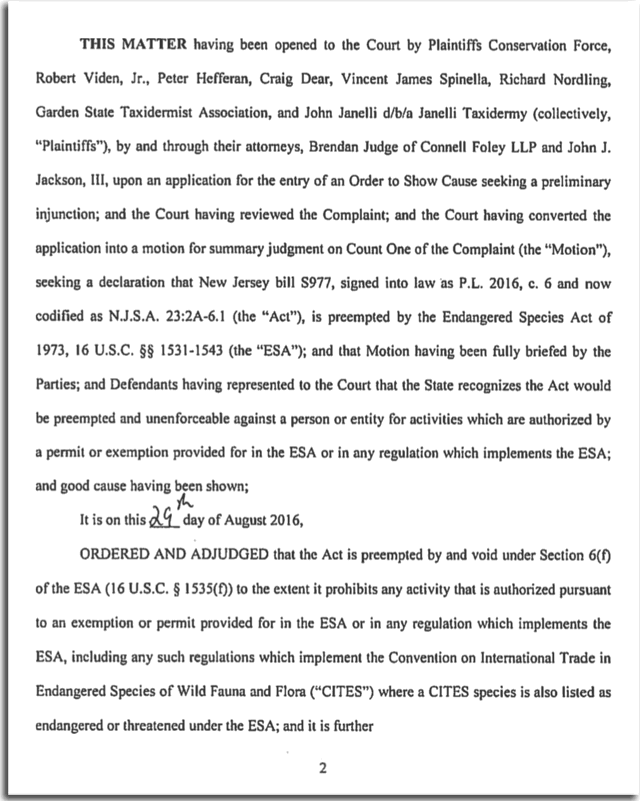 After the judgment, Conservation Force released this press statement:

Conservation Force Press Release
New Jersey cannot enforce preempted law against hunting trophies
August 29, 2016
On July 8, 2016, Conservation Force, the Garden State Taxidermist Association, a New Jersey taxidermist, and five New Jersey based hunters sued the state to compel an end to New Jersey's ban on the import, possession, export, transport, and processing of hunting trophies of the African "Big Four" (elephant, leopard, lion, and rhinoceros). The plaintiffs alleged that the state's ban was preempted by the Endangered Species Act (ESA). The applicable law is ESA Section 6(f): "Any State law or regulation which applies with respect to the importation or exportation of, or interstate or foreign commerce in, endangered species or threatened species is void to the extent that it may effectively … (2) prohibit what is authorized pursuant to an exemption or permit provided for in this Act or in any regulation which implements this Act." 16 U.S.C. § 1535(f).
On August 29, Judge Freda Wolfson of the U.S. federal court in Trenton entered an Order and Judgment against the State of New Jersey. The Order prohibits the enforcement of the ban against activities authorized by federal law, regulation, or permit. Hunters may continue to import, export, and possess federally authorized Big Four hunting trophies in the State.
According to John J. Jackson, III, President of Conservation Force, "no State can prohibit conduct the ESA and the U.S. Fish and Wildlife Service permit. This case should be a lesson for other states considering similar laws. The plaintiffs fully support prohibitions against illegally trafficked wildlife. But we will fight any law banning legal hunting trophies. As the governments of Namibia, South Africa, Zambia, and Zimbabwe will tell you, licensed, regulated hunting is essential to the conservation programs in those countries. And it must be protected."
Jackson added, "We are so elated to get through the case quickly, before the African conservation infrastructure was damaged too greatly and before other states followed this illegal example. This was a particularly egregious ban because federal import permits are based upon science-based enhancement findings, thus the obstruction of the imports would have denied the game species the intended enhancement for which there is no substitute. In short, the state law was the threat to the species."
The plaintiffs were represented by John J. Jackson, III of Conservation Force and Brendan Judge of Connell Foley LLP. For more information, contact Regina Lennox or John J. Jackson at (504) 837-1233 or [email protected]
3240 South I-10 Service Road, West, Suite 200 • Metairie, Louisiana 70001-6911, USA
Telephone: (504) 837-1233 • Fax: (504) 837-1145 • Email: [email protected] http://www.conservationforce.org

About Conservation Force
Conservation Force is non-profit 501(c)(3) public foundation formed for purposes of conserving wildlife and wild places. Conservation Force is an international leader in the application of user- pay, sustainable use-based programs to enhance the survival and recovery of listed game species. Since 1997, Conservation Force and its partners have invested millions of dollars in elephant, rhino, and lion conservation, anti-poaching, and recovery programs for many other species. Conservation Force is based in Louisiana and has an international Board and staff, and projects around the world.



This was a decisive battle, and we won this one thanks to the determination and perseverance of this brave pair of JJs. But the long-term war against political correctness and the left's propaganda machine will continue on. The lesson learned here is that we must fight back when threatened and not to take the eroding of our liberties lying down. Our future depends upon it!