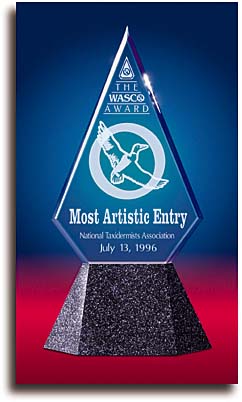 The 2016 convention season has come to a close, and the results are in! To me, the most compelling part of each competition is when all of the judges get together collectively pick what they feel is the most artistic entry in the entire show. I have been in on many of these lively discussions and the judges always make it a point to give a great deal of thought and consideration to fairly choose the entry they feel is most deserving of this prestigious award.
The WASCO Most Artistic Entry Award is presented to the most artistic piece in a taxidermy competition. The winner is chosen collectively by all of the judges from the entire competition. WASCO Award winners receive a polished acrylic award and a gift certificate from WASCO (Wildlife Artist Supply Company).
The winning entries were chosen by the following criteria:
1. Exhibition of Taxidermy. The entry should tastefully display both the subject as well as the taxidermy profession in a favorable light. The taxidermy should be of good competition caliber, without any obvious flaws to the casual observer. The close scrutiny of a judge's flashlight should not be as important as the overall impression of the piece from a normal viewing distance. The main requirement is that the animal portrayed looks "alive" to the viewer.
2. Creativity. Artists who try something new or difficult should be rewarded for their efforts. The concept of the piece should not copy previous winner's ideas. Original ideas, successfully executed, should be given high consideration for this award.
3. Artistic Merit. The entry should be judged as a three-dimensional art piece, just like a painting or fine sculpture. Basic art concepts, such as composition, color, dynamic impact, contrast, texture, negative and positive space, and general artistic appeal should be carefully considered.
I am so pleased that McKenzie has continued to support the WASCO Award, which for the past 23 years has honored taxidermists who took risks and inspired us with their creativity. To read about the history of the WASCO Award and how it came into being in 1993, check out this blog entry: The Birth of the WASCO Award. Our congratulations go out to the talented 2016 winners of the WASCO Award for the Most Artistic Entry, which are listed below.

The 2016 WASCO Award Winners – Listed in date order
Scott Staton, Jacksonville, FL
Oldsquaws
February 6th, 2016 – Florida State Taxidermists Association
Troy Piotrowski, Amherst, WI
Turkey
February 15th, 2016 – National Wild Turkey Federation
John Lee, Hoboken, GA
Bufflehead Drake
February 20th, 2016 – Georgia Taxidermist Association
Mike Nakielski, Iron Ridge, WI
Wood Duck
February 21st, 2016 – Wisconsin Taxidermists Association
Mickey Bowman, Lawton, OK
Brook Trout
February 27th, 2016 – Arkansas Taxidermy Association
Nate Miller, Merrifield, MN
Oldsquaw Drake
March 6th, 2016 – North Dakota Taxidermy Association
Chris Horne, Mount Joy, PA
Wild Boar
March 12th, 2016 – Virginia Taxidermists Association
Dale Robertson, Young, AZ
Mountain Lion
March 12th, 2016 – Arizona Taxidermy Association
Mike Nakielski, Iron Ridge, WI
Crow
March 13th, 2016 – Illinois Taxidermist Association
Tim Gorenchan, Escanaba, MI
Brown Trout
March 19th, 2016 – Michigan Taxidermist Association
Justin Jones, Dixon, CA
Wood Ducks
March 19th, 2016 – California Association of Taxidermists
Vince Spellane, Saltsburg, PA
Whitetail Deer
March 19th, 2016 – Pennsylvania Taxidermy Association
Keith Goodrow, Fremont, IN
Antelope
March 20th, 2016 – Association of Indiana Taxidermists
Kip Love, Riverton, UT
Warthog
March 20th, 2016 – Utah Taxidermists Association
Cory Foth, Peabody, KS
Bluegill
March 20th, 2016 – Kansas Association of Taxidermy
Tyler Erickson, Brookings, SD
Yellow Perch
March 20th, 2016 – South Dakota Taxidermist Association
Alain Veilleux, Bale-Comeau, Quebec
Brook Trout
March 20th, 2016 – Canadian Taxidermy Association
Ben Lenoble, Fremont, WI
Crappie
April 3rd, 2016 – Iowa Taxidermy Association
Ted Wyenberg, Combined Locks, WI
Wood Duck
April 10th, 2016 – Mississippi State Taxidermy Association
Brian Noody, Fredonia, NY
Fighting Impalas
April 9th, 2016 – United Taxidermists of New York
Allen Malaise, Cody, WY
Alaskan Moose
April 11th, 2016 – Wyoming Association of Taxidermy Artists
Mike Nakielski, Iron Ridge, WI
Black Ducks
April 16th, 2016 – Minnesota Taxidermy Guild
Royal Robillard, Gatineau, Quebec
Chinook Salmon
April 17th, 2016 – Quebec Taxidermy Association
Jeff Mourning, Littleton, CO
Cutthroat Trout
May 1st, 2016 – New Mexico Taxidermy Association
Dale Manning, Missoula, MT
Blue Grouse
May 1st, 2016 – Montana Taxidermists Association
Rodney Schreurs, Cedar Grove, WI
Monitor
May 28, 2016 – United Taxidermists Association
Matt Tainter, Westby, WI
Pheasant
May 31st, 2016 – Nebraska State Taxidermist Association
Brian Brew, Springhill, TN
Mergansers
June 4th, 2016 – Tennessee Taxidermists Association
Josh Gustad, New Castle, CO
Bobcat
June 4th, 2016 – Colorado Taxidermists Association
Ryan Rhodes, Stockton Springs, ME
Black Duck
June 5th, 2016 – New England Association of Taxidermists
Timothy Gorenchan, Escanaba, MI
Brown Trout
June 11th – National Taxidermist Association
Korey Alleman, Breaux Bridge, LA
Gadwall
June 11th, 2016 – Oklahoma Taxidermists Association
David Ferguson, Harrisville, UT
Mule Deer
June 25th, 2016 – Oregon Taxidermy Association
Ted Wenner, Roswell, NM
Mountain Lion
June 25th, 2016 – Texas Taxidermy Association, Inc.
Shane Smith, Bridgeport, AL
Peacock
June 26th, 2016 – Alabama Taxidermy Association
Eric Perry, Gold Hill, NC
Mallards
July 30th, 2016 – North Carolina Taxidermy Association
Jeremy Simon, Elkins, WV
Snow Goose
August 5th, 2016 – Maryland Taxidermy Association
Cole Cruickshank, Cameron, MO
Bluegill
August 5th, 2016 – Missouri Taxidermy Association
Ryan Rhodes, Stockton Springs, ME
Black Duck
August 7th, 2016 – Maine Association of Taxidermists
Kurt Ainsworth, Independence, KY
Whitetail Deer
August 9th, 2016 – Kentucky Taxidermist Association


Help fill any empty spaces! If you have a photo of a 2016 WASCO Award winning entry that we do not have a picture for in the list above, please email it to me at [email protected] and I will add it to this article. Thanks.