At first, I was a little bit skeptical when I heard the The National Taxidermists Association decided to call their 46th annual convention the NTA Rocky Mountain Taxidermy Extravaganza, but after attending last week, I realize that they could not have picked a better name. It was indeed an extravaganza of fantastic displays of taxidermy, informative seminars and the west's biggest trade show in many years!
Last week, I was privileged again to return as the show photographer, and as the amazing mounts kept rolling in during the registration period, I realized that this would be a spectacular competition. Well over half of the entries were large floor pedestals with artistic representations of lifesize mammals, bird groups, and fantastic fish. The spacious competition room quickly filled up with over a hundred large floor displays, which were cleverly arranged to spell out the initials NTA.
With the additional table and wall pieces, the total number of entries increased substantially above last year's show in Seven Springs, Pennsylvania. The western competitors really brought it! The overall quality of the entries was superb. World Champion Judges Dwayne Dewey, Phil Soucy, Clark Schreibeis, Tony Finazzo, Doug Eck and Joe Meder had their work cut out for them choosing the best of the best.
The host hotel was a new Hilton Garden Inn and it was conveniently attached to the beautiful Davis Conference Center in Layton, Utah. With the majesty of the Wasatch range of the Rocky Mountains constantly visible through the large windows, this facility was one of the most impressive that I have seen so far. If the NTA returns here in three years (which was hinted at during the banquet), this is a show you do not want to miss!
During the awards banquet, photos of the winning entries are projected on the big screen as the winners are announced. Here are the studio photos of the major award winners from the 2017 NTA competition as they were shown when the awards were handed out on Saturday night, July 15, 2017.

NTA 2016 Major Award Winners
Taxidermist of the Year
The Theodore Roosevelt Lion Award
BILL NEUMAN Bismarck, North Dakota 235 Mountain Goat
The Breakthrough Best of Show Award
Judges' Choice Best of Show
JOSH HUNT Morgan, Utah 226 Mule Deer
Distinguished Taxidermist Award
Entry has previously won a Judges' Best of Show at another qualifying competition
JOSH HUNT Morgan, Utah 226 Mule Deer
The WASCO Award
Most Artistic Entry
JEFF MOURNING Littleton, Colorado 218 Golden Trout
Challenge of the Art of Taxidermy
Third Place
JEFF MOURNING Littleton, Colorado 218 Golden Trout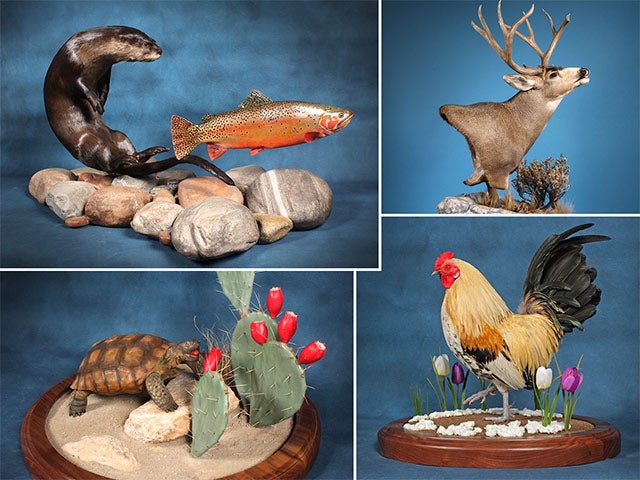 Best All-Around Taxidermist
Highest Combined Score in Four Categories
SCOTT HUMBLE Springville, Utah 192-196 Otter, Mule Deer, Tortoise, Rooster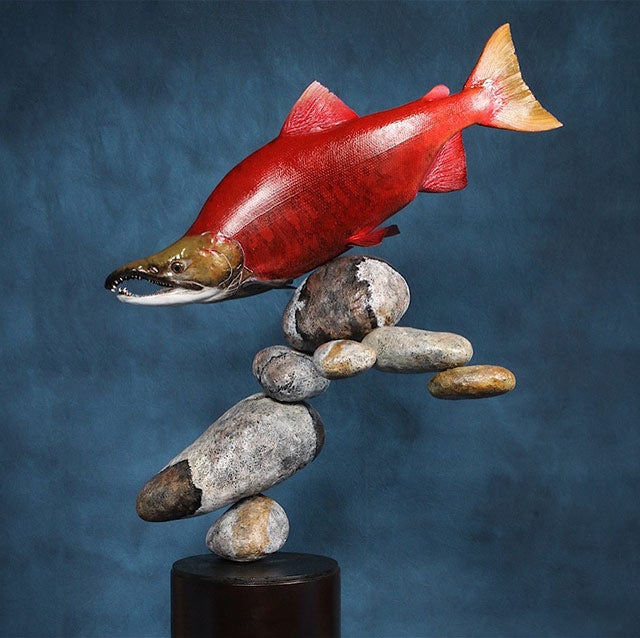 Challenge of the Art of Taxidermy
First Place
JEFF MOURNING Littleton, Colorado 219 Sockeye Salmon
Challenge of the Art of Taxidermy
Second Place
GRANT WILBORN Ogden, Utah 126 King Eider
Judges' Best of Show Collective Artists Division
Highest Scoring Entry by More Than One Artist
GW's TAXIDERMY Ogden, Utah 129 King Eiders
NTA Master's Choice Award
Selected by convention attendees
PHIL SOUCY Libby, Montana 214 Leopard
Henry Wichers Inchumuk Award
Judges' Choice for Best Lifesize Mammal, Size of Squirrel or Smaller
SCOTT HUMBLE Springville, Utah 200 Western Spotted Skunk
Brian Harness Memorial Award
Judges' Choice for Best Lifesize Mammal
SCOTT HUMBLE Springville, Utah 200 Western Spotted Skunk
Chris Barnhardt Memorial Award
Judges' Choice for Best Gamehead
BILL NEUMAN Bismarck, North Dakota 236 Cape Buffalo
National Wild Turkey Federation Award
Judges' Choice for Best Turkey
DARIN GARDNER KAYSVILLE, UTAH 285 Turkey

North American Champions
North American Champion Re-Creation
First Place in the Division of Excellence
SCOTT HUMBLE Springville, Utah 201 Golden Eagle
North American Champion Turkey
First Place in the Division of Excellence
DARIN GARDNER KAYSVILLE, UTAH 285 Turkey
North American Champion Gamehead
First Place in the Division of Excellence
BILL NEUMAN Bismarck, North Dakota 236 Cape Buffalo
North American Champion Large Mammal
First Place in the Division of Excellence
JOSH HUNT Morgan, Utah 226 Mule Deer
North American Champion Small Mammal
First Place in the Division of Excellence
SCOTT HUMBLE Springville, Utah 200 Western Spotted Skunk
North American Champion Reptile Reproduction
First Place in the Division of Excellence
SCOTT HUMBLE Springville, Utah 192 Desert Tortoise
North American Champion Coldwater Fish Skin Mount
First Place in the Division of Excellence
JEFF MOURNING Littleton, Colorado 218 Golden Trout
North American Champion Waterfowl
First Place in the Division of Excellence
DALE MANNING Missoula, Montana 240 Harlequin
North American Champion Bird
First Place in the Division of Excellence
DALE MANNING Missoula, Montana 278 Blue Grouse

National Champions
National Champion Gamehead
Highest Score in the Open Division
JOSH BRYAN Newburg, Oregon 231 Blacktail Deer
National Champion Large Mammal
Highest Score in the Open Division
WILLIE UNGERMAN Huntington, Utah 135 Black Bear
National Champion Small Mammal
Highest Score in the Open Division
STEPHEN SHULTE Coalville, Utah 176 Bobcat
National Champion Warmwater Fish Skin Mount
Highest Score in the Open Division
DAN JOHNSON Syracuse, Utah 259 Walleye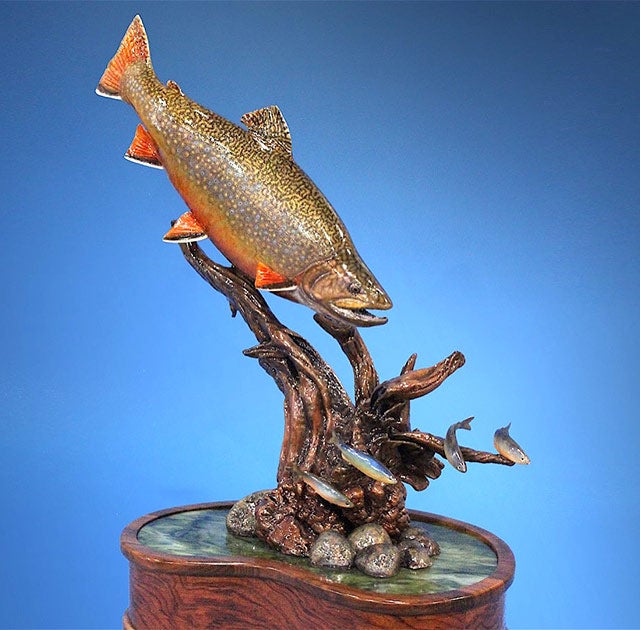 National Champion Coldwater Fish Skin Mount
Highest Score in the Open Division
MICKEY BOWMAN Layton, Oklahoma 166 Brook Trout
National Champion Waterfowl
Highest Score in the Open Division
MATT SMITH Hurst, Texas 185 Wood Duck
National Champion Bird
Highest Score in the Open Division
JAY PARKE Rigby, Idaho 257 Pheasant

Other Awards
NTA Best of Show Novice
Judges' Choice for Best Novice Entry
BRAXTON SHAW Layton, Utah 116 Snow Goose
People's Choice Award
The Charley Haynes Memorial Award
BILL NEUMAN Bismarck, North Dakota 235 Mountain Goat
Taxidermists' Choice Best Life-size Mammal Award
Sponsored by McKenzie Taxidermy Supply
BILL NEUMAN Bismarck, North Dakota 235 Mountain Goat
Taxidermists' Choice Best Whitetail Award
Sponsored by McKenzie Taxidermy Supply
DAVID HONG Spring Creek, Nevada 119 Whitetail Deer
Taxidermists' Choice Best Fish Award
Sponsored by McKenzie Taxidermy Supply
JEFF MOURNING Littleton, Colorado 218 Golden Trout
Taxidermists' Choice Best Reptile Award
Sponsored by McKenzie Taxidermy Supply
SCOTT HUMBLE Springville, Utah 192 Desert Tortoise
Taxidermists' Choice Best Bird Award
Sponsored by McKenzie Taxidermy Supply
GRANT WILBORN Ogden, Utah 126 King Eider
NTA Best of Show Taxidermy Sculpture
Sponsored by the National Taxidermists Association
DAVE FERGUSON Harrisville, Utah 280 Red Fox
People's Choice Taxidermy Sculpture
Sponsored by the National Taxidermists Association
DAVE FERGUSON Harrisville, Utah 280 Red Fox
NTA Best of Show Live Taxidermy Sculpting
Sponsored by the National Taxidermists Association
DAVE FERGUSON Harrisville, Utah 285 Red Fox
NTA Best of Show Original Art
Selected by the judges collectively from all first-place winners in the five Original Art categories
MIJKE BUTTS Willard, Utah 130 Abstract Carving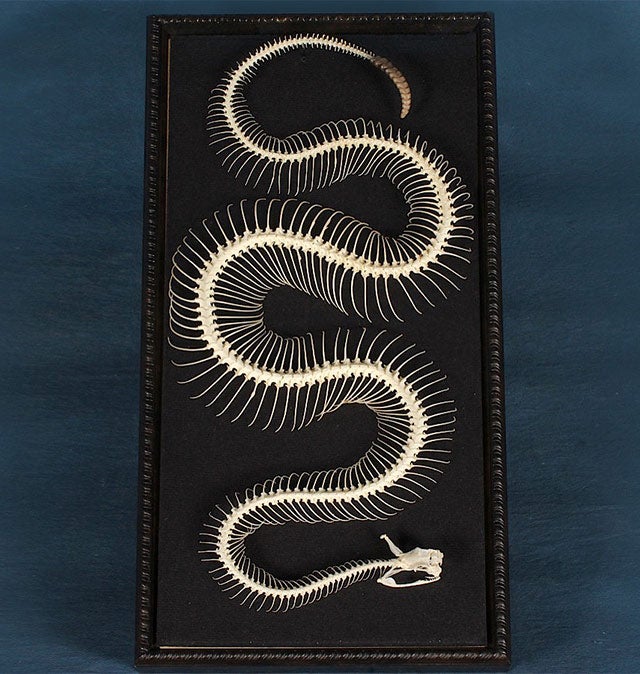 People's Choice Original Art
Sponsored by the National Taxidermists Association
SCOTT HUMBLE Springville, Utah 197 Rattlesnake Skeleton
NTA International African/Exotic Award
Judges' Choice for Best Large African/Exotic Mount
BILL NEUMAN Bismarck, North Dakota 236 Cape Buffalo
Delia Akeley Award
Best entry by a female competitor selected by convention attendees
TRACEY RHODES Medina, Texas 102 Mouflon Sheep
Van Dyke's Award
Most Creativity Mammal, Gamehead or Whitetail Entry
BILL NEUMAN Bismarck, North Dakota 235 Mountain Goat
The New Wave Award
Judges' Choice for Best Reproduction Fish
DAN JOHNSON Syracuse, Utah 260 Walleye
The Polytranspar Award
Highest Scoring Fish Painted with Polytranspar
JEFF MOURNING Littleton, Colorado 218 Golden Trout
The Star*Fish Award
Sponsored by Star*Fish
JEFF MOURNING Littleton, Colorado 218 Golden Trout
NTA Best Habitat Award
Outstanding Habitat Display
JOSH HUNT Morgan, Utah 226 Mule Deer
Youth Horizon Award
Judges' Best of Show Youth Division
HUNTER CARTER Great Falls, Montana 112 Chuckar Partridge

The 2016 NTA Major Award Winners Gallery – Seven Springs, Pennsylvania
The 2015 NTA Major Award Winners Gallery – Gatlinburg, Tennessee
The 2014 NTA Major Award Winners Gallery – Springdale, Arkansas
The 2013 NTA Major Award Winners Gallery – Baton Rouge, Louisiana
The 2012 NTA Major Award Winners Gallery – Rogers, Arkansas
The 2011 NTA Major Award Winners Gallery – Sioux Falls, South Dakota
The 2010 NTA Major Award Winners Gallery – Springfield, Illinois
The 2009 NTA Major Award Winners Gallery – Huntsville, Alabama
The 2008 NTA Major Award Winners Gallery – Lubbock, Texas
The 2007 NTA Major Award Winners Gallery – Louisville, Kentucky
The 2006 NTA Major Award Winners Gallery – Billings, Montana
The 2005 NTA Major Award Winners Gallery – Sioux Falls, South Dakota