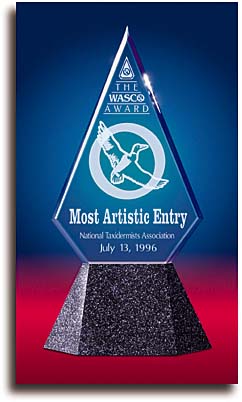 The 2017 convention season has come to a close, and for the 25th consecutive year, the judges have chosen the WASCO Award winners. I think that the most compelling part of each competition is when all of the judges get together collectively pick what they feel is the most artistic entry in the entire show. I have been in on many of these lively discussions and the judges always make it a point to give a great deal of thought and consideration to fairly choose the entry they feel is most deserving of this prestigious award.
The WASCO Most Artistic Entry Award is presented to the most artistic piece in a taxidermy competition. The winner is chosen collectively by all of the judges from the entire competition. WASCO Award winners receive a polished acrylic award and a gift certificate from WASCO (Wildlife Artist Supply Company).
The winning entries were chosen by the following criteria:
1. Exhibition of Taxidermy. The entry should tastefully display both the subject as well as the taxidermy profession in a favorable light. The taxidermy should be of good competition caliber, without any obvious flaws to the casual observer. The close scrutiny of a judge's flashlight should not be as important as the overall impression of the piece from a normal viewing distance. The main requirement is that the animal portrayed looks "alive" to the viewer.
2. Creativity. Artists who try something new or difficult should be rewarded for their efforts. The concept of the piece should not copy previous winner's ideas. Original ideas, successfully executed, should be given high consideration for this award.
3. Artistic Merit. The entry should be judged as a three-dimensional art piece, just like a painting or fine sculpture. Basic art concepts, such as composition, color, dynamic impact, contrast, texture, negative and positive space, and general artistic appeal should be carefully considered.
I am so pleased that McKenzie has continued to support the WASCO Award, which for the past 25 years has honored taxidermists who took risks and inspired us with their creativity. To read about the history of the WASCO Award and how it came into being in 1993, check out this blog entry: The Birth of the WASCO Award. Our congratulations go out to the talented 2017 winners of the WASCO Award for the Most Artistic Entry, which are listed below.

The 2017 WASCO Award Winners – Listed in date order
Steven Reynolds, Jackson, GA
Mallard Drake
February 18th, 2017 – Georgia Taxidermy Association
Josh Lengacher, Washington, IN
Wild Turkey
February 18th, 2017 – National Wild Turkey Federation
Jason Vanderpool, Tulsa, OK
Bufflehead
February 25th, 2017 – Arkansas Taxidermist Association
Mike Orthober, Egg Harbor, WI
Hazel Grouse
February 25th, 2017 – Wisconsin State Taxidermy Competition

Darrin Mosser, Minot, ND
Walleye
March 4th, 2017 – North Dakota Taxidermists Association

Hayward Cloud, Napa, CA
Marble Teal and Wood Duck Cross
March 4th, 2017 – California Taxidermist Association
Jason Krause, Pine Grove, PA
Timber Rattlesnake
March 11th, 2017 – Pennsylvania Taxidermy Association
Ryan Cook, South Weber, UT
Blacktail Deer
March 18th, 2017 – Utah Taxidermists Association

Steven Dotson, Jackson, MO
Merganser
March 18th, 2017 – Association of Indiana Taxidermists
Terry Weick, Hopkins, MI
Brown Trout
March 18th, 2017 – Michigan Taxidermist Association
Shawn Powell, Tappahannock, VA
Snow Goose
March 18th, 2017 – Virginia Taxidermists Association
Ben LeNoble, Freemont, WI
Yellow Perch
March 18th, 2017 – Illinois Taxidermist Association

Ben Korshidnam, Alberta, Canada
Hungarian Partridge & Goshawk
March 18th, 2017 – Canadian Taxidermy Association

Lance Johnson, Castleton, ND
Ringneck Pheasant
March 18th, 2017 – South Dakota Taxidermy Association
Chris Krueger, Phoenix, AZ
Ringtail Cat
March 25th, 2017 – Arizona Taxidermy & Art Association

Doug Roffers, Oneida, WI
Black Bear
March 25th, 2017 – Iowa Taxidermy Association

Sam Cahoy, Aberdeen, SD
Bufflehead
March 26th, 2017 – Kansas Association of Taxidermists

Garrett Sunram, Detroit Lakes, MN
Dall Sheep
April 1st, 2017 – Minnesota Taxidermy Guild
Kurt Ainsworth, Independence, KY
Whitetail Deer
April 1st, 2017 – Ohio Taxidermy Association

Alan Veuilleux, Baie-Comeau, Quebec
Brook Trout
April 1st, 2017 – Quebec Taxidermy Association

Kyle Landry, Grand Isle, LA
Ring-Necked Duck
April 1st, 2017 – Mississippi State Taxidermy Association
Tim Cooley, La Salle, CO
Green Wing Teal
April 8th, 2017 – Wyoming Association of Taxidermy Artists

Josh Saville, Scipio Center, NY
Pintail
April 8th, 2017 – United Taxidermists of New York

Robert Major, Las Cruces, NM
Pedestal Gemsbok
April 22nd, 2017 – New Mexico Taxidermy Association
Rich White, Billings, MT
Brown Trout
April 29th, 2017 – Montana Taxidermists Association

Matt Pigliavento, Schenectady, NY
Hybrid Hartebeest
June 3rd, 2017 – New England Association of Taxidermists

Todd Kranau, Blue Hill, NE
Warthogs
June 3rd, 2017 – Colorado Taxidermists Association
Jeremy Simon, Elkins, WV
Peacock
June 9th, 2017 – West Virginia Taxidermy Association
Jay Parke, Rigby, ID
Fighting Sandhill Cranes
June 10th, 2017 – Idaho Taxidermists Association

John Paul Barber, Boerne, TX
Cinnamon/Blue Wing Teal Cross
June 10th, 2017 – Oklahoma Taxidermists Association
Sam Cahoy, Aberdeen, SD
Scaled Quail
June 10th, 2017 – Nebraska State Taxidermist Association

Joshua Jackson, Moody, AL
Ringneck Duck
June 24th, 2017 – Alabama Taxidermy Association

Cody Benge, Oregon City, OR
Blacktail Wall Pedestal
June 24th, 2017 – Oregon Association of Taxidermists
Brandon Zahn, Boling, TX
Pintail Ducks
June 24th, 2017 – Texas Taxidermy Association
Scott Ferguson, Easton, PA
Hen Mallard
July 15th, 2017 – Garden State Taxidermy Association
Jeff Mourning, Littleton, CO
Golden Trout
July 15th, 2017 – National Taxidermists Association
Dave Tuttle, Wilmore, KY
Wood Duck
July 29th, 2017 – Kentucky Taxidermist Association
Jake Rouse, Raleigh, NC
Whitetail Deer
July 29th, 2017 – North Carolina Taxidermist Association
Carmen Helmer, DuQuoin, IL
Blue Goose
August 5th, 2017 – Missouri Taxidermist Association
Alex Harrington, Milan, NH
Bobcat and Snowshoe Hare
August 6th, 2017 – Maine Association of Taxidermists
Brian Claar, East Freedom, PA
False Albacore Repro
September 10th, 2017 – Pennsylvania Taxidermy Association Mini-Competition
Doug Marshall, Blenheim in the South Island of New Zealand
Ringneck Parakeets
October 1st, 2017- New Zealand Taxidermy Association

If you wish to add missing photos to this list, or correct any errors or omissions, please email [email protected] and I will be happy to update the page.