If there was a Best in World award for the most outstanding state taxidermy convention, Texas would surely take the gold medallion. It is amazing how a show this good continues to improve year after year, but it does! The 2018 TTAI convention was the biggest and the best so far, with over 200 superb entries and probably well over 500 enthusiastic attendees. The Board of Directors works tirelessly to make everyone feel welcome and keep everything running smoothly. The Killeen Civic Center and adjacent Shilo Inn and Suites Hotel are a perfect venue, and with several years of experience at this location, the logistics of the show went smoothly without a hitch.
For the fourth year in a row, I was honored to be asked to be the show photographer. As the mounts rolled in, it became clear to me that this was to be a stellar year for the competition. The judges, Brenda Duvall, Jack Emery, Ron Kelly, Jim Kimball and Bill Neuman, definitely had their work cut out for them in choosing the top winners from such a talented pool.
During the awards banquet, Brian Fees projected a Powerpoint presentation which included the photos of the winning entries as the winners were announced. I am pleased to present the major award winners below in reverse order as they were announced at the awards banquet on Saturday night, June 23, 2018.
Texas Taxidermy Association Inc. 2018 Major Awards

Judges' Best of Show – Breakthrough Award
Sponsored by Breakthrough
JERRY HUFFAKER Abilene, TX 0078 Aoudad

Best of Masters Division
Chosen by the Judges
MICKEY BOWMAN Lawton, OK 1268 Brook Trout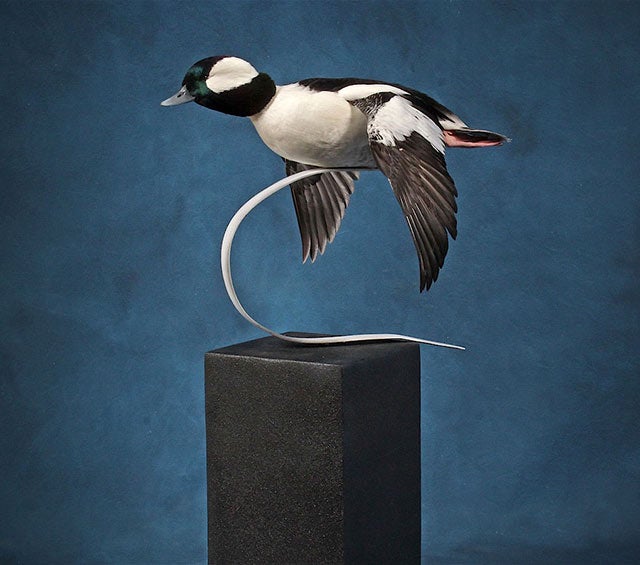 Best of Professional Division
Chosen by the Judges
MARK HERNANDEZ Pearsall, TX 2287 Bufflehead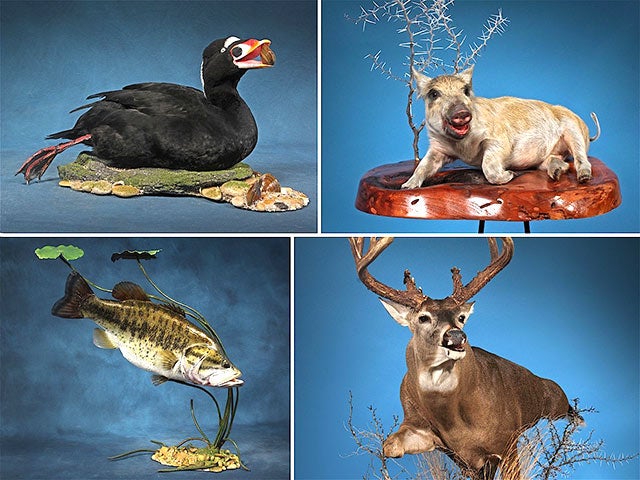 Texas Best All-Around Award
Highest combined scores of four entries in each Bird, Mammal, Whitetail or Gamehead, and Fish or Reptile category
JAMES NEWPORT Pearsall, TX Largemouth Bass, Surf Scoter, Pig, Whitetail

Competitors' Award (Two Winners)
Highest combined scores of four entries
Winner #1: KYLE LANDRY Grand Isle, LA Emperor Goose, Mallard, Redhead, Common Eider

Competitors' Award (Two Winners)
Highest combined scores of four entries
Winner #2: PAUL KLAR Broadus, MT Pronghorn Antelope, Pronghorn Antelope, Mule Deer, Mule Deer

Masters Bird Challenge
Live speed-mounting competition
BRANDON ZAHN Boling, TX Pintail

Masters Gamehead Challenge
Live speed-mounting competition
MARK HERNANDEZ Pearsall, TX Whitetail Deer

McKenzie Taxidermists' Choice Awards

McKenzie Taxidermists' Choice Best Lifesize Mammal
Sponsored by McKenzie
STEVE ROLAN Durham, NC 0083 Alaskan Wolf

McKenzie Taxidermists' Choice Best Gamehead
Sponsored by McKenzie
JAMES NEWPORT Pearsall, TX 1250 Whitetail Deer

McKenzie Taxidermists' Choice Best Fish
Sponsored by McKenzie
MICKEY BOWMAN Lawton, OK 1268 Brook Trout

McKenzie Taxidermists' Choice Best Bird
Sponsored by McKenzie
KYLE LANDRY Grand Isle, LA 1271 Emperor Goose

TTAI People's Choice Awards

People' Choice Best of Show
Chosen by the Competitors
MARK COUTURE Granbury, TX 0046 Bobcat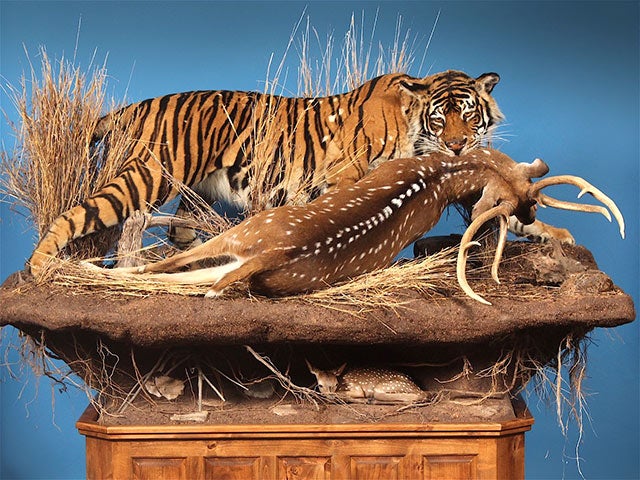 Studio Division First Place
Chosen by the Competitors
SAFARI STUDIOS, JIMMY FONTENOT San Angelo, TX 5005 Tiger and Axis Deer

Studio Division Second Place
Chosen by the Competitors
DAMUTH TAXIDERMY, GARY DAMUTH Granbury, TX 5013 Rhinoceros

Studio Division Third Place
Chosen by the Competitors
HUFFAKER TAXIDERMY, JERRY HUFFAKER Abilene, TX 5010 Leopard

Best of Masters Division
Chosen by the Competitors
STEVE ROLAN Durham, NC 0083 Alaskan Wolf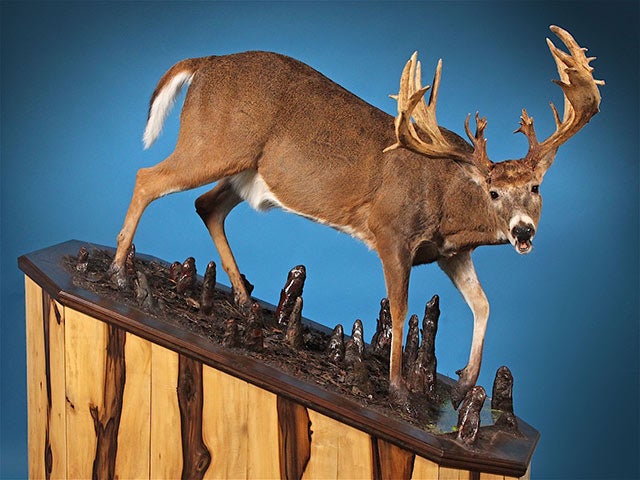 Best of Professional Division
Chosen by the Competitors
JACEY BROUSSARD Moss Bluff, LA 2297 Whitetail Deer

Best of Amatuer Division
Chosen by the Competitors
COREY VEACH Gonzales, TX 4029 Hog

Original Arts First Place
Chosen by the Competitors
SIERRA GUIDRY BRYAN, TX 3019 Texas Rat Snake

Texas State Champion Awards – Masters Division

Texas State Champion, Reptile
Highest Scoring Masters Entry
ROBERT ROWE Stillwater, OK 0076 Snapping Turtle

Texas State Champion, Fish (Skin Mount)
Highest Scoring Masters Entry
MICKEY BOWMAN Lawton, OK 1268 Brook Trout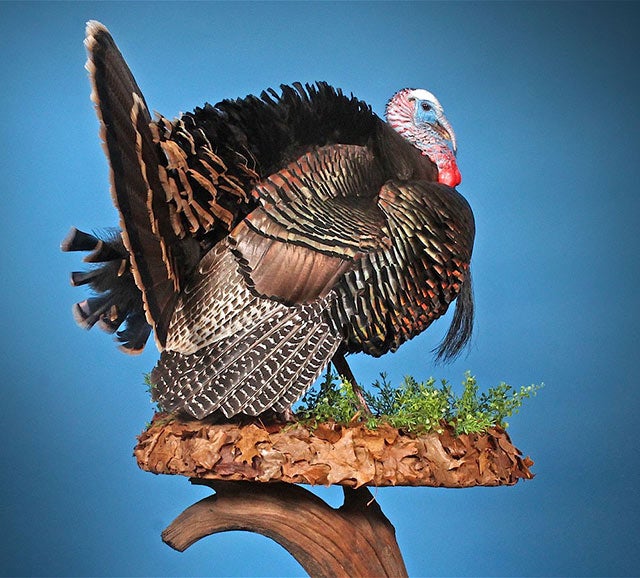 Texas State Champion, Upland Game Bird
Highest Scoring Masters Entry
MARK PONTIUS Coweta, OK 0066 Rio Grande Turkey

Texas State Champion, Waterfowl and Shorebirds
Highest Scoring Masters Entry
KEN HOWARD Fort Worth, TX 1259 Green-Winged Teal

Texas State Champion, Small Mammal
Highest Scoring Masters Entry
BEN CROMEENS Houston, TX 0086 Ocelot

Texas State Champion, Large Mammal
Highest Scoring Masters Entry
JAMES NEWPORT Pearsall, TX 1251 Pig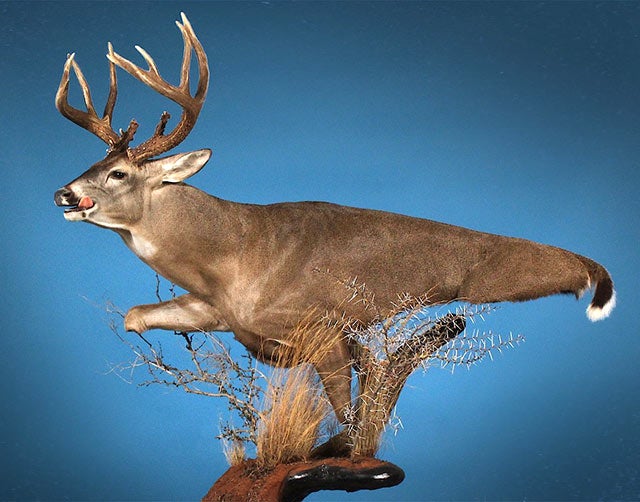 Texas State Champion, Whitetail
Highest Scoring Masters Entry
JAMES NEWPORT Pearsall, TX 1250 Whitetail

Texas State Champion, Gameheads
Highest Scoring Masters Entry
JERRY HUFFAKER Abilene, TX 0078 Aoudad

Best of Category Awards – Professional Division

Best of Category Upland Game Bird
Highest Scoring Professional Entry
JOHN PAUL BARBER Kerrville, TX 2278 Bronzed Wing Cow Bird

Best of Category Waterfowl
Highest Scoring Professional Entry
MARK HERNANDEZ Pearsall, TX 2287 Bufflehead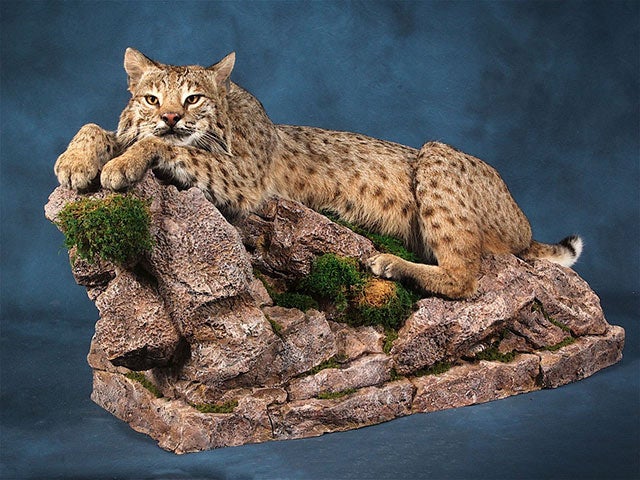 Best of Category Small Mammal
Highest Scoring Professional Entry
K. D. GRAHAM Sallisaw, OK 2293 Bobcat

Best of Category Whitetail Deer
Highest Scoring Professional Entry
NATHANIEL COOK Graham, TX 2238 Whitetail Deer

Best of Category Gameheads
Highest Scoring Professional Entry
JAKE PIKE Spicewood, TX 2225 Coues Deer

TTAI Sonsored Awards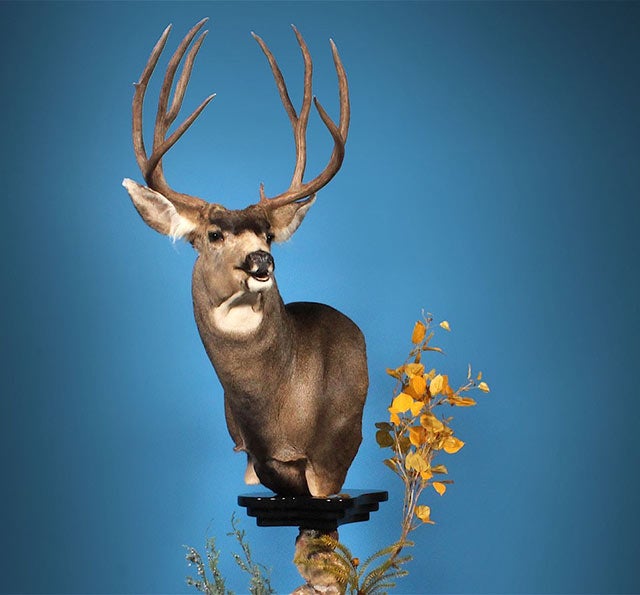 Mule Deer Foundation Award–Masters
Highest Scoring Mule Deer in Masters Division
JAMES YARBOROUGH Cedar Park, TX 1276 Mule Deer

Mule Deer Foundation Award–Professional
Highest Scoring Mule Deer in Professional Division
JOSH GUENTHER Marion, TX 2303 Mule Deer

Amateur Division Horizon Award
Sponsored by Research Mannikins
MICHA STEVENS Sweeny, TX 4014 Gadwall

Second 2 Nature Award
Sponsored by Second 2 Nature
ANTHONY YANTA Beeville, TX 2241 Bobcat

Polytranspar Award
Sponsored by McKenzie
TERRY JOHNSON Mesa, AZ 1258 Brook Trout

Lifetone Award
Sponsored by ChemOddities
WAYNE STANFORD Copperas Cove, TX 2269 Bluegill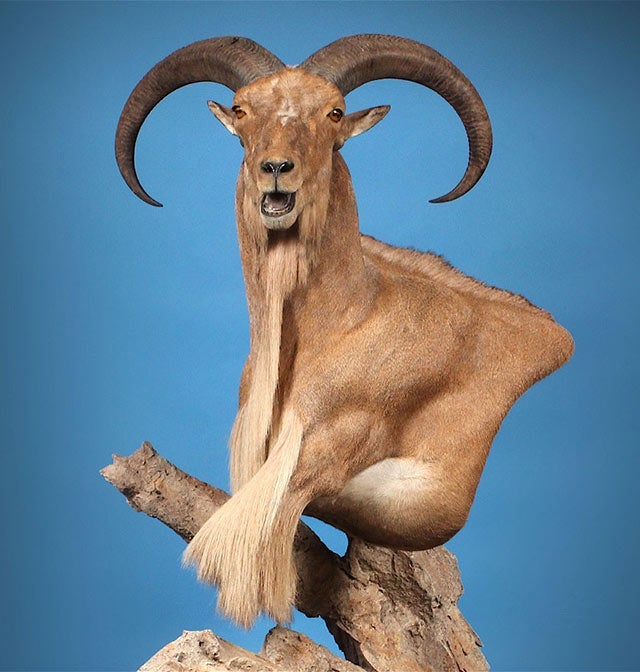 Pro 1 Award
Sponsored by Pro 1 Hide Paste
JERRY HUFFAKER Abilene, TX 0078 Aoudad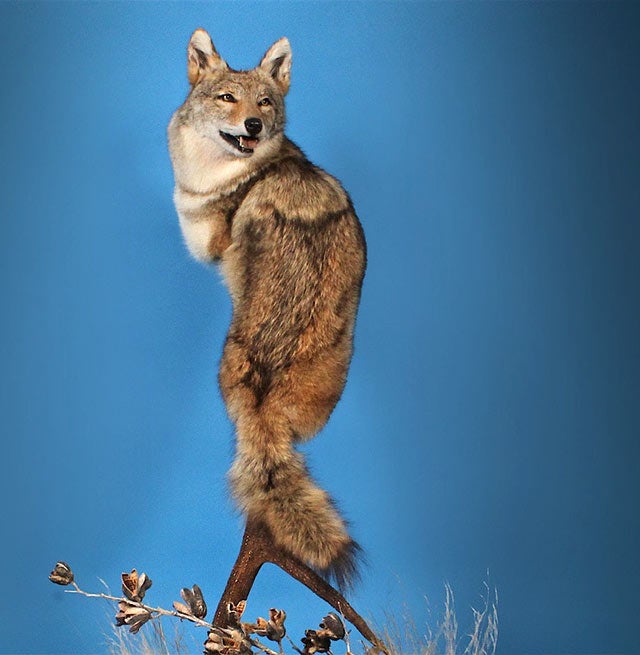 Brian Harness Award
Sponsored by the TTAI
SCOTT BURTON Amarillo, TX 2239 Coyote

Carlos Adams Award
Sponsored by Kim And Danny Owens
KEN HOWARD Fort Worth, TX 1259 Green-Winged Teal

TTAI Akeley Award
Sponsored by James Newport
ROBERT MAJOR Las Cruces, NM 1261 Bighorn Sheep

Van Dyke's Award
Most Original and Creative Presentation
SHANE DAVENPORT Gilmer, TX 1256 Otter

Taxidermy Today Woody Award
Sponsored by Taxidermy Today
JAMES NEWPORT Pearsall, TX 1251 Pig

Research Mannikins Award
Sponsored by Research Mannikins
STEVE ROLAN Durham, NC 0083 Alaskan Wolf

WASCO Award
Most Artistic Entry
KEN HOWARD Fort Worth, TX 1259 Green-Winged Teal

Youth Awards

BeetleShack Judges' Choice – Youth
Chosen by the Youth Judges
SHANNON TRAVIS Springtown, TX 6045 Whitetail Deer
First Place Age 15–17 Category
Chosen by the Judges
SHANNON TRAVIS 6045 Whitetail Deer

People's Choice–Youth
Chosen by the Competitors
NOLA LANDRY North Zulch, TX 6039 Raccoon
Second Place Age 9–14 Category
Chosen by the Judges
NOLA LANDRY North Zulch, TX 6039 Raccoon

Second Place Age 15–17 Category
Chosen by the Judges
GREGORY LANDRY North Zulch, TX 6041 Bobcat

First Place Age 9–14 Category
Chosen by the Judges
ANNALESIA FARLEY Canyon Lake, TX 6044 Redfish Reproduction

First Place Age 8 and Under Category
Chosen by the Judges
ISABELLA BAILEY Wylie, TX 6035 Bufflehead

Second Place Age 8 and Under Category
Chosen by the Judges
TAEGAN (TAC) CRISP Lamesa, TX 6049 Coral Snake