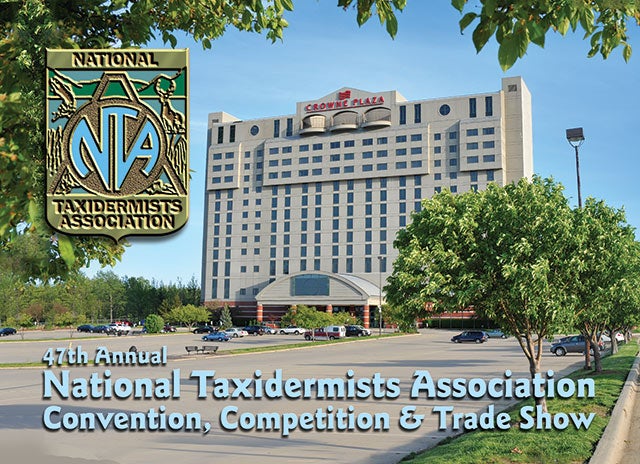 Kathy Blomquist told me, "Pulling into the Crowne Plaza in Springfield, Illinois felt like coming home." I know exactly what she meant! Arriving at the NTA's host facility was a familiar experience. In fact this was the eighth week that I has spent at this beautiful hotel attending taxidermy conventions. It could not have been a more perfect place to host the 2018 National Taxidermy Championships.
This year, I was privileged again to return as the show photographer, and as the amazing mounts kept rolling in during the registration period, I realized that this would be an impressive competition. Many of the mounts were also familiar, as several past World Show winners brought their pieces to be entered for the first time in the National competition. There were also many new spectacular entries as well. The whitetail deer entries alone were among the strongest that I had ever seen. I did not envy deer judge Larry Blomquist's task of choosing the best among this close a competition.

During the awards banquet, photos of the winning entries are projected on the big screen as the winners are announced. Here are the studio photos of the major award winners from the 2018 NTA competition as they were shown when the awards were handed out on Saturday night, July 14, 2018.

NTA 2018 Major Award Winners
Taxidermist of the Year
The Theodore Roosevelt Lion Award – $1,500.00
RODNEY SCHREURS Cedar Grove, Wisconsin 190 Snapping Turtle
The Breakthrough Best of Show Award
Judges' Choice Best of Show – $1,200.00
TIMOTHY GORENCHAN Escanaba, Michigan 230 Sockeye Salmon
Distinguished Taxidermist Award
Entry has previously won a Judges' Best of Show at another qualifying competition – $150.00
TIMOTHY GORENCHAN Escanaba, Michigan 230 Sockeye Salmon
Challenge of the Art of Taxidermy
Second Place – $150.00
TIMOTHY GORENCHAN Escanaba, Michigan 230 Sockeye Salmon
The WASCO Award
Most Artistic Entry – $250.00
BRETT WINGFIELD Spirit Lake, Iowa 245 Largemouth Bass
Challenge of the Art of Taxidermy
First Place – $250.00
BRETT WINGFIELD Spirit Lake, Iowa 245 Largemouth Bass
NTA Competitor's Award – Division of Excellence
First Place – $1,500.00
RODNEY SCHREURS Cedar Grove, Wisconsin 190 Snapping Turtle Skin Mount
RODNEY SCHREURS Cedar Grove, Wisconsin 191 Snapping Turtle Reproduction
RODNEY SCHREURS Cedar Grove, Wisconsin 192 Baby Rabbits Recreation
RODNEY SCHREURS Cedar Grove, Wisconsin 193 Toad
NTA Competitor's Award – Division of Excellence
Second Place – $1,000.00
SAM CAHOY Aberdeen, South Dakota 148 Scaled Quail
SAM CAHOY Aberdeen, South Dakota 149 Turkey
SAM CAHOY Aberdeen, South Dakota 150 Greater Prairie Chicken
SAM CAHOY Aberdeen, South Dakota 151 Turkey Hen
NTA Competitor's Award – Division of Excellence
Third Place – $750.00
TYLER ERICSON Brookings, South Dakota 208 Yellow Perch
TYLER ERICSON Brookings, South Dakota 209 Yellow Perch
TYLER ERICSON Brookings, South Dakota 210 Black Crappie
TYLER ERICSON Brookings, South Dakota 211 Pumpkinseed
NTA Competitor's Award – Open Division
First Place – $1,000.00
CLINT RICKEY Dodgeville, Wisconsin 238 Whitetail Deer
CLINT RICKEY Dodgeville, Wisconsin 239 Whitetail Deer
CLINT RICKEY Dodgeville, Wisconsin 240 Whitetail Deer
CLINT RICKEY Dodgeville, Wisconsin 241 American Bison
NTA Competitor's Award – Open Division
Second Place – $500.00
DAVE SCHMIDT Palmyra, Wisconsin 131 Black Bear
DAVE SCHMIDT Palmyra, Wisconsin 132 Black Bear
DAVE SCHMIDT Palmyra, Wisconsin 133 Wolverine
DAVE SCHMIDT Palmyra, Wisconsin 134 Wolverine
NTA Competitor's Award – Open Division
Third Place – $250.00
LANCE JOHNSON Hunter, North Dakota 186 Whitetail Deer
LANCE JOHNSON Hunter, North Dakota 187 Whitetail Deer
LANCE JOHNSON Hunter, North Dakota 188 Ringneck Pheasant
LANCE JOHNSON Hunter, North Dakota 189 Ringneck Pheasant
Best All-Around Taxidermist
Highest Combined Score in Four Categories in Division of Excellence – $1,000.00
GREG CUVELIER Arlington, Iowa 222 Raccoon
GREG CUVELIER Arlington, Iowa 223 Whitetail Deer
GREG CUVELIER Arlington, Iowa 224 Perch
GREG CUVELIER Arlington, Iowa 225 Ringneck Pheasant
Challenge of the Art of Taxidermy
Third Place – $100.00
THOMAS HANSON Windom, Minnesota 142 ELK
NTA Master's Choice Award
Selected by convention attendees
SCOTT HUMBLE Springville, Utah 231 Cutthroat Trout Carving (Miniature)
Henry Wichers Inchumuk Award
Judges' Choice for Best Lifesize Mammal, Size of Squirrel or Smaller – $150.00
RODNEY SCHREURS Cedar Grove, Wisconsin 192 Baby Rabbits
Joseph Bruchac Memorial Award
Judges' Choice for Best Whitetail Deer – $150.00
DARIN BRINCKS Washburn, Iowa 235 Whitetail Deer
Chris Barnhardt Memorial Award
Judges' Choice for Best Gamehead – $150.00
CLINT RICKEY Dodgeville, Wisconsin 241 American Bison
Brian Harness Memorial Award
Judges' Choice for Best Lifesize Mammal – $150.00
BRIAN HENDRICKS Scottville, Michigan 106 Gray Fox
National Wild Turkey Federation Award
Judges' Choice for Best Turkey – $150.00
SAM CAHOY Aberdeen, South Dakota 149 Turkey

North American Champions
North American Champion Turkey
First Place in the Division of Excellence
SAM CAHOY Aberdeen, South Dakota 149 Turkey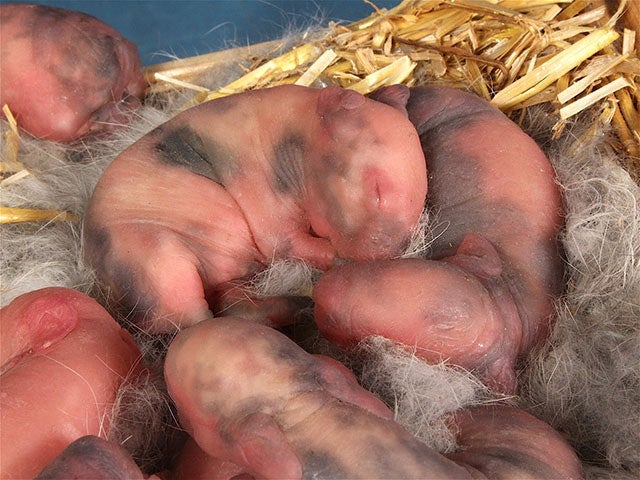 North American Champion Re-Creation
First Place in the Division of Excellence
RODNEY SCHREURS Cedar Grove, Wisconsin 192 Baby Rabbits
North American Champion Whitetail Deer Open-Mouth
First Place in the Division of Excellence
DARIN BRINCKS Washburn, Iowa 235 Whitetail Deer
North American Champion Whitetail Deer Closed-Mouth
First Place in the Division of Excellence
SCOTT ROSCOE Wentzville, Missouri 204 Whitetail Doe
North American Champion Small Mammal
First Place in the Division of Excellence
BRIAN HENDRICKS Scottville, Michigan 106 Gray Fox
North American Champion Reptile Reproduction
First Place in the Division of Excellence
RODNEY SCHREURS Cedar Grove, Wisconsin 191 Snapping Turtle
North American Champion Reptile Skin Mount
First Place in the Division of Excellence
RODNEY SCHREURS Cedar Grove, Wisconsin 190 Snapping Turtle
North American Champion Warmwater Fish Reproduction
First Place in the Division of Excellence
TYLER ERICSON Brookings, South Dakota 208 Yellow Perch
North American Champion Warmwater Fish Skin Mount
First Place in the Division of Excellence
BRETT WINGFIELD Spirit Lake, Iowa 245 Largemouth Bass
North American Champion Coldwater Fish Skin Mount
First Place in the Division of Excellence
TIMOTHY GORENCHAN Escanaba, Michigan 230 Sockeye Salmon
North American Champion Waterfowl
First Place in the Division of Excellence
KENT REEDY Dixon, Iowa 220 Baikal Teal
North American Champion Bird
First Place in the Division of Excellence
JONATHAN WRIGHT Mantachie, Mississippi 160 Ringneck Pheasant

National Champions
National Champion Whitetail Deer Open-Mouth
Highest Score in the Open Division
CLINT RICKEY Dodgeville, Wisconsin 238 Whitetail Deer
National Champion Whitetail Deer Closed-Mouth
Highest Score in the Open Division
SHANE MARTINDALE Pigeon, Michigann 242 Whitetail Deer
National Champion Gamehead
Highest Score in the Open Division
CLINT RICKEY Dodgeville, Wisconsin 241 American Bison
National Champion Large Mammal
Highest Score in the Open Division
NICK GENEREUX Crookston, Minnesota 195 Black Bear
National Champion Small Mammal
Highest Score in the Open Division
RON FERGUSON Petoskey, Michigan 213 Badger
National Champion Warmwater Fish Skin Mount
Highest Score in the Open Division
TYLER ERICSON Brookings, South Dakota 207 Walleye
National Champion Waterfowl
Highest Score in the Open Division
BRENT COLLINS Lewistown, Illinois 153 Mallard
National Champion Bird
Highest Score in the Open Division
LANCE JOHNSON Hunter, North Dakota 189 Ringneck Pheasant

Other Awards
NTA Virtuoso Award
Sponsored by Pro-1 – $200.00
CLINT RICKEY Dodgeville, Wisconsin 238 Whitetail Deer
Taxidermists' Choice Best Whitetail Award
Sponsored by McKenzie Taxidermy Supply
CLINT RICKEY Dodgeville, Wisconsin 238 Whitetail Deer
NTA Best of Show Novice
Judges' Choice for Best Novice Entry
JACQUELINE LANGSTON Sedro Wooley, Washington 247 Widgeon
People's Choice Award
The Charley Haynes Memorial Award – $150.00
GREG CUVELIER Arlington, Iowa 222 Raccoon
Van Dyke's Award
Most Creativity Mammal, Gamehead or Whitetail Entry – $100.00
GREG CUVELIER Arlington, Iowa 222 Raccoon
Taxidermists' Choice Best Life-size Mammal Award
Sponsored by McKenzie Taxidermy Supply
NICK GENEREUX Crookston, Minnesota 195 Black Bear
Taxidermists' Choice Best Fish Award
Sponsored by McKenzie Taxidermy Supply
TIMOTHY GORENCHAN Escanaba, Michigan 230 Sockeye Salmon
The Polytranspar Award
Highest Scoring Fish Painted with Polytranspar
TIMOTHY GORENCHAN Escanaba, Michigan 230 Sockeye Salmon
Taxidermists' Choice Best Reptile Award
Sponsored by McKenzie Taxidermy Supply
RODNEY SCHREURS Cedar Grove, Wisconsin 190 Snapping Turtle
Taxidermists' Choice Best Bird Award
Sponsored by McKenzie Taxidermy Supply
JONATHAN WRIGHT Mantachie, Mississippi 160 Ringneck Pheasant
NTA Best Bird Award
Judges' Choice for Best Bird – $100.00
JONATHAN WRIGHT Mantachie, Mississippi 160 Ringneck Pheasant
NTA Best of Show Taxidermy Sculpture
Sponsored by the National Taxidermists Association – $150.00
BEN MEARS Mantachie, Mississippi 166 Whitetail Deer
People's Choice Taxidermy Sculpture
Sponsored by the National Taxidermists Association – $100.00
BEN MEARS Mantachie, Mississippi 164 Whitetail Deer
NTA Best of Show Original Art
Selected by the judges collectively from all first-place winners in the five Original Art categories – $150.00
SHANE MARTINDALE Pigeon, Michigan 243 Red Fox Scratchboard Drawing
People's Choice Original Art
Sponsored by the National Taxidermists Association – $100.00
SHANE MARTINDALE Pigeon, Michigan 243 Red Fox Scratchboard Drawing
NTA International African/Exotic Award
Judges' Choice for Best Large African/Exotic Mount – $100.00
BEN LeNOBLE Waupaca, Wisconsin 170 Impala
Delia Akeley Award
Best entry by a female competitor selected by convention attendees – $100.00
AMANDA WEATHERS Ridge Farm, Illinois 101 Whitetail Deer
NTA Best Habitat Award
Judges' Choice for Outstanding Habitat – $100.00
KURT AINSWORTH Independence, Kentucky 146 Otter
Youth Horizon Award
Judges' Best of Show Youth Division – $100.00
ELLIOT BRINCKS Washburn, Iowa 237 Bluegill
Children's Horizon Award
Judges' Best of Show Children's Division – $100.00
ASHTYN MARTINDALE Pigeon, Michigan 244 Whitetail Deer

The 2017 NTA Major Award Winners Gallery – Layton, Utah
The 2016 NTA Major Award Winners Gallery – Seven Springs, Pennsylvania
The 2015 NTA Major Award Winners Gallery – Gatlinburg, Tennessee
The 2014 NTA Major Award Winners Gallery – Springdale, Arkansas
The 2013 NTA Major Award Winners Gallery – Baton Rouge, Louisiana
The 2012 NTA Major Award Winners Gallery – Rogers, Arkansas
The 2011 NTA Major Award Winners Gallery – Sioux Falls, South Dakota
The 2010 NTA Major Award Winners Gallery – Springfield, Illinois
The 2009 NTA Major Award Winners Gallery – Huntsville, Alabama
The 2008 NTA Major Award Winners Gallery – Lubbock, Texas
The 2007 NTA Major Award Winners Gallery – Louisville, Kentucky
The 2006 NTA Major Award Winners Gallery – Billings, Montana
The 2005 NTA Major Award Winners Gallery – Sioux Falls, South Dakota