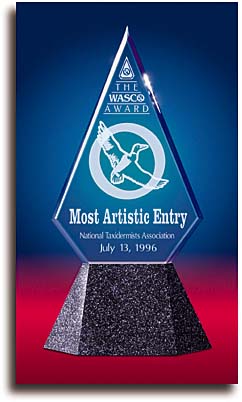 The 2018 convention season has come to a close, and for the 26th consecutive year, the judges have chosen the WASCO Award winners. I think that the most compelling part of each competition is when all of the judges get together collectively pick what they feel is the most artistic entry in the entire show. I have been in on many of these lively discussions and the judges always make it a point to give a great deal of thought and consideration to fairly choose the entry they feel is most deserving of this prestigious award.
The WASCO Most Artistic Entry Award is presented to the most artistic piece in a taxidermy competition. The winner is chosen collectively by all of the judges from the entire competition. WASCO Award winners receive a polished acrylic award and a gift certificate from WASCO (Wildlife Artist Supply Company).
The winning entries were chosen by the following criteria:
1. Exhibition of Taxidermy. The entry should tastefully display both the subject as well as the taxidermy profession in a favorable light. The taxidermy should be of good competition caliber, without any obvious flaws to the casual observer. The close scrutiny of a judge's flashlight should not be as important as the overall impression of the piece from a normal viewing distance. The main requirement is that the animal portrayed looks "alive" to the viewer.
2. Creativity. Artists who try something new or difficult should be rewarded for their efforts. The concept of the piece should not copy previous winner's ideas. Original ideas, successfully executed, should be given high consideration for this award.
3. Artistic Merit. The entry should be judged as a three-dimensional art piece, just like a painting or fine sculpture. Basic art concepts, such as composition, color, dynamic impact, contrast, texture, negative and positive space, and general artistic appeal should be carefully considered.
I am so pleased that McKenzie has continued to support the WASCO Award, which for the past 27 years has honored taxidermists who took risks and inspired us with their creativity. To read about the history of the WASCO Award and how it came into being in 1993, check out this blog entry: The Birth of the WASCO Award. Our congratulations go out to the talented 2018 winners of the WASCO Award for the Most Artistic Entry, which are listed below.

The 2018 WASCO Award Winners – Listed in date order

John Lee, Nahunta, GA
Rainbow Trout
February 10th, 2018 – Florida Taxidermy Association

Benuel Lapp, Narvon, PA
Elk
February 11th, 2018 – Great American Outdoor Show


Mike Nakielski, Iron Ridge, WI
Blue-Winged Teal
February 25th, 2018 – Wisconsin Taxidermists Association, Inc.

Brett Miller, Fayetteville, GA
Atlantic Common Eider
March 3rd, 2018 – Georgia Taxidermy Association


Wade Edie, Hot Springs, AR
Ruddy Duck
March 3rd, 2018 – Arkansas Taxidermy Association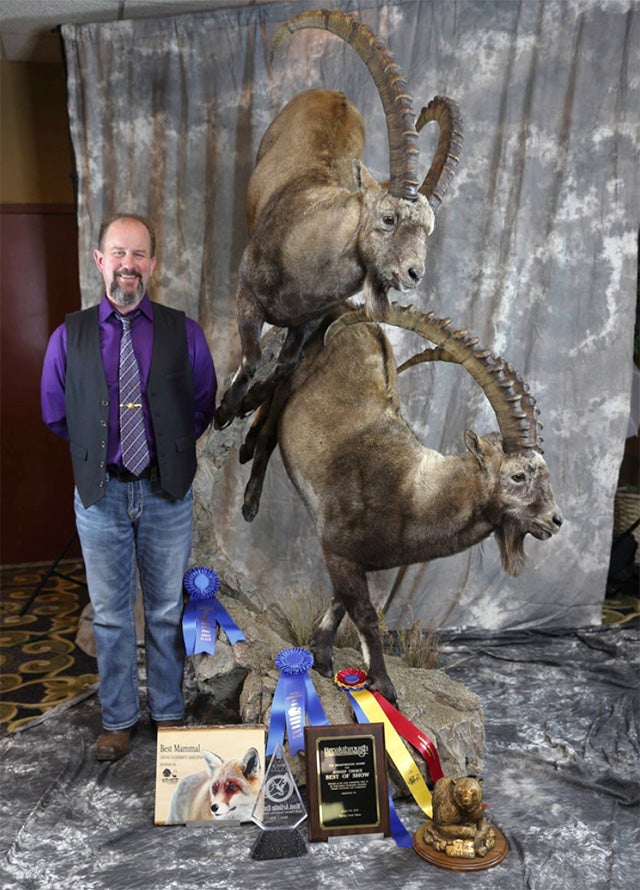 Bill Neuman, Bismarck, ND
Ibex
March 4th, 2018 – North Dakota Taxidermists Association


Jeff Crawford, St. Mary's, PA
Beaver
March 10th, 2018 – Pennsylvania Taxidermist Association


Mackenzie Babcock, Missoula, MT
Cross Fox
March 11th, 2018 – Montana Taxidermist Association

Phillip Wilson, Freesoil, MI
Lynx
March 18th, 2018 – Michigan Taxidermist Association

Tim Cooley, LaSalle, CO
Green Winged Teal
March 18th, 2018 – Utah Taxidermists Association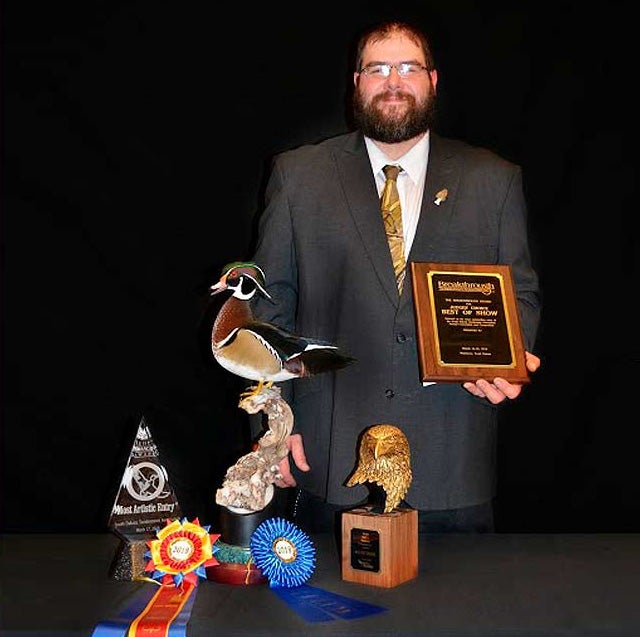 Mike Nakielski, Iron Ridge, WI
Wood Duck
March 18th, 2018 – South Dakota Taxidermy Association


Rick Staroski, St. Charles, MO
Mink
March 24th, 2018 – Illinois Taxidermist Association

Eric Nokes, Palmyra, WI
Whitetail Deer
March 25th, 2018 – Iowa Taxidermists Association

Peter Johnson, Ely, MN
Rainbow Trout
March 25th, 2018 – Minnesota Taxidermy Guild

Robert Mead, Yuma, AZ
Howling Coyote
March 25th, 2018 – Arizona Taxidermy & Artist Association


Page Nethercutt, New Bern, NC
Black Grouse
March 24th, 2018 – Virginia Taxidermists Association

Wes Becker, Mount Hope, KS
Pintail
March 26th, 2018 – Kansas Association of Taxidermists


Ryan Cook, South Weber, UT
Sika and Sambar Deer
April 7th, 2018 – Wyoming Association of Taxidermy Artists


Mike Giger, Mechanicsburg, IL
Bobcats
April 6th, 2018 – Mississippi State Taxidermy Association

Sean McKinney, Woodland, CA
Blacktail
April 6th, 2018 – California Taxidermist Association

Josh Saville, Scipio Center, NY
Black Bellied Whistlers
April 8th, 2018 – United Taxidermists of New York


Casey Watterson, Mt. Gilead, OH
Walleye
April 8th, 2018 – Ohio Taxidermists Association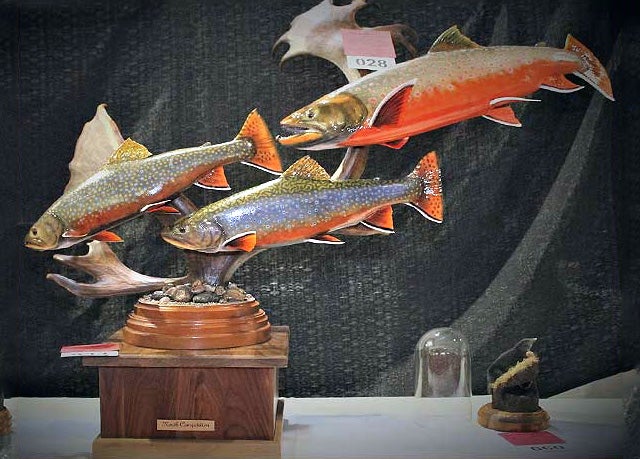 Alain Veilleux, Baie-Comeau, Quebec
Arctic Char Trio
April 15th, 2018 – Quebec Taxidermy Association

Jeff Mourning, Littleton, CO
Sockeye Salmon
April 22nd, 2018 – New Mexico Taxidermy Association

Blake Reiminger, Cape Girardeau, MO
Two Woodducks
May 20th, 2018 – Nebraska State Taxidermist Association

Darin Gardner, Kaysville, UT
Tundra Swan
May 20th, 2018 – Colorado Taxidermist Association


Tallon Beal, Roy, UT
Brook Trout
June 1st, 2018 – Idaho Taxidermists Association

Jeremy Miracle, Clarksville, TN
Bearded Hen
June 2nd, 2018 – Tennessee Taxidermists Association

Brian Noody, Garden City, NY
Blue Bill Duck
June 3rd, 2018 – New England Association of Taxidermists


James Newport, Pearsall, TX
Whitetail
June 9th, 2018 – Oklahoma Taxidermy Association

James Newport, Pearsall, TX
Whitetail
June 9th, 2018 – United Taxidermist Association

Casey Watterson, Mt. Gilead, OH
Walleye
June 10th, 2018 – West Virginia Taxidermy Association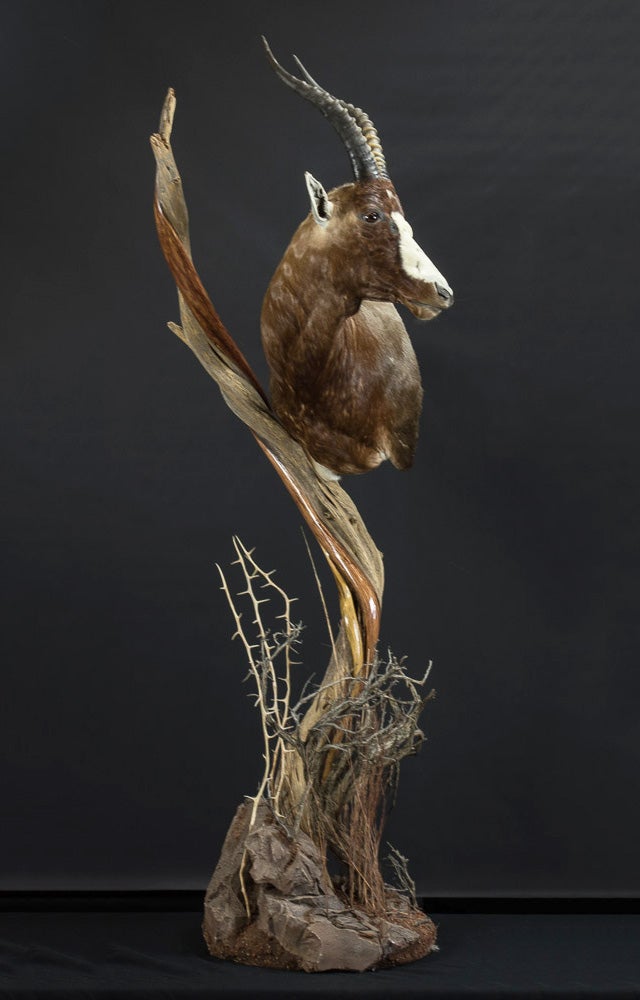 Casey Watterson, Mount Gilead, OH
Blesbok
June 17th, 2018 – Indiana Taxidermist Association

Dirk Bawden, Erda, UT
Brushtail Possum
June 23rd, 2018 – Oregon Association of Taxidermists

Brandon Tucker, Goldsboro, NC
Gar
June 23rd, 2018 – South Carolina Association of Taxidermists


Ken Howard, Granbury, TX
Green Winged Teal
June 24th, 2018 – Texas Taxidermy Association

Hunter Evans, Kingstree, SC
Ring Necked Duck Drake
June 24th, 2018 – Alabama Taxidermy Association

Ron Blinsky, Lowellville, OH
Whitetail
July 1st, 2018 – Maryland Taxidermy Association


Brett Wingfield, Spirit Lake, Iowa
Largemouth Bass
July 14th, 2018 – National Taxidermists Association

Fred Barilla, Carle Place, NY
Corsican Sheep
July 22nd, 2018 – Garden State Taxidermy Association

Brandon Tucker, Goldsboro, NC
Gar
August 4th, 2018 – North Carolina Taxidermists Association


Kurt Ainsworth, Independence, KY
Otter
August 5th, 2018 – Kentucky Taxidermy Association

If you wish to add missing photos to this list, or correct any errors or omissions, please email [email protected] and I will be happy to update the page.