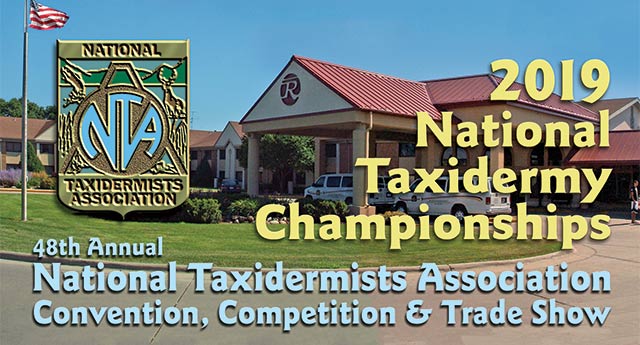 With 240 competition entries, this was by far the biggest show in the past 12 years for the NTA. Sioux Falls, South Dakota was the location for the 48th annual National Taxidermist Association convention, competition and trade show. The NTA had been at this facility twice before, in 2005 and 2011, and each time I was impressed with the Ramkota facility and staff. It was a great place to host the 2019 National Taxidermy Championships.

This year, I was privileged again to return as the show photographer (for the thirtieth time!), and as the amazing mounts kept rolling in during the registration period, I realized that this would be a very special competition. Many of the mounts were also familiar, as several past World Show winners brought their pieces to be entered for the first time in the National competition. Jeff Mourning had designed some beautiful new medallions for the North American Champion winners and all of the Division of Excellence competitors were vying for this honor. Wisconsin taxidermists made a strong statement by winning many of the major awards.
During the awards banquet, the two newest members of the Taxidermy Hall of Fame were inducted. Cary Cochran of Ohio and Mike Orthober of Wisconsin were honored with this recognition, and Mike's big night got even better as he won many of the top competition titles. As the winners were announced and over $13,000 in prize money was awarded by Master of Ceremonies Russell Knight, photos of the winning entries were projected on the big screen. Here are the studio photos of the major award winners from the 2019 NTA competition as they were shown when the awards were handed out on Saturday night, July 27, 2019.

NTA 2019 Major Award Winners
Taxidermist of the Year
The Theodore Roosevelt Lion Award – $1,000.00
MIKE ORTHOBER Egg Harbor, Wisconsin 287 Hazel Grouse
The Breakthrough Best of Show Award
Judges' Choice Best of Show – $1,000.00
CLINT RICKEY Dodgeville, Wisconsin 239 Whitetail Deer
Distinguished Taxidermist Award
Entry has previously won a Judges' Best of Show at another qualifying competition – $150.00
MIKE NAKIELSKI Iron Ridge, Wisconsin 281 Wood Duck
Challenge of the Art of Taxidermy
First Place – $250.00
MIKE ORTHOBER Egg Harbor, Wisconsin 287 Hazel Grouse
The WASCO Award
Most Artistic Entry – $250.00
MIKE ORTHOBER Egg Harbor, Wisconsin 287 Hazel Grouse
Challenge of the Art of Taxidermy
Second Place – $150.00
MIKE NAKIELSKI Iron Ridge, Wisconsin 280 Wood Duck
Challenge of the Art of Taxidermy
Third Place – $100.00
JESSE HAESE Clinton, Wisconsin 245 Otter
NTA Competitor's Award – Division of Excellence
First Place – $1,500.00
BRIAN HENDRICKS Scottville, Michigan 151 Bobcat
NTA Competitor's Award – Division of Excellence
First Place – $1,500.00
BRIAN HENDRICKS Scottville, Michigan 152 Bobcat
NTA Competitor's Award – Division of Excellence
First Place – $1,500.00
BRIAN HENDRICKS Scottville, Michigan 153 Arctic Fox
NTA Competitor's Award – Division of Excellence
First Place – $1,500.00
BRIAN HENDRICKS Scottville, Michigan 154 Gray Fox
NTA Competitor's Award – Division of Excellence
Second Place – $1,000.00
TYLER HOFFMAN Missoula, Montana 201 Oldsquaw
NTA Competitor's Award – Division of Excellence
Second Place – $1,000.00
TYLER HOFFMAN Missoula, Montana 202 Common Eider
NTA Competitor's Award – Division of Excellence
Second Place – $1,000.00
TYLER HOFFMAN Missoula, Montana 203 Harlequin
NTA Competitor's Award – Division of Excellence
Second Place – $1,000.00
TYLER HOFFMAN Missoula, Montana 204 Valley Quail
NTA Competitor's Award – Division of Excellence
Third Place – $750.00
MIKE NAKIELSKI Iron Ridge, Wisconsin 276 Wood Duck
NTA Competitor's Award – Division of Excellence
Third Place – $750.00
MIKE NAKIELSKI Iron Ridge, Wisconsin 277 Wood Duck
NTA Competitor's Award – Division of Excellence
Third Place – $750.00
MIKE NAKIELSKI Iron Ridge, Wisconsin 278 Wood Duck
NTA Competitor's Award – Division of Excellence
Third Place – $750.00
MIKE NAKIELSKI Iron Ridge, Wisconsin 279 Wood Duck
NTA Competitor's Award – Open Division
First Place – $1,000.00
JESSE HAESE Clinton, Wisconsin 241 Otter
NTA Competitor's Award – Open Division
First Place – $1,000.00
JESSE HAESE Clinton, Wisconsin 242 Coyote
NTA Competitor's Award – Open Division
First Place – $1,000.00
JESSE HAESE Clinton, Wisconsin 243 Weasel
NTA Competitor's Award – Open Division
First Place – $1,000.00
JESSE HAESE Clinton, Wisconsin 244 Squirrel
NTA Competitor's Award – Open Division
Second Place – $500.00
ERIC KALLIS Kalispell, Montana 110 Yellow Perch
NTA Competitor's Award – Open Division
Second Place – $500.00
ERIC KALLIS Kalispell, Montana 111 Wigeon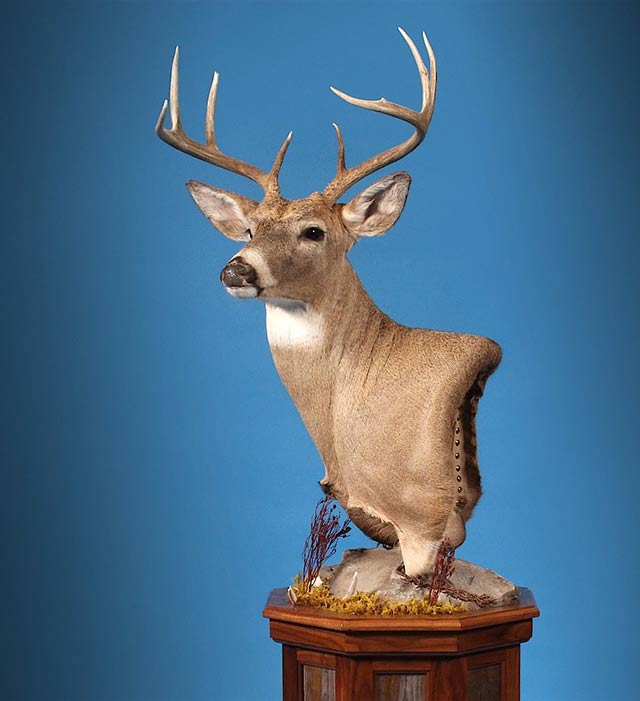 NTA Competitor's Award – Open Division
Second Place – $500.00
ERIC KALLIS Kalispell, Montana 112 Whitetail Deer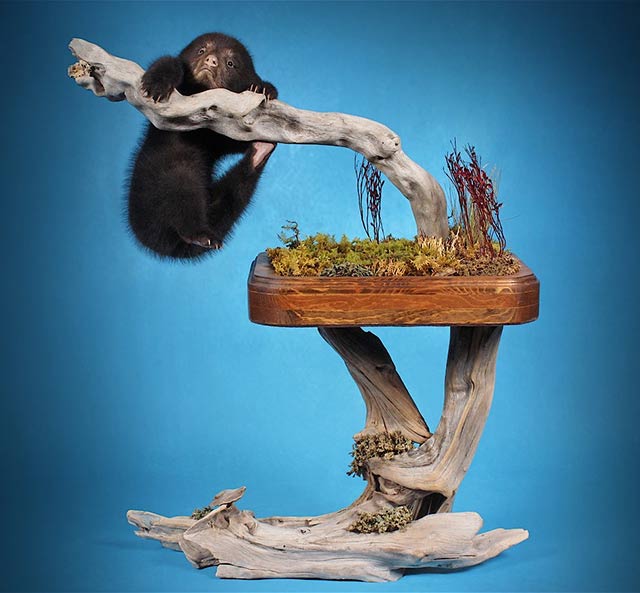 NTA Competitor's Award – Open Division
Second Place – $500.00
ERIC KALLIS Kalispell, Montana 113 Black Bear Cub
NTA Competitor's Award – Open Division
Third Place – $250.00
TOM HANSEN Windom, Minnesota 126 Antelope
TOM HANSEN Windom, Minnesota 127 Antelope
NTA Competitor's Award – Open Division
Third Place – $250.00
TOM HANSEN Windom, Minnesota 128 Skunk
TOM HANSEN Windom, Minnesota 129 Skunk
Best All-Around Taxidermist
Highest Combined Score in Four Categories in Division of Excellence – $100.00
TYLER ERICKSON Brookings, South Dakota 319 Whitetail Deer
Best All-Around Taxidermist
Highest Combined Score in Four Categories in Division of Excellence – $100.00
TYLER ERICKSON Brookings, South Dakota 320 Perch
Best All-Around Taxidermist
Highest Combined Score in Four Categories in Division of Excellence – $100.00
TYLER ERICKSON Brookings, South Dakota 321 Whitetail Deer (Lifesize)
Best All-Around Taxidermist
Highest Combined Score in Four Categories in Division of Excellence – $100.00
TYLER ERICKSON Brookings, South Dakota 322 Goldeneye
Best All-Around Taxidermist
Highest Combined Score in Four Categories in Open Division – $100.00
ERIC KALLIS Kalispell, Montana 110 Yellow Perch
ERIC KALLIS Kalispell, Montana 111 Wigeon
ERIC KALLIS Kalispell, Montana 112 Whitetail Deer
ERIC KALLIS Kalispell, Montana 113 Black Bear Cub
NTA Best of Show Collective Artists
Judges' Choice for Best Collective Artists Entry – $300.00
STEVE WERBELOW and JOSH HUNT Powell, Wyoming 292 Whitetail Deer
Henry Wichers Inchumuk Award
Judges' Choice for Best Lifesize Mammal, Size of Squirrel or Smaller – $100.00
JESSE HAESE Clinton, Wisconsin 243 Weasel
Joseph Bruchac Memorial Award
Judges' Choice for Best Whitetail Deer – $100.00
CLINT RICKEY Dodgeville, Wisconsin 239 Whitetail Deer
Chris Barnhardt Memorial Award
Judges' Choice for Best Gamehead – $100.00
BRIAN OLSON Platteville, Wisconsin 290 Mule Deer
Brian Harness Memorial Award
Judges' Choice for Best Lifesize Mammal – $100.00
BRIAN HENDRICKS Scottville, Michigan 153 Arctic Fox
National Wild Turkey Federation Award
Judges' Choice for Best Turkey – $100.00
SAM CAHOY Aberdeen, South Dakota 199 Turkey Hen

North American Champions
North American Champion Turkey
First Place in the Division of Excellence – $200.00
SAM CAHOY Aberdeen, South Dakota 199 Turkey Hen
North American Champion Whitetail Deer Open-Mouth
First Place in the Division of Excellence – $200.00
CLINT RICKEY Dodgeville, Wisconsin 239 Whitetail Deer
North American Champion Whitetail Deer Closed-Mouth
First Place in the Division of Excellence – $200.00
LARRY O'MALLEY Hayfield, Minnesota 312 Whitetail Deer
North American Champion Gamehead
First Place in the Division of Excellence – $200.00
BRIAN OLSON Platteville, Wisconsin 290 Mule Deer
NTA Best Habitat Award
Judges' Choice for Outstanding Habitat – $100.00
BRIAN OLSON Platteville, Wisconsin 291 Mule Deer
North American Champion Small Mammal
First Place in the Division of Excellence – $200.00
BRIAN HENDRICKS Scottville, Michigan 153 Arctic Fox
North American Champion Reptile Reproduction
First Place in the Division of Excellence – $200.00
JEFF MOURNING Littleton, Colorado 264 Crocodile Lizard
North American Champion Reptile Skin Mount
First Place in the Division of Excellence – $200.00
ASHLEY TOWNE Prior Lake, Minnesota 117 Western Hognose Snake
North American Champion Warmwater Fish Reproduction
First Place in the Division of Excellence – $200.00
JOSH KELLY Lone Oak, Texas 251 Leopard Stingray
North American Champion Warmwater Fish Skin Mount
First Place in the Division of Excellence – $200.00
PETER JOHNSON Ely, Minnesota 269 Walleye
North American Champion Coldwater Fish Skin Mount
First Place in the Division of Excellence – $200.00
JEFF MOURNING Littleton, Colorado 263 Colorado River Cutthroat Trout
North American Champion Waterfowl
First Place in the Division of Excellence – $200.00
MIKE NAKIELSKI Iron Ridge, Wisconsin 276 Wood Duck
North American Champion Bird
First Place in the Division of Excellence – $200.00
MIKE ORTHOBER Egg Harbor, Wisconsin 287 Hazel Grouse
NTA Best Bird Award
Judges' Choice for Best Bird – $100.00
MIKE ORTHOBER Egg Harbor, Wisconsin 287 Hazel Grouse

National Champions
National Champion Whitetail Deer Open-Mouth
Highest Score in the Open Division – $100.00
MARK HERNANDEZ Sabinal, Texas 283 Whitetail Deer
National Champion Whitetail Deer Closed-Mouth
Highest Score in the Open Division – $100.00
JENNA EVERAGE Versailles, Indiana 247 Whitetail Deer
National Champion Gamehead
Highest Score in the Open Division – $100.00
JESSE HAESE Clinton, Wisconsin 242 Coyote
National Champion Small Mammal
Highest Score in the Open Division – $100.00
JESSE HAESE Clinton, Wisconsin 243 Weasel
National Champion Reptile Skin Mount
Highest Score in the Open Division – $100.00
JOSH JAHNER Bismarck, North Dakota 158 Snapping Turtle
National Champion Warmwater Fish Reproduction
Highest Score in the Open Division – $100.00
ERIC KALLIS Kalispell, Montana 110 Yellow Perch
National Champion Warmwater Fish Skin Mount
Highest Score in the Open Division – $100.00
CORY FOTH Peabody, Kansas 228 Largemouth Bass
National Champion Coldwater Fish Skin Mount
Highest Score in the Open Division – $100.00
RICH WHITE Billings, Montana 137 Brown Trout
National Champion Waterfowl
Highest Score in the Open Division – $100.00
MIKE PENDZIMAS Andover, Minnesota 261 Harlequin
National Champion Bird
Highest Score in the Open Division – $100.00
LANCE JOHNSON Hunter, North Dakota 317 Ringneck Pheasant

Other Awards
NTA Virtuoso Award
Sponsored by Pro-1 for excellence in "Molding & Casting" – $200.00
CLINT RICKEY Dodgeville, Wisconsin 239 Whitetail Deer
Taxidermists' Choice Best Whitetail Award
Sponsored by McKenzie Taxidermy Supply – $100.00
CLINT RICKEY Dodgeville, Wisconsin 239 Whitetail Deer
NTA Best of Show Novice
Judges' Choice for Best Novice Entry – $100.00
DYLAN DIEBERT Bismarck, North Dakota 162 Skunk
People's Choice Award
The Charley Haynes Memorial Award – $100.00
DANIEL MENG Bismarck, North Dakota 309 Tiger
Taxidermists' Choice Best Life-size Mammal Award
Sponsored by McKenzie Taxidermy Supply – $100.00
DANIEL MENG Bismarck, North Dakota 309 Tiger
Taxidermists' Choice Best Fish Award
Sponsored by McKenzie Taxidermy Supply – $100.00
JOSH KELLY Lone Oak, Texas 251 Leopard Stingray
The Polytranspar Award
Highest Scoring Fish Painted with Polytranspar – $100.00
JOSH KELLY Lone Oak, Texas 251 Leopard Stingray
Taxidermists' Choice Best Reptile Award
Sponsored by McKenzie Taxidermy Supply – $100.00
BRIAN HENDRICKS Scottville, Michigan 150 Diamondback Rattlesnake
Taxidermists' Choice Best Bird Award
Sponsored by McKenzie Taxidermy Supply – $100.00
MIKE NAKIELSKI Iron Ridge, Wisconsin 276 Wood Duck
NTA Best of Show Taxidermy Sculpture
Sponsored by the National Taxidermists Association – $100.00
BRIAN HENDRICKS Scottville, Michigan 149 Gray Fox
NTA Best of Show Original Art
Selected by the judges collectively from all first-place winners in the five Original Art categories – $100.00
VIC HEINCKER Zebulon, North Carolina 318 Elephant
People's Choice Original Art
Sponsored by the National Taxidermists Association – $100.00
VIC HEINCKER Zebulon, North Carolina 318 Elephant
People's Choice Taxidermy Sculpture
Sponsored by the National Taxidermists Association – $100.00
MAC McLANE Suffolk, Virginia 250 Fox
NTA International African/Exotic Award
Judges' Choice for Best African/Exotic Mount – $100.00
DIRK BAWDEN Erda, Utah 119 Brush Tail Opossum
Delia Akeley Award
Best entry by a female competitor selected by convention attendees – $100.00
JENNA EVERAGE Versailles, Indiana 247 Whitetail Deer
Van Dyke's Award
Most Creativity Mammal, Gamehead or Whitetail Entry – $100.00
STEPHAN WOOLSTENHULME Coalville, Utah 275 Bobcat
Youth Horizon Award
Judges' Best of Show Youth Division – $100.00
OSCAR KALLIS Kalispell, Montana 115 Yellow Perch
Children's Horizon Award
Judges' Best of Show Children's Division – $100.00
CHANCE FARRELL Prior Lake, Minnesota 116 Ball Python

The 2018 NTA Major Award Winners Gallery – Springfield, IL
The 2017 NTA Major Award Winners Gallery – Layton, Utah
The 2016 NTA Major Award Winners Gallery – Seven Springs, Pennsylvania
The 2015 NTA Major Award Winners Gallery – Gatlinburg, Tennessee
The 2014 NTA Major Award Winners Gallery – Springdale, Arkansas
The 2013 NTA Major Award Winners Gallery – Baton Rouge, Louisiana
The 2012 NTA Major Award Winners Gallery – Rogers, Arkansas
The 2011 NTA Major Award Winners Gallery – Sioux Falls, South Dakota
The 2010 NTA Major Award Winners Gallery – Springfield, Illinois
The 2009 NTA Major Award Winners Gallery – Huntsville, Alabama
The 2008 NTA Major Award Winners Gallery – Lubbock, Texas
The 2007 NTA Major Award Winners Gallery – Louisville, Kentucky
The 2006 NTA Major Award Winners Gallery – Billings, Montana
The 2005 NTA Major Award Winners Gallery – Sioux Falls, South Dakota