When it came time to plan my annual trips to the 2021 Texas Taxidermy Association and the National Taxidermy Association conventions, I really didn't feel like driving 2,000 miles roundtrip, twice, three weeks apart. So we got the brilliant idea to combine these two conventions with a western road trip that Gayle (my wife) and I had been wanting to do for years. With lingering cabin fever from a year of COVID-19 restrictions, we ambitiously decided that we would pull our camper to both conventions and visit the western national parks between them.
In February, we set up a big laminated US map and started preparing our route with dry-erase markers. We originally wanted to go all the way to Yosemite in California in the west and Glacier Park in the north, but realized that we wouldn't have enough time between shows to see everything we wanted. So after several weeks of planning, googling, and reading online reviews, we finally came up with out 7,000 mile route. We had to reserve our campground spots months ahead of time to make sure that we could get a reservation.
I'm not really much of a Facebook guy, so we decided to keep our close family and friends informed of our trip progress with text messages. We would send our text chain one picture a day with a brief description on the day's highlights. What started out as an easy project soon became more complicated when we couldn't decide on one picture to represent the entire past 24 hours, so things got a little more complicated when the picture of the day turned into the photo collage of the day.
I'll apologize at the start for being so self-indulgent to think that my vacation photos might be of any interest to my readers. I realize that looking at someone else's travel pictures is recognized as a form of torture in some circles. But I also wanted a more permanent record of our trip that I could access in the future. With that being said, below are the daily photos and texts that we sent back to our family and friends as we travelled around the country in the summer of 2021.
The Pictures of the Day

Picture of the day #1. Sunday, June 20, 2021. A journey of 7,000 miles begins with a single step. All gassed up and packed for the journey, we left Monroe, Georgia, on a rainy June 20 morning. Along with Gayle and myself, we brought along two of our chihuahuas and two new electric bicycles that we had gotten especially for this trip.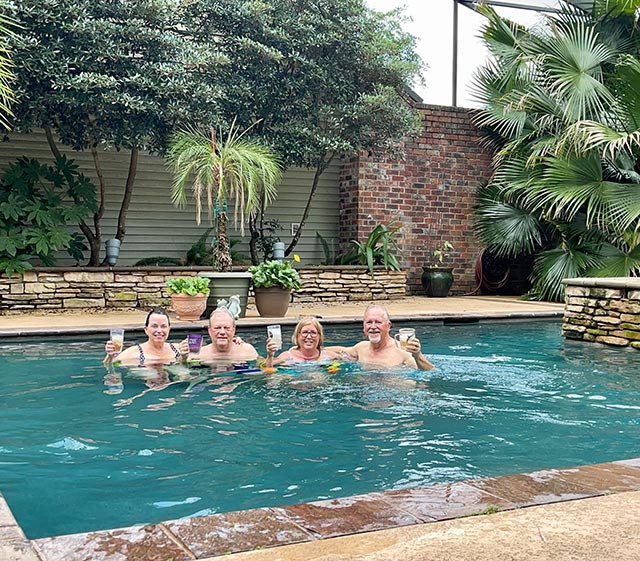 Picture of the day #2, Monday, June 21. Our first stop was Hammond, Louisiana to visit our friends Larry and Kathy Blomquist. We were livin' large in Louisiana after world famous Hi Ho Barbecue and drive-through daiquiris. I used a timer and a tripod to take this photo in the Blomquist cabana pool.

Picture of the day #3. Tuesday, June 22. Ken and Larry spent the day working to get ready for the Texas taxidermy convention.

Picture of the day #4. Wednesday, June 23. After a long day of driving, we made it past our first 1,000 miles. We gassed up at one of Buc-ee's 120 fuel pumps and visited the Fort Hood Memorial in Killeen, Texas.

Picture of the day #5. Thursday, June 24. We were up early to take photos of all the entries at the taxidermy convention. Gayle wrote up the photo orders for participants.

Picture of the day #6. Friday, June 25. With the Texas taxidermy convention in full swing, we took a few moments out of our busy day to relax at lunch with friends.

Picture of the day #7. Saturday, June 26. The Texas taxidermy convention wrapped up with a gala awards banquet. Ken and Larry announced the 2021 inductees into the Taxidermy Hall of Fame. Tomorrow, we start the next phase of our journey, camping out west.

Picture of the day #8. Sunday, June 27. We made it to New Mexico, where the weather was breezy and 79 degrees. It was 103 here two days ago but we missed oppressive the heat dome. We had good barbecue delivered to our campsite from the campground kitchen.

Picture of the day #9. Monday, June 28. Selfie day featuring Carlsbad Caverns National Park (awesome experience 750 feet underground!) and the Chihuahuan Desert.

Picture of the day #10. Tuesday, June 29. On the sand dunes in White Sands National Park, New Mexico. ?

Picture of the day #11. Wednesday, June 30. Hiking to the cave dwellings in the Gila National Forest. Ken thought Gayle was a mountain goat (not!) for climbing the cliffs and Gayle thought Ken was a Billy goat for eating old salad at a scenic overlook.

Picture of the day #12. Thursday, July 1. Hiking the beautiful Whitewater Catwalk National Recreation Trail. Added another sticker to our camper map. It's filling up fast!

Picture of the day #13. Friday, July 2, Gayle's happy birthday. Busy day! Standin' on a corner in Winslow, Arizona, Petrified Forest National Park, petroglyph hike at Lyman Lake State Park, Gayle's birthday beer flight at Relic Road Brewing Company, Meteor Crater and the Painted Desert. Whew! We will sleep good tonight. Best birthday ever!

Picture of the day #14. Saturday, July 3. We made it to the Grand Canyon! Rode our bikes to the south rim for a spectacular sight. Photos don't do it justice. An elk family wandered through our campsite.

Picture of the day #15. Happy Fourth of July! We rode mules around the rim of the Grand Canyon and watched an awesome sunset.

Picture of the day #16. Monday, July 5. Early morning bike ride along the Grand Canyon rim, ever changing and always breathtaking. The weather for the past three days has been perfect – never above 79 degrees!

Picture of the day #17. Tuesday, July 6. Vegas, baby! It's hot, hot, hot. Washed the dirty camper at a truck wash, swam in the Oasis RV Resort pool to cool off, and gambled on Fremont Street.

Picture of the day #18. Wednesday, July 7. Fun exploring the Las Vegas strip, Ken working hard to win at blackjack, Gayle with some aquatic friends.

Picture of the day #19. Thursday, July 8. Leaving Las Vegas tomorrow with more money than we started with (just barely!), but a win is a win. Hell's Kitchen, Gayle winning, mermaids swimming and New York New York pizza. Fun times and great memories!

Picture of the day #20. Friday, July 9. Nearly halfway through our epic journey with 3,000 miles behind us. It was 109 degrees at 1:09 p.m. when we entered Utah. Set up camp at Zion River Resort and cooled off in the pool.

Picture of the day #21. Saturday, July 10. Behold God's beauty in Zion National Park.

Picture of the day #22. Sunday, July 11. Driving across Utah. Hazy from western wildfires but beautiful. An extraordinary new vista to see around every bend!

Picture of the day #23. Monday, July 12. Up at 5:00 a.m. to gain entry to Arches National Park. (So crowded that they closed it by 8:00!) Hiked for miles before it got too hot. Gayle developed a new appreciation for the movie "Wild."

Picture of the day #24. Tuesday, July 13. On the edge of glory at Canyonlands National Park. We go in the early morning (while it's still cool). Really enjoyed our time in Utah. Tomorrow it's on to Colorado!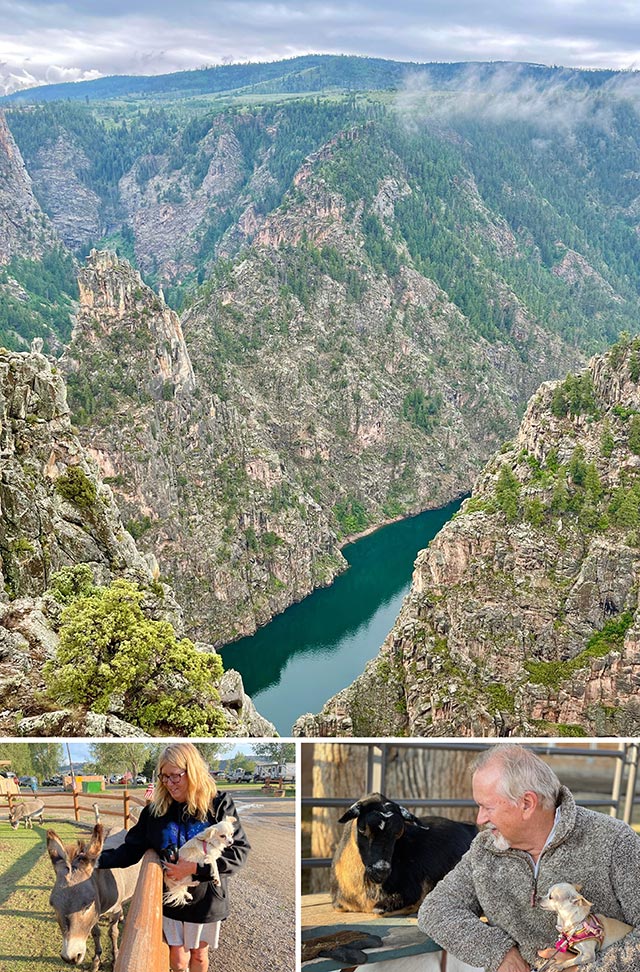 Picture of the day #25. Wednesday, July 14. Gunnison, Colorado is almost 60 degrees cooler than we were two days ago in Utah. The low tonight is 45. Our campground is known for its donkeys and goats roaming freely.

Picture of the day #26. Thursday, July 15. Great day in Gunnison. Took a three-hour hike for a mountaintop picnic with the chihuahuas. Had fun at the 121st annual Cattleman's Days "Tough Enough to Wear Pink" Rodeo, ate rodeo junk food including pickle dogs (a hot dog inside of a pickle inside of a corn dog), funnel cakes and Buffalo ribbon fries.

Picture of the day #27. Friday, July 16. Driving through Colorado, had a nice lunch in Denver with Ken's stepbrother Jim Windham. Ken played music to an appreciative crowd at Fort Collins Lakeside KOA campground beer & wine social gathering.

Picture of the day #28. Saturday, July 17. Spent all day at Rocky Mountain National Park and we wish we could have stayed longer. Pictures don't do it justice. Spectacular picnic lunch view at 12,000 feet with a temperature of 51°. It was 83° when we got to the bottom of the mountain.

Picture of the day #29. Sunday, July 18. Set up camp in South Dakota at the fabulous Rafter J Bar Ranch. Visited Mount Rushmore and the patriotic lighting ceremony. Wildfires still made for hazy skies.

Picture of the day #30. Monday, July 19. After a month on the road, we spent the day rambling around Deadwood, South Dakota. Walking, shopping, eating (at Mustang Sally's), and gambling at about a dozen casinos.

Picture of the day #31. Tuesday, July 20. Trail riding in the Black Hills National Forest. Had barbecue and ice cream in Hot Springs, South Dakota.

Picture of the day #32. Wednesday, July 21. The Badlands National Park has a unique beauty like no other place on earth. Had a 5 cent cup of coffee and homemade pie at Wall Drug.

Picture of the day #33. Thursday, July 22. Working at the National Taxidermists Association convention in Sioux Falls, South Dakota. Grandson Noah flew up to spend the rest of the trip with us.

Picture of the day #34. Friday, July 23. Noah having fun at the taxidermy convention: jumping to touch the ceiling, swimming at the indoor water park, and checking raffle tickets with Russell Knight of Alaska.

Picture of the day #35. Saturday, July 24. National Taxidermy convention wrapped up with a gala awards banquet. Ken & Larry inducted four new members into the Hall of Fame. Noah got invited to fish in Alaska with his new friend Russell Knight (star of History Channel's "Mounted in Alaska").

Picture of the day #36. Sunday, July 25. Back to camping! Noah added three states to his travels: Iowa, Missouri and Nebraska. He had fun riding the electric bike.

Picture of the day #37. Monday, July 26. Had a great time at Johnny Morris Wonders of Wildlife Museum and Aquarium in Springfield, Missouri. An outstanding attraction not to be missed if you are ever in the area!

Picture of the day #38. Tuesday, July 27. Golf cart ride through Johnny Morris' Lost Canyon Cave and Nature Trail, lunch at Arnie's Barn restaurant at Top of the Rock, swimming in Table Rock lake, and a whole chicken for dinner at Dolly Patton's Stampede in Branson, Missouri.

Picture of the day #39. Wednesday, July 28. A full day of fun at Silver Dollar City amusement park. Noah especially liked the rides where we got completely soaked with water!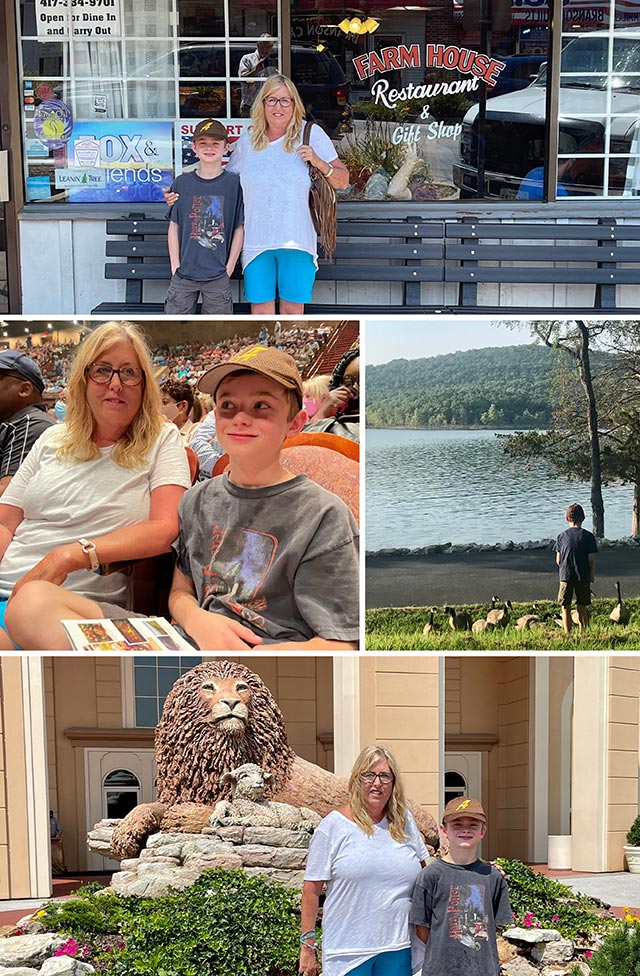 Picture of the day #40. Thursday, July 29. Lunch at the Farm House Restaurant in downtown Branson. Appropriate day (40) to see the amazing stage production of "Jesus". Incredible show!

Picture of the day #41. Friday, July 30. After a 10½ hour car ride (Noah watched movies) we finally made it to Monte Sano State Park near Huntsville, Alabama. The rest of Noah's family was already here in a mountaintop cabin with a surprise 68th birthday party for Granddaddy.

Picture of the day #42. Saturday, July 31. Relaxing day at Monte Sano State Park with the six Lee grandkids. Laughing, hiking, playing, and sitting around the campfire. The perfect finale to an epic family odyssey!

Picture of the day #43. Sunday, August 1. Made it home to Georgia. The stickers on our camper tell the story. 7,000 miles, 43 days, 18 states, 12 national parks, and dozens of national forests, state parks, recreation areas and points of interest. Grateful for our safe travels and many blessings! Thank you all for allowing us to share our journey through these texts!