Two days after this past Christmas, Jim Hall died of a stroke at Eastern Idaho Medical Center at the age of 77. Jim's sudden passing came as a shock to me, as he was one of my lifelong heroes. A modest man, Jim's personality was very low-key and quiet. Yet this kind, generous, patient man had an enormous impact on our industry. I always looked up to him as an industry leader, but his praises were relatively unsung. Jim wasn't one to call attention to himself, but the mark he left on the world of taxidermy will be far-reaching for many years to come.
2011 was an unusually tragic year for losses within our industry. We lost way too many taxidermy legends in 2011, among them groundbreaking leaders in the art of taxidermy, the business of taxidermy, and even the politics of taxidermy, but Jim Hall was a pivotal figure in all of these categories. Jim's vision was responsible for the development of many of the industry standards which we now take for granted.

Harold James Hall was born in Jamestown, New York in 1937. He graduated high school at age 15, enlisted in the Army and was stationed in New Mexico for three years. He married Nancy in 1956 and they lived in New York until 1963, when they moved to Idaho Falls, where he worked for the Idaho National Engineering Laboratory. Jim loved living in the west. As an avid outdoorsman, Jim was an active hunter, fisherman, trapper, marksman and gunsmith. Jim also enjoyed volunteering to teach the Idaho Hunter's Safety Course sponsored by the Idaho Fish and Game Department.
Jim was a self-taught taxidermist as a hobbiest and part-timer through much of his adult life. Fortunately for us, when he turned 40, he resigned from his successful engineering career to devote his time fully to his first greatest passion, the art of taxidermy.

Pine martin snow scene with underwater habitat by Jim Hall.
It is impossible to overstate his contributions to our industry, as Jim was on the forefront of all aspects of the taxidermy renaissance of the late 70's and early 80's. In the very first taxidermy competition of the modern era, Joe Kish's 1976 Taxidermy Review competition, Jim won the first Judges' Choice Best of Show award. Jim had a knack for being on the cutting edge of the industry, introducing new techniques, artificial parts, innovative tools, and clever new ways to present taxidermy in artistic tableaux which actually told a story, rather than merely displaying a static specimen. From this impressive beginning, Jim went on to become one of the first sought-after taxidermy seminar instructors and writers, traveling around the country to attend the few taxidermy conventions which existed at the time.

Jim Hall was one of the first (and best) taxidermy seminar instructors.
At one of these seminars, he met a man from Georgia named Bob Williamson, who was developing a revolutionary new fish paint formulated especially for taxidermists. With Jim's help they started the Polytranspar airbrush paint line and Master Paint Systems (which later evolved into WASCO) was born. In order to teach taxidermists how to use these new paints, a publication was created, Breakthrough Magazine, which featured original articles by Jim, Bob, and others. Williamson-Hall Enterprises also created and produced the first World Taxidermy Championships in 1983.

Jim Hall was a fixture in WASCO trade show booths in the 1980's.
Jim would be involved in the creation of many more breakthroughs in our industry. Jim was instrumental in the development of the first paint schedules for fish, the first taxidermy instruction manuals, the first taxidermy video seminars, the first commercial fish mannikins, and the earliest competition and judging criteria. His innovative depictions of wildlife in interaction with man opened up a whole new genre of taxidermy displays which is still the main influence in competitions today.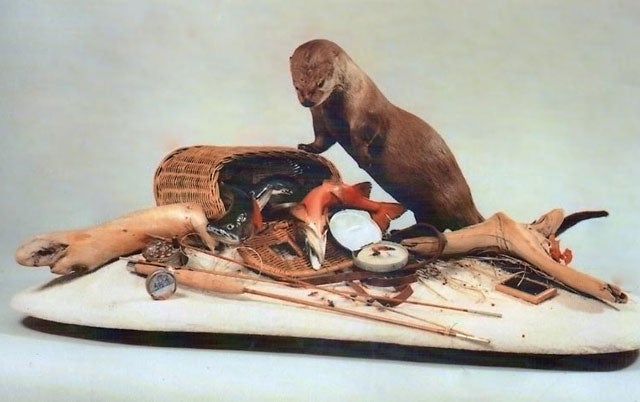 This otter scene by Jim Hall was on the cover of the second issue of Breakthrough.
Jim was a brilliant engineer. He designed and built almost all of the production stations for WASCO's manufacturing plant, which were used as he designed them for 25 years. He could fix any mechanical problem by looking at it, thinking for a few minutes, and then disassembling, repairing, and reassembling almost anything.

Commercial brown trout mount by Jim Hall.
Living in the natural beauty and climate of Idaho was something that Jim loved; and it showed during his summer visits to Georgia. Not used to working in our oppressive heat and humidity, after a few weeks here, he said, "Now I understand why southerners talk slow, walk slow and work slow."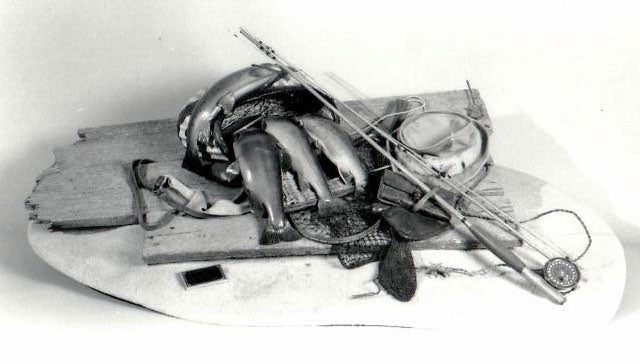 Man's interaction with nature was always a popular theme in Jim Hall's body of work.
Jim was an outstanding teacher, a great writer, a visionary, and a devoted family man. He was a loyal friend, an avid outdoorsman, and a true gentleman in every sense of the word. In three decades, I don't think I have ever heard anyone say anything even remotely negative about Jim, and that in itself is quite a testament to his character. Everyone that knew him agrees that Jim was a man among men, a gentleman and a scholar, and we who were lucky enough to cross paths with him on our journey are much better for it.

Jim and Nancy Hall celebrated 55 years of marriage.