Good news for northeastern taxidermists! McKenzie's newest distribution center in Camp Hill, Pennsylvania is now open and operational. Stocked with a huge inventory of supplies, mannikins, chemicals and habitat products, you can now save on shipping charges and time of delivery on most of the expansive McKenzie product line. A gala open house for customers will be held in three weeks, when the doors will open for tours, prizes, special offers, food and refreshments.


Located just across the river from Harrisburg, this massive new warehouse has opened up one to two-day economical ground service to surrounding areas. If you call and place your order before noon Eastern time, your order will ship the same day! This can save you a boat load of money on shipping charges, and you will have your items delivered to you within a day or two.
Many taxidermists prefer to place their order over the phone and drive to the facility to pick it up in their own vehicle. This can save you even more on large orders, as well as allowing you to use large uncut mannikins. (Large lifesize forms and many bigger gameheads are generally cut in pieces to help save on shipping charges.) It is also great for extremely bulky items like rock panels, pre-finished habitat bases, artificial rocks, panels, and the new Wall Habitat® line.
State-of-the-Art Facility
McKenzie's newest distribution center in Pennsylvania is the fifth warehouse to offer same-day regional service around the United States. With centers in North Carolina, Wisconsin, Texas and Utah, almost all American taxidermists are within a one-day drive of McKenzie.
Offering same day service from multiple locations across the country is an extreme technological and logistical challenge. Touring one of the warehouses and seeing the investment McKenzie has made to bring product closer to your door is impressive to say the least. To take advantage of this, sign up for the open house so you can take a free facility tour.
Open House!
On Saturday, September 8, 2012, the Camp Hill Distribution Center will host an open house to welcome taxidermists in the surrounding areas. In addition to the free facility tour, there will be an ongoing fleshing machine demonstration, food and refreshments, and special discounts on all orders placed or picked up at the open house. Be sure to call a few weeks ahead of time if you wish to pick up any special order items (like a lifesize mannikin with no rods).
Free Prize Drawings
Open house visitors will be eligible for three prize drawings given away during the day. If you pre-register by August 24, your name will be entered in a drawing to win a Dakota V Fleshing Machine. All those in attendance will be entered into drawings for Van Dyke's Model T mounting stands. Both a floor model and a table model will be given away.
Pre-Register Today
It's easy to pre-register. Simply call McKenzie at 1-800-279-7985 and tell them you want to attend the Open House in Camp Hill. Remember that you must pre-register by Friday, August 24 in order to be eligible to win the Dakota V Fleshing Machine.
Meet the McKenzie Staff
While you're there, you can meet and mingle with the McKenzie staff, who are always eager to hear from you for your input. In addition to the new Pennsylvania distribution team, you can also meet Tom Powell, Mike Gillis, Chad Davis, Phil Helms, Olaus Lyons, Roger Martin and me, Ken Edwards. The entire McKenzie staff will be happy to answer any questions you have, as well listen to your comments.
Sneak Preview
Some of the newest and innovative products which won't be announced until this fall's catalog will be shown for the first time to attendees of the open house. You can get a sneak preview and be the first to witness these new items.
It will be a fun day, and you can save a lot of money if you pick up an order during the open house. I look forward to seeing you there.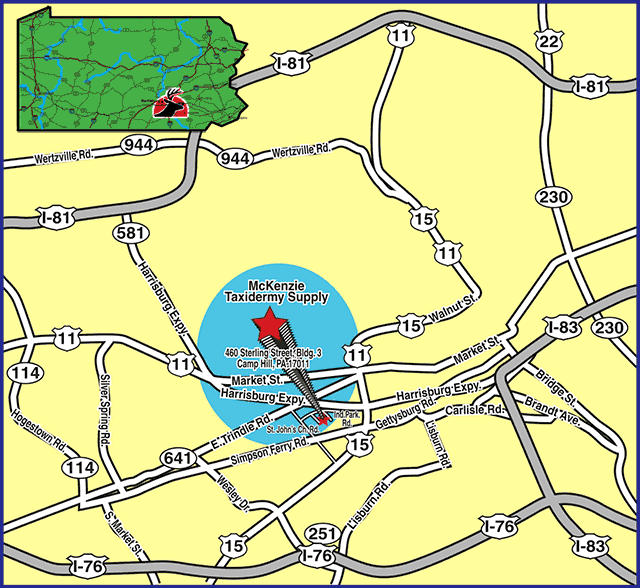 Location
McKenzie's Camp Hill Distribution Center is located at 460 Sterling Street, Building 3, Camp Hill, PA 17011. When I looked it up on Google Earth, I realized that I drove right by there in 1958! When I was five years old, our family drove from Birmingham, Alabama to New York City. In those days before interstate highways, everything was a two-lane road, and US Highway 11 went straight from Birmingham to Harrisburg, Pennsylvania (a long two-day drive) where we turned right to head into New York. Yeah, I think I remember thinking at the time that this would be a good place for a taxidermy supply distribution center. Yeah.