Even though hunting season is gearing up across the country, there is another favorite season among taxidermists that is unfolding this month. Taxidermists all over the country are eagerly checking their mailboxes every day for the latest catalogs from taxidermy supply companies. To many taxidermists, the anticipation of getting the new catalogs in the mail is as exciting as the feeling of Christmas morning to a child. Well the wait is almost over, as the big fall books from McKenzie, WASCO and VanDyke's have been mailed and are currently in the hands of the US Post Office. They are due to be delivered around the middle of the month.


For the last 25 years, I have been in charge of publishing the annual WASCO catalog. Each fall, I would go into "catalog deadline mode" which basically meant that I would work 7 days a week, 12 hours a day, for about 10 weeks straight. Working like that has an effect on your home life, your diet, and your psyche, because it was always a time of magnified stress, relentless deadlines, and trying to keep track and organize thousands of pieces of information. Unless you have actually been involved in the preparation of something as complicated as a supply catalog, you cannot fully appreciate all the work that goes into it.
This year, for the first time in ages, I am NOT responsible for publishing a catalog, and it feels like a weight has been lifted from my shoulders. Heck, I may even get to take a few weekends off and go deer hunting! I can now stand back and marvel at the wonderful job the McKenzie staff has done to produce the biggest and best catalogs that the taxidermy industry has ever seen.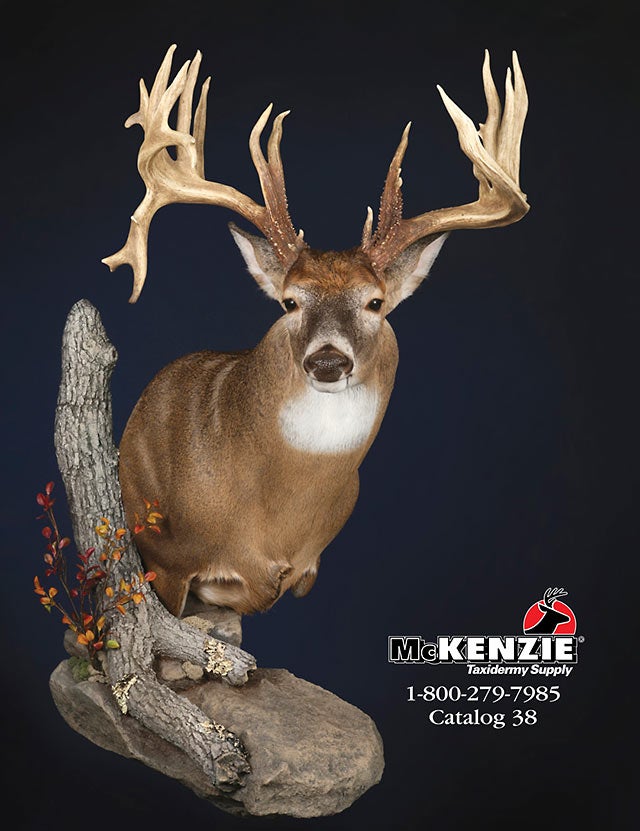 McKenzie Taxidermy Supply Catalog
The McKenzie "big book", catalog 38, is really an amazing publication. For a company to continue to turn out this level of new and innovative products year after year is incredible. I've been doing this for a quarter century and I am SO impressed that with everything they had going on this year (opening a new regional distribution center, starting a new panel and base making plant), McKenzie still had the energy and creativity to develop and produce 230 brand new products! All of these new products are featured throughout the catalog, so you will need to sit down and set aside a few hours to flip through the 800-plus pages and see the latest innovations.
Some new product highlights include big expansions to the popular new 6900 whitetail deer mannikin line. Sculptor Denny Behn has been very busy adding dozens of new sizes to this line so taxidermists can use them with any deer that comes into their shop. He has also created a new 6900 floor pedestal line for added drama and artistry.
Roger Martin and Joe Ferebee have been busy as well, creating exciting new finished habitat treatments for new species. New hardwood and habitat bases have been designed to fit larger mammals like lifesize bears and mountain lions. New Wall Habitat® and finished habitat bases have been designed for flying birds, leaping foxes, deer heads and half-lifesize bear. Several new wall-hanging rock shelves have been developed for the reclining laying-on-mantle poses. Termite mound floor pedestals for African species, metal reed and water tabletop bases for flying ducks, trees gnawed by beaver, and old mossy logs are expanding the finished habitat line for even greater variety. A new flatter rock panel has been added as well allowing you to create flat spaces for mount attachment when building rocks and mountains. If you are looking for a huge selection of artistic habitat ideas, then look no further than the new McKenzie catalog.
You can see a video with many of these new products by watching the McKenzie Pennsylvania Open House Video.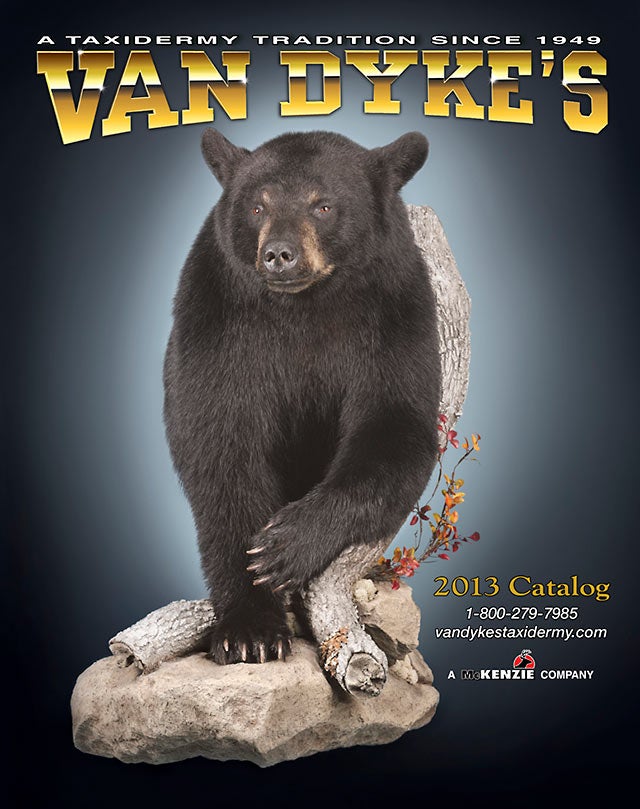 Van Dyke's Catalog
Van Dyke's always had a great niche for offering a wide variety of hard-to-find items, plus their outstanding glass eye, panel, mounting stand and fleshing machine manufacturing legacy. Their impressive warehouse and plant is still operating in Woonsocket, South Dakota after 63 years in business. Their new catalog cover features a half-lifesize bear on a brand new Wall Habitat®, which brings us to our latest installment of the McKenzie Video Library, presented below:
New Wall Habitat®
Up until this year, there were not very many good solutions for the problem of displaying a half-lifesize bear on the wall. Basically, you could go with a rock or a panel, but the bear always had that unnatural disturbing look that it was cut in half (which, in fact, it was!). Since half-lifesize bear are such a popular pose for showing off the front claws, Roger Martin and the McKenzie team solved this problem by creating these beautiful new Wall Habitat® pieces designed especially for use with half-lifesize bear mounts. Available in several sizes, they also work great for other gamehead and deer mounts. The latest installment of the McKenzie Video Library shows Rick Carter using this new wall habitat for half-lifesize bear.
Each habitat piece has been carefully designed to not only be time-savers, but to showcase your work with a beautiful presentation of composition, color, texture, and realism. Not only can you save hours upon hours of design and construction work, you can easily produce a beautiful artistic display just by using these new habitats right out of the box. They will save you money, and enhance your work.
WASCO Catalog
I must admit that I was a little nervous about seeing the first WASCO Catalog that I was not personally responsible for putting together. But I was pleasantly surprised that the new staff did a great job and kept the special personality of the WASCO book intact. All of the WASCO products that you love are back and can be ordered alongside any McKenzie items to save on shipping and quantity discounts.
If you are an existing customer of McKenzie, Van Dyke's or WASCO, you should automatically receive your new catalogs in the mail this month. If you're not a current customer, or if you did not get your catalog in the mail, feel free to call 1-800-279-7985 and request that one be sent to you. Or visit the McKenzie website at www.mckenzietaxidermy.com.