Ron Pittard was one of the most famous fish artists of our time, yet no one—save for a close circle of loyal friends and clients—had ever met him, knew where he lived, where he worked, or even how to get in touch with him. For years he didn't even own a telephone, much less a computer, beeper or fax machine. He was most content when he was creating beautiful art, and he had little patience for anything that prevented him from pursuing that goal.
When he died in November, 2012, very few people even knew about it until weeks later. To this day, I have never been able to find any obituary or death notice. The tight-knit taxidermy community only learned of his death a few weeks later when Ron's long-time friend, pupil, and protégé Dave Smith of Oregon announced the sad news on the Taxidermy.Net Forum with this post.
For most of us, Ron Pittard was the amazing flat artist behind Windsor's Nature Discovery Fish Identification posters. Most every taxidermist that I knew had several of these posters hanging in their shop. WASCO sold thousands of these posters over the past quarter-century, and they are still a mainstay in studios, marinas, and tackle shops throughout North America. The individual species artwork for these posters was also used to create a successful line of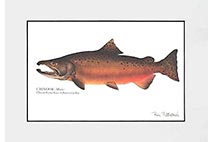 fine art prints of fish as well as a selection of fish magnets, which I happen to have on my refrigerator here in my office.
But to a small group consisting of the upper echelon of fish taxidermists, the guys who are on the cutting edge of their art (the "fish-heads" as they are sometimes referred to by their mammal, deer and bird specialist cousins), Ron Pittard was nothing less than a fish taxidermy legend.
Ron Pittard, this reclusive, mysterious master, who nobody could get in contact with, who never entered a competition, who didn't use conventional taxidermy supplies or paints, who had no phone, was producing amazing fish replicas of unparalleled quality over 30 years ago.
Other taxidermists would see Ron's work occasionally at someone's home and marvel at the level of skill and artistry involved. The fish were perfect! No missing scales, no shrunken areas, no wrinkles or flat spots as everyone was accustomed to seeing on fiberglass blanks at the time. The fins were thin, transparent and flexible, the poses were action-filled and realistic, the mouth interiors were fully detailed (with teeth, no less!), and each wall-mounted fish was accompanied by a beautiful custom underwater painting framed as a backdrop.
But the most amazing thing about these replicas was the paint job. In an era when most taxidermists were using a big DeVilbiss touch-up spray gun to paint fiberglass blanks, Ron was hand painting each scale with an artist's brush. Thousands of scales were painted individually, over and over with multiple coats, to achieve results that looked nothing like the usual examples of taxidermy at the time. When other taxidermists saw these fish back in the seventies and eighties, they simply shook their heads in amazement.
Ron Pittard began mounting fish as a teenager in 1948. He started out producing skin mounted fish but was frustrated by the quality limitations inherent in mounting a skin. To overcome this obstacle, he taught himself how to make plaster molds for reproductions. After years of experimentation and trial and error, he eventually settled on a method of hand tooling the plaster molds to fix any imperfections and then casting the fish in pieces to minimize wear and tear on the molds.
In the sixties and seventies, Ron was travelling a lot for his job with an electronics firm. As a part-time fish taxidermist, he would take his fish replicas with him on the road and pass the time at night in hotel rooms by painting fish with an artist's brush and oil paints. Painting each scale in the quest for perfection might seem like drudgery to some, but to Ron, it was his most personally satisfying activity. After an epiphany one night, he realized that he really didn't want to be doing anything other than creating beautiful fish art, so he quit his full-time job to realize his dream of becoming a full-time artist.
To achieve his bright chrome silver and gold effects, Ron used a special lead-based pigment that he discovered early in his career. This amazing pigment produced a bright reflective silver with none of the gray cast that is common with aluminum-based silver paint. Ron used this silver to also produce bright golds and other reflective colors, by layering each scale up to four times with transparent washes. When the manufacturer was forced to quit making the silver paint in 1963, Ron made sure that he had enough to last him through the years by purchasing a lifetime supply before it was no longer available. Ron's fifty-year stash of secret silver paint did indeed last him his entire life, and has since been passed on to Dave Smith.
In 1992, the local Public Broadcasting television station was granted a rare interview with Ron in his studio, in which he showed them all of his casting and painting procedures. Fortunately, this excellent video segment is still on-line, so the vast majority of us who never got a chance to meet Ron can get a taste of his personality and wisdom. He comes across as humble, intelligent, and kind, even if he was a recluse. He seems like a person that would have made a great friend.
In the last decade of his life, Ron allowed himself the luxury of branching out into creating other styles of art that interested him, including wood carving, clay sculpting and flat art painting.
Ron Pittard's legacy in the annals of modern fish taxidermy will be felt for decades to come. Today's masters like Dave Campbell, Jeff Lumsden, Pete Harum, and Rick Krane all owe a debt of gratitude to Ron for blazing the trail and showing us all what is possible when you do something you love with total conviction. "I sure like this," Ron stated in the 1992 television interview, "You just plod along and plod along, and pretty soon it's done!"

Acknowledgement of sincere appreciation to Dave Smith
I want to offer my special thanks to Dave Smith, Ron's friend, and only student, who is continuing on with Ron's legacy. Dave's insight into the life and working habits of Ron are solely responsible for the content of this blog, including the photos he most generously shared, as well as a fascinating upcoming article on his experiences in Ron Pittard's studio, scheduled to be published in the spring 2013 issue of Breakthrough Magazine. Dave makes his living producing high-quality hunting decoys. The website for his company, Dave Smith Decoys can be found at davesmithdecoys.com.