A little over ten years ago, before the explosion of information on the internet, WASCO (Wildlife Artist Supply Company) would occasionally publish award-winning paint schedules in taxidermy trade publications by artists who used Polytranspar Airbrush Paint to finish their fish. Unfortunately, many of these step-by-step painting instruction guides were printed only a single time, in a single publication, and then were never to be seen again.
The information that was presented in these forgotten paint schedules can still be very useful to fish taxidermists, and it is a shame that they are no longer available to anyone who might benefit from them. After rediscovering some of these overlooked treasures in my files, I decided that this blog would make a good time and place to resurrect some of these lost paint schedules for today's fish artists. Here in Ken's Corner, they will again see the light of day, find a new audience, and will remain accessible for years as a searchable resource.
From 1999 until 2008, John Lager of Littleton, Colorado accomplished a feat within the history of taxidermy competitions that no one will (probably) ever beat. In the nine national competitions that he entered, he won the Best All-Around Taxidermist award all nine times! The BAA award is given to the competitor with the highest combined score of four entries consisting of a gamehead, a bird, a lifesize mammal, and a fish or reptile. For the entire decade, many challengers tried to knock John off his perch, but as long as he continued to enter in this competition, he continued to dominate.
In eight out of the nine times that he won the national Best All-Around title, John entered a skin-mounted walleye as his fish mount. His beautiful walleyes were based upon a commercial paint schedule that he developed in his studio, which is actually quite simple in spite of the outstanding results. In September of 2002, the following step-by-step paint schedule was published in North American Taxidermy News. Although NATN is no longer with us, below is John Lager's original competition walleye paint schedule as used in eight of his unprecedented NINE wins as the NTA's Best All-Around Taxidermist.
Walleye Paint Schedule by John Lager
I always use the complete Polytranspar airbrush paint system. Lacquer-based (FP series) paints are my choice. I also use the Paasche VL series double-action airbrush. When painting a walleye, try to have a fresh specimen or good photographs available to use as color reference. Be careful not to overpaint the fish. If you allow the natural patterns on the skin to show through your paint job, it will look much more realistic.
1. FP220 Fungicidal Sealer — Paint the entire surface using a 1″ brush. Make it very wet and heavy.
2. FP10 Superhide White — Using an airbrush, spray on the belly and lower lip, inside the mouth and in the crack behind the upper lip.

3. FP402 Silver Pearl Essence — Spray this pearl on the belly, lower jaw, and lower cheek.

4. FP141 Yellow Ochre — Using a Q-Tip, apply the irregular pattern on the top of the head, upper and lower jaws, and on the fin rays.

5. FP30 Black & FP10 Superhide White — Mix to medium gray. Apply with a Q-Tip between the ochre on the head, jaws, and fin rays.

6. FP423 Sparkling Gold — Using only the thick pigment, plus a little thinner, apply using a small brush to all light spots on the scales of the upper and middle body. Also highlight the ochre on the head with this color.

7. FP141 Yellow Ochre — Back to the air­brush; shade the top and sides to the desired color.

8. FP62 Dark Bass Green — Shade the top to the desired amount.

9. FP160 Gill Red & FP90 Bright Orange — Blend to make a dark orange. Mist on tongue, roof of mouth, side of lower jaw and anus. Mist lightly on lower fins and tail for customers, but it's wrong for competition.

10. FP442 Shimmering Gold — Lightly spray side of body and head.

11. FP440 Shimmering Blue — Lightly spray this color over the roof of the mouth and across the lower cheek.

12. FP30 Black & FP70 Chocolate Brown — Mix to a dark brown. Shade top to desired amount.
13. FP240 Wet Look Gloss — After cleaning all paint off the eyes, apply three coats over entire fish.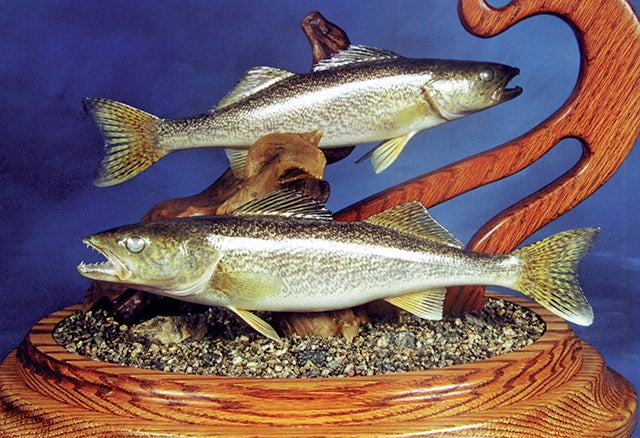 As shown in the WASCO ads above, in eight out of nine wins, John Lager's beautifully painted walleye mounts were always one of the highlights of the NTA Competition. Some taxidermists are fond of the phase, "This ain't rocket science," but you won't hear John Lager say it, because he has firsthand knowledge of the subject. He was actually a professional research scientist in the aerospace industry before retiring in 1987 to become a full-time taxidermist. He incorporated the discipline and research skills he used in his "rocket science" career to develop new taxidermy methods for producing consistent results at the upper level of his profession. John is an enormous talent within the taxidermy community and his mounts never fail to impress.