For as long as anyone can remember, the Jonas name has been synonymous with the very best in taxidermy. The long and fascinating history of Jonas' contributions to our art is layered with milestones spanning three centuries, including a brand new milestone just reached last month in 2013.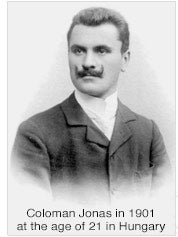 The Beginnings
Coloman Jonas was born the eldest son of Hungarian mail carrier. Supporting six sons and two daughters was a stretch for Coloman's father, a government employee living on the banks of the Danube in Budapest. In 1895, at age sixteen, young Coloman began an apprenticeship with a local taxidermist at a salary of $5.00 per month. For the next decade, Coloman learned all that he could about the art of taxidermy, working on specimens brought in from around the globe, including Africa which was opening up as the newest frontier for trophy hunting. At the time, taxidermy was almost entirely subsidized by Royalty and the wealthy aristocracy. Coloman used his talent and personality to his advantage, teaching himself the German and English languages, as he worked his way into this higher society of artists and world travelers.
As Coloman's reputation grew, he was eventually offered a job to work with the foremost taxidermist in the American West, Professor Gus Stainski in Colorado Springs. With the blessings of his father who told him, "Go my son; our country is poor and future prospects are not good. You will have a better opportunity in America," Coloman made the lonely 7,000 mile trip to start his new life in America.
But Coloman and Professor Stainski did not see eye-to-eye on taxidermy techniques. Coloman found Stainski's methods to be of lower quality than he was used to producing. Stainski was not receptive to Coloman's progressive techniques of sculpting and casting anatomically accurate paper mache forms. Yet even while producing inferior products, Stainski was egotistical and difficult to work with. Coloman knew that he would have no long term future working for Stainski, so he began saving his money with the dream of opening up his own business.
The Brothers
Meanwhile, Coloman's younger brother John had taken up the art of taxidermy back in Hungary, so Coloman started writing him glowing letters describing the beauty of the Rockies and the unlimited opportunity for hunting. In 1906 John also came to work for Stainski Studio as their newest junior taxidermist. They would work 12 hours a day and then take their Sundays off, riding their bicycles with a .22 rile and a shotgun strapped to the frame as they rode around Pikes Peak, exploring and collecting birds and animals.
Coloman later recalled, "In America, a man can start a business with little capital." By 1908, the two brothers had saved up enough money to open their own business in Denver, and Jonas Brothers Taxidermy was born.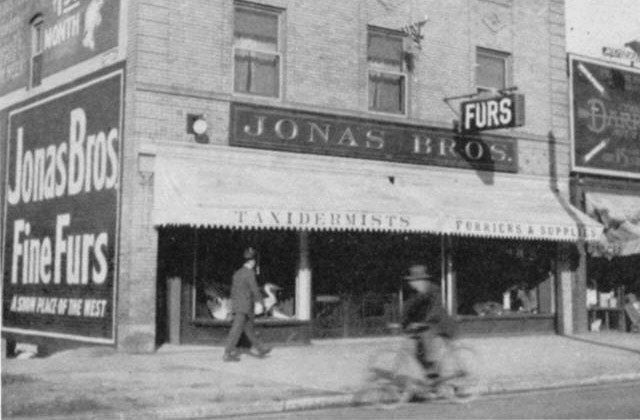 In 1909, younger brother Louis Paul immigrated from Hungary to join the business. As a teenager Louis showed an exceptional talent for sculpture which would serve him well throughout his life. Coloman was amazed at Louis Paul's "grasp of anatomy and and fine feeling for form and motion in reproducing wild animals in clay and bronze."
Soon after, brothers Leslie and Guy came to America to join the Jonas Brother Taxidermy empire. In the 1920s and 30s, Jonas was recognized as the premiere commercial taxidermy studio in America, creating both hunting trophies for sportmen clients and providing high-end museum dioramas for many of the top educational institutions.
In the 1930 publication above, Louis Paul Jonas is shown sculpting the clay for a India tiger.
This photo of a museum diorama was often mistaken for a photograph of an actual encounter between a cougar and a mule deer.
Eventually the brothers parted ways. There would be three separate Jonas Brother Taxidermy Studios, all successful. Coloman stayed with the Denver operation, Guy Jonas opened Jonas Brothers Seattle, and John, Louis Paul and Leslie opened a studio in Mt. Vernon, New York.
The Jonas Brothers Studios in Denver was a breeding ground for many of the greatest taxidermists of the twentieth century. Coloman Jonas was so impressed with the talents of a young Henry Wichers (later named Inchumuk), that he virtually offered the business to him if he would come on board. Young Henry reluctantly declined the offer, choosing to work his taxidermy life in a museum setting where money concerns would not be a driving force in his creative decisions.

Staff sculptor George Blum is shown here working on a Bengal tiger clay model. The original sculptures created for one-of-a-kind mounts in the Jonas Studio added up through the years, eventually numbering in the thousands.
As their catalogue of animal sculpture molds grew, Jonas started offering their pre-made paper mache mannikins for sale to taxidermy studios, and a new industry was born: the taxidermy supply company. Later, they were among the first companies to convert their molds to allow for polyurethane production.
In the 1950's, Jonas Brother Seattle was sold to the Klineburger brothers, and the New York studio was sold to Steven I. Horn. Mr. Horn added a complete, custom tannery to the facility in Mt. Vernon and hired the talents of Mr. Sinclair Clark, the legendary tanner from the Museum of Natural History in New York, to run the tannery. In 1985, Mr. Horn retired and the New York company was sold to Carl & Mary Pepi.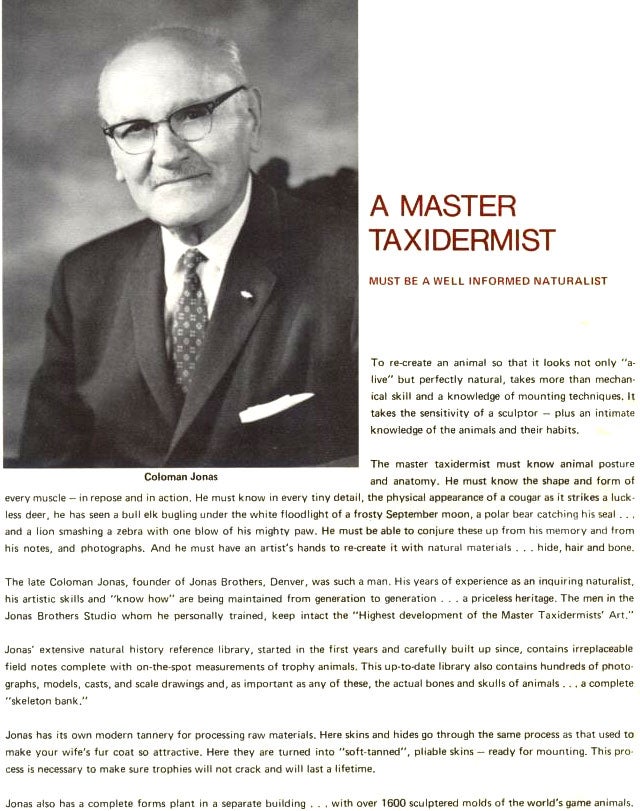 In 1969, Coloman Jonas died 26 days before what would have been his 90th birthday. At the time, he was still featured prominently in the Jonas literature. By all accounts, he lived a happy and fulfilling life.
Jonas Brothers in Colorado flourished throughout the 1970s and 80s as Onno Van Veen guided the company through a transition into primarily supplies. Onno Van Veen's marketing skills helped to bring a professionalism into printed material for taxidermy advertising which continues to this day, as confirmed by McKenzie, WASCO and Breakthough Magazine.
Jonas Supply Company's urethane mannikin line grew to include thousands of North American and African offerings. A sister company, Knoblochs, lead the revolution in in-shop tanning in the 1980s with their groundbreaking product, Liqua-Tan. Other technological breakthroughs followed with Never Say Dye products, and inexpensive ready-to-use jaw sets.
In 1991, Jonas Brothers Taxidermy Supplies was sold to Rocky and Sharrron Losasso of Rockmont Industries, which had been supplying products for Jonas since 1969. The business was moved to nearby Lafayette, Colorado. 22 years later, in March of 2013, Rocky and Sharron sold their interest in Jonas Supply Company to McKenzie Sports Products. With the acquisition of Jonas, McKenzie now has the most comprehensive selection of urethane foam mannikins that has ever been available for the taxidermy industry.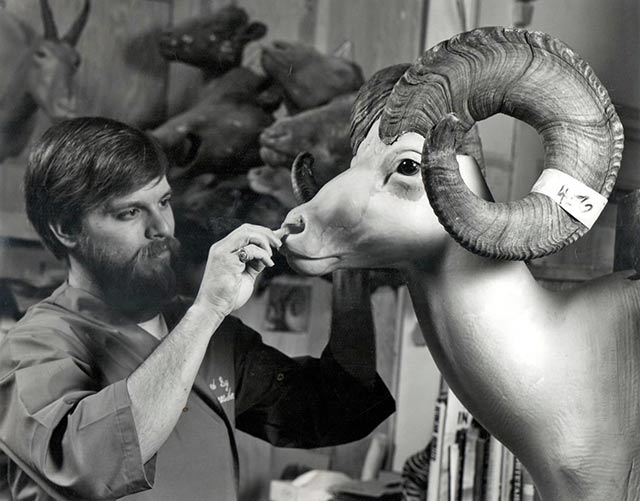 In this photo, a young Dennis Behn is shown honing his craft as an employee of the Jonas Brothers Studio some 30 years ago. Dennis eventually earned high acclaim as the main game head sculptor for McKenzie Taxidermy Supply and their outstanding line of shoulder mount mannikins. The success of these Dennis Behn shoulder mounts directly contributed to the success of McKenzie which allowed them to be able to acquire the Jonas Supply Company. There is a "circle of life" within the history of taxidermy, where over time students become the master and a new equilibrium is reached.
The previous owners of Jonas Supply, Rocky and Sharrron Losasso, will be continuing on with the tradition of the Jonas Brothers Taxidermy Studio in Colorado. After selling their interest in Jonas Supply Company to McKenzie last month, they sent this letter to their customers:
McKenzie will continue to manufacture and supply the outstanding line of urethane foam mannikins that Jonas has amassed over the past century. This collection is a true treasure for our industry, and I am proud that it has been saved and will continue to be available for taxidermists as we proceed through the new millennium.
Here is McKenzie's announcement from March 2013:
Jonas Supply is Now Part of the McKenzie Family of Companies!

McKenzie Taxidermy Supply is proud to announce that Jonas Supply is now part of the McKenzie family of companies. Jonas is one of the oldest names in the industry with a rich heritage dating back to 1908 when Colomon (pronounced "Coleman") Jonas and his brother John founded Jonas Brothers Taxidermy Studio. During the last 100 plus years, Jonas has grown to be an industry leader in both taxidermy and taxidermy supplies. Rocky and Sharron Losasso, owners of Jonas Brothers since 1992, had this to say about the acquisition: "Once we made the decision to pass on our life's work and the Jonas Supply name, we immediately thought about McKenzie and knew the supply business would be in good hands with them." The Jonas Taxidermy Studio and Knobloch's will continue to be owned and operated by the Losasso family and Cinnamon and Mark Daniels.

McKenzie will manufacture and ship the Jonas products from our Van Dyke's facility in Woonsocket, South Dakota. Tom Powell, Chief Operating Officer of McKenzie's, said, "We are excited about being a part of a new chapter in Jonas history and combining the strengths of our companies to deliver an even broader line of products and services to the taxidermy industry."

As we begin serving your Jonas Supply needs, we look forward to building new relationships and building on those we are already a part of. If you have any questions concerning McKenzie or Jonas Supply, please don't hesitate to call McKenzie at 800 279-7985.
I want to offer my sincere thanks to one of our most gifted resident taxidermy historians, John Bellucci of Xenia, Ohio, for providing me with most of the historical documents which I utilized in this blog. John's collection of old taxidermy books and catalogs is unique, and I appreciate him allowing me the opportunity to raid his library. Thank you, John!