Over the past few months I have been fortunate to be frequently reminded of why I love this industry so much. We all hear some folks complain that taxidermists are loners, antisocial, don't play well together, and will argue amongst themselves about anything. But my involvement with taxidermists over the past 30 years has led me to think that most taxidermists represent the very best in human nature, and I have the anecdotal evidence to prove it!
Taxidermists As A Group
Tom and Gail McNeal of Illinois have been handling the data entry and programming at every World Show since the mid-nineties, and always did an excellent job. When Tom and Gail were unable to host the mount registration table at the recent 2013 World Taxidermy and Fish Carving Championships® in Springfield, Illinois, Show Organizer Larry Blomquist turned to his computer-savvy friend, Richard Graves of Louisiana to take over the data entry and computer operation.
Although Richard had a great deal of experience in many areas, he had never dealt with hundreds of taxidermists at a time, standing in line, waiting to fill out paperwork so they could have their mounts entered in the computer and the competition. After the show, he commented to me about how surprised he was that even when things weren't going as smoothly as he wanted, the taxidermists waiting in line were easy-going, polite, and patient. They never lost their cool, complained or made a scene. Having dealt with the general public in similar situations, Richard was expecting more angry customers when problems arose, but he was pleasantly surprised to find that taxidermists were happy to shrug off minor problems and retain their pleasant demeanor.
This general quality in group of taxidermists was astonishing for Richard, but I realized that it wasn't surprising at all for me! It was action that I had come to expect from taxidermists as I had seen them roll with the punches year after year. I recalled that I had even heard the same compliment about taxidermists as a group many times in the past from hotel staffs and convention hall workers. When the power went out for hours at the 2004 NTA show in Huntsville, everyone made the best of it, with a festive impromptu party in the blacked out hotel lobby. Later that week when there was no hot water for a day, all the taxidermists endured cold showers, but none of them angrily demanded retribution from the front desk.
Through the years attending scores of conventions, I have witnessed taxidermists awakened in the middle of the night by fire alarms and forced to exit hotels in their underwear, face rising flood waters in convention halls, blizzards and blowing snow, tornado warnings, evacuations, power outages; and in EVERY case, the collective group of taxidermists took it all in stride, remained friendly, and always made the best of a bad situation. Compared to the grumpy and self-entitled general public, taxidermists exhibit VERY low maintenance personalities.
There were many individual taxidermists who voluntarily stepped up to the plate and impressed me greatly at the World Show last month. I have a newfound respect for several special people whose hearts were so big and their generosity so great. I can't mention them all without short-changing others, but I couldn't have made it through the week without the invaluable assistance of Mac McLane, Billy Robertson, Vince Spellane, Doug Montgomery and Larry Angus.
During the week, I saw a few other random acts of kindness that were jaw-dropping. In the midst of the many activities of the World Show, the following surprising actions epitomized the definition of CLASS.
Kurt Ainsworth
The Live Sculpting World Champion John Schmidt of South Dakota brought a special book to auction at the 2013 World Show. It was "Atlas of Animal Anatomy for Artists" by Ellenberger, Dittrich and Baum, which is commonly referred to as the "Bible" for taxidermy sculptors. This book was autographed by all of the sculptors present at the show, which may have been the largest collection of taxidermy sculptors in one location, ever. John's sculpting competitors as well as his mentors and heroes signed the book including sculpting legend Joe Kish, who was responsible for so many sculptors' apprenticeships. John also had recently made a new sculptor's stamp which he would use to sign his taxidermy sculptures in the future. He would use this stamp one time to mark this edition of the book as a special tribute to his mother, for whom he wanted to give the book to for Mother's Day which was the day after the auction.
At the 2011 World Show, Mac McLane had won the auction for the coveted autographed sculptor's book, so he was planning on bidding for the 2013 one as well to add it to his collection. Mac was not aware of John's special plans for the book, so he ended up bidding against John from the other side of the room at the auction. I was on the left side of the room with John and did not know who was bidding against him. The bidding swiftly escalated. $100, $120, $160, $180, $200. John bid it up to $280, but Mac came back with a $300 bid.
John was visibly shaken. He could not afford to go over $300. Dejected, he withdrew from the bidding and sat down in a slump.
It appeared to be over for John's plan to honor his mother, who got him started in sculpting, with this special gift. The auctioneer said $300 going once, going twice, and was ready to pound the gavel when a new voice from the back of the room spoke up. "Five hundred dollars," the new bidder said. A hush fell on the room as all eyes turned around to see Michigan's Kurt Ainsworth with the winning bid. He must really want that book, I thought. The gavel came down and Kurt had bought the autographed copy of "Atlas of Animal Anatomy for Artists."
When Kurt was presented with the book he shocked everyone in the room. He handed the book to John Schmidt and told him that it was his. The entire auction audience erupted into applause. John hugged Kurt and tried to thank him, but his eyes misted up and the sentiment of the moment prevented coherent words from forming. John had to excuse himself from the room to collect his emotion.
Kurt Ainsworth is one classy taxidermist. He proved it with that spontaneous act of kindness and in many other ways throughout his daily life and his involvement with the Michigan Taxidermist Association. He also sings some mean karaoke, as he aptly demonstrated later that night at the wind down party.
Mac McLane's personal account of this story can be found here on the Forums: http://www.taxidermy.net/forum/index.php/topic,341124.0.html
Kent and Valerie Reedy
Speaking of classy taxidermists, here is another spontaneous act of kindness and generosity that was only seen firsthand by the 600 attendees of the awards banquet Friday night. It doesn't get much better than this.
Kent Reedy is no stranger to the upper echelon of World competition; he won Best in World Bird and Judges' Best of Show in 1987, as well as the Master of Masters Award in 1995. He and his wife Valerie collaborated on their first Collective Artists entry at the 2011 World Show, where they won second place in the Carl E. Akeley awards with a gorgeous flying blue-winged teal.
Kent and Valerie Reedy of Dixon, Iowa joined forces with their local welder, Willy Fink, to create a single wood duck mount for the 2013 WTC that was a true show-stopper! It featured a wood duck mount with a matching carved natural-finish wooden wood duck to represent the reflection beneath a water surface. As testament to the artistic impact of the entry, it was announced at the banquet that it won the prestigious Competitor's Choice Award voted on by all of the competitors out of ALL entries at the 2013 World Taxidermy Championships.
As if that weren't enough, it also won a gold Akeley medallion and the World Champion title as the Best in World Collective Artists Division as well. For a second time, Kent and Valerie came to the stage to receive their award. I would love to show you a photo of this piece, but the first public display of the newest winners will be published in the pages of Breakthrough Magazine.
Update: Kent and Valerie's wood duck was featured on the cover of Breakthrough Issue 110, so it can now be revealed here: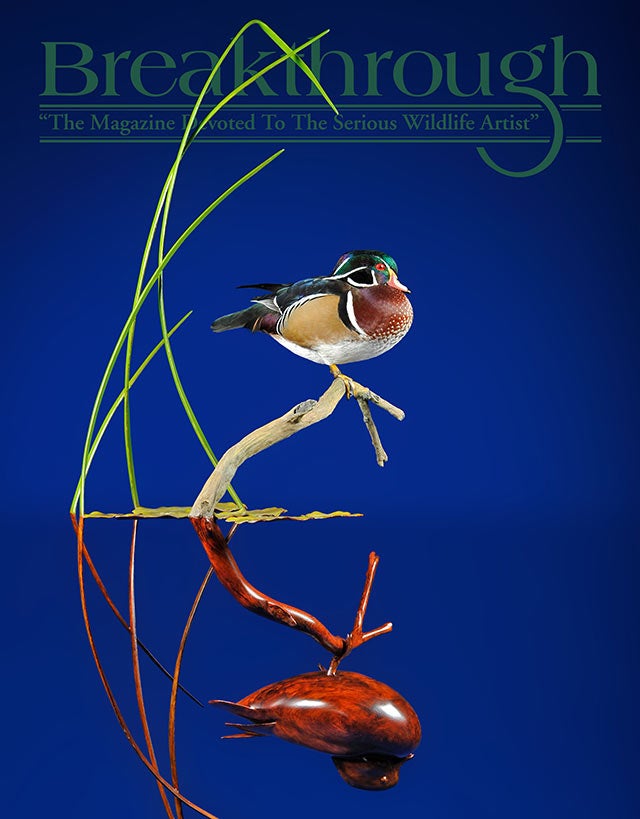 As one of the three Carl E. Akeley Award judges, I was fortunate to be at the podium to announce the winners of this prestigious award, which is awarded to the entries which best represent taxidermy as art. After awarding third place to a smallmouth bass by Brett Wingfield of Spirit Lake, Iowa, and second place to a black bear shoulder mount by Doug Roffers of De Pere, Wisconsin, it was time to announce the fist place winner, who would also be receiving a thousand dollar cash prize from WASCO.
I explained that although there were dozens of artistic entries that were in contention for the Akeley Awards this year, the choice of first place was the easiest that I could ever recall in any World Show. The three Akeley judges required no discussion on our top pick, as we all immediately chose the same piece that the competitors has picked earlier. The gold medallion and the thousand-dollar cash award would go to the Akeley Award winner for 2013, Kent and Valerie Reedy for their stunning wood duck.
Kent and Valerie made their way to the stage for a third time as the audience cheered. When they approached the podium, Kent, clearly moved by receiving such an honor, leaned in and whispered in my ear, "Valerie and I would like to donate the $1000 cash award to the winner of the Best Youth Entry to further his taxidermy education."
When I announced their intentions to the audience, Kent and Valerie received another well-deserved standing ovation from the awestruck banquet attendees. Kent and Val turned over the $1000 WASCO check to the Best Youth Entry winner, Nicholas Christianson of International Falls, Minnesota. In the 24 hours that followed, I believe that I heard the words "class" and "classy" more times than I had heard it in the previous year, as the remarkable events of the night were discussed and analyzed.
Amazing generosity seems to run deep through our taxidermy industry. When friends are in trouble, the entire taxidermy community will rally around to offer their support. From donating time, supplies, cash, or even (in one famous example) vital organs, taxidermists never cease to amaze me with their boundless compassion for their fellow artisans.