Grayling
Click on an area of the photo below to reveal detailed closeups of the head, body and tail areas.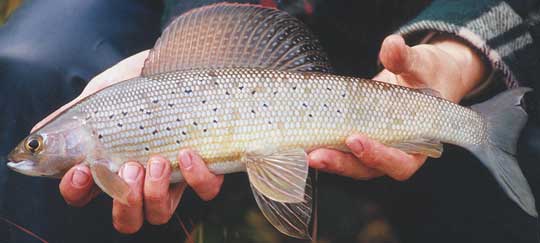 From Issue 68 of Breakthrough Magazine, this Female Grayling photo was submitted by Juli Hermans of Yakutat, Alaska.
---
Back to Grayling Photos
Warmwater Fish Reference Photos
Coldwater Fish Reference Photos
Saltwater Fish Reference Photos
Back to Reference Home Page
The Taxidermy Net, in association with Breakthrough Magazine is proud to present this new reference section on the Taxidermy Net. Breakthrough has generously opened their file cabinets to some of the best reference photos that taxidermists have ever made. These photos were submitted by readers and chosen for use in the "Reference of the Month" feature in each Breakthrough Magazine from the past six years. Please feel free to browse the photos. Although copyrighted for publication, advertising and distribution purposes, you may print these photos if you wish for your personal reference use.
Miscellaneous Reference | Alphabetical Listings | Administration
| Taxidermy Associations | Upcoming Taxidermy Conventions | Taxidermy Studios with Web Sites |
| Learn Taxidermy | Taxidermy Suppliers | NTA | WTC |

| Return to the Taxidermy.Net Home Page | Return to Breakthrough Magazine |

© 1998-2003 Breakthrough Magazine. All Rights Reserved. This page last updated 08/18/03.