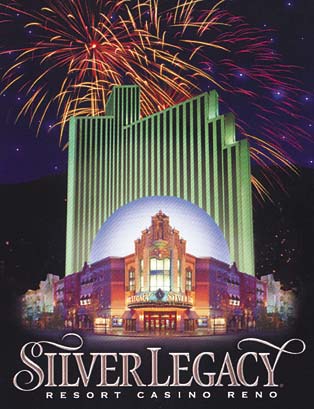 WTC Host Facility:
The Silver Legacy
Resort Casino and the
Reno Events Center
The Silver Legacy Resort Casino Hotel is an elegant, beautiful, modern facility where the World Taxidermy Championships and World Fish Carving Championships seminar program, The Friday Night Awards Banquet, and the Saturday Night Wind-Down Celebration will be held. Tuesday, April 17 through Saturday, April 21, 2007 are the dates for the world's biggest and most prestigious taxidermy and fish carving convention.
The Silver Legacy Resort Hotel is the closest hotel to the Reno Events Center where the World Show Competition Area and Trade Show will be located. The hotel is located in the heart of Downtown Reno, Nevada, within easy walking distance (one block) to the Reno Events Center.
The room rate is extremely affordable for a hotel of this quality. The food selection is outstanding, and very reasonably priced. Silver Legacy also houses Northern Nevada's largest casino at 85,000 square feet, and is connected by skyways to two other casinos on either side, making it the largest gaming and entertainment center under one roof. With over 20 restaurants and lounges on the tri-property complex, the Silver Legacy is consistently voted Northen Nevada's best overall resort casino.

Airfares to Reno are among the lowest in the nation, even from the east coast. The Reno/Lake Tahoe area is home to some of the best fishing, skiing, and outdoor recreation in the country.

Make your Reservations NOW!
At the last World Show, the host facilities filled up fast! Don't be dissapointed. Reserve your room today to ensure your accommodations.

The rates for the 2007 World Shows are $75.00 per night for Sunday through Thursday nights and $99.00 per night for Friday and Saturday nights. For reservations, call 1-800-MUST-SEE (1-800-687-8733) and ask for code CHAMP to receive this special discounted rate. Click here to visit the Silver Legacy's web site.

Amenities
Enjoy turn-of-the-century elegance and comfort in our 336-square foot Victorian themed guest rooms, available in standard, deluxe and superior, based on room views. Our 38-story hotel towers 400 feet in the air, making it the tallest building in Northen Nevada. It contains over 1700 richly appointed rooms overlooking a commanding cityscape and the snow-peaked Sierra Nevada mountain ranges in all directions.

Casino
Silver Legacy's 85,000 square-foot casino floor features a wide array of the best in today's gaming. With 85 table games, 1,700 slot machines and innovative casino promotions, Silver Legacy has something for every player.

Dining
Together, downtown Reno's three hotel/casino properties -- Eldorado, Silver Legacy and Circus Circus -- are northern Nevada's unparalleled entertainment resort complex. Spanning six city blocks all under one roof, this unique partnership gives guests a lineup of 21 exceptional dining choices to please every palate!

Enjoy divinely inspired seafood from world-class chefs, the bounty of an international buffet, fresh sushi, decadent pastas, exquisitely prepared steaks, all-American burgers and fries!

American
Fresh Express Food Court at Silver Legacy
Sweetwater Café at Silver Legacy
Choices at Eldorado
Main Street Deli and Ice Cream Shoppe at Circus Circus


Buffet
Chefs' Buffet at Eldorado
Courtyard Buffet at Circus Circus
Victorian Buffet at Silver Legacy


Chinese
Courtyard Buffet at Circus Circus
Choices at Eldorado
Golden Fortune at Eldorado
Sweetwater Café at Silver Legacy


Coffee Shop
Eldorado Coffee Co. at Eldorado
SIPS Coffee & Tea at Silver Legacy
Sweetwater Café at Silver Legacy
Tivoli Gardens at Eldorado
Three Ring Coffee Shop at Circus Circus


French
Roxy at Eldorado


Italian
La Strada at Eldorado


Microwbrewery
The Brew Brothers at Eldorado


Seafood
Kokopelli's Sushi at Circus Circus
Fairchild's Oyster Bar at Silver Legacy
Sterling's Seafood Steakhouse at Silver Legacy


Southwest
Art Gecko's Southwest Grill at Circus Circus


Steakhouse
The Prime Rib Grill at Eldorado
The Steakhouse at Circus
Sterling's Seafood Steakhouse at Silver Legacy


Sushi
Kokopelli's Sushi at Circus Circus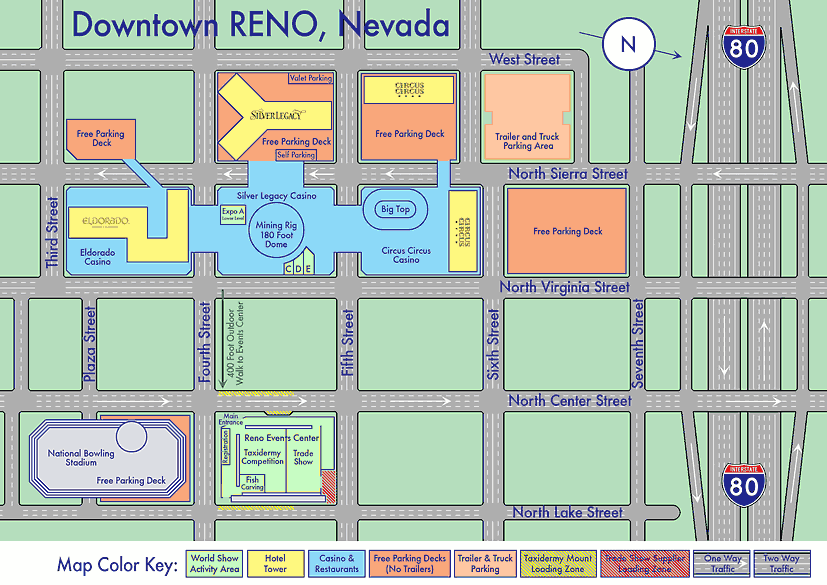 ---
World Shows Welcome Page | World Fish Carving Championships
World Taxidermy Championships
Competition | Categories | Awards & Prizes | Rules & Regulations | Judges
Seminars | Trade Show | Registration | Accommodations | Schedule | Contact
Return to the Taxidermy Net | Return to Breakthrough Magazine
---
©2004-2007 Breakthrough Magazine, Inc. All rights reserved. Updated 12/15/06.